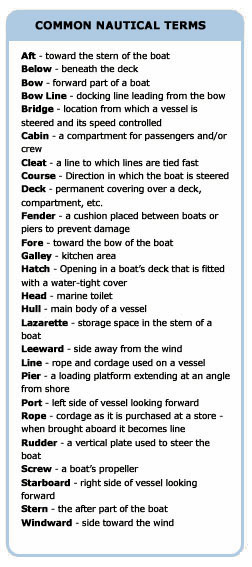 What to Bring
Please remember this is a boat. Space is very limited. Please pack in soft sided luggage only (duffle bags). Please do not bring any glass on the boat. Shorts and t-shirts are the normal dress. Make sure you bring a wndbreaker, sunscreen, sunglasses, and a hat. No street shoes are allowed on the boat. Please bring sandals or white sole shoes for the boat. We have towels, hair dryer, and extra tolitries.
What to expect Again, this is a boat and space is limited. We have two dogs on board so be prepared for dog hair. We have a limited amount of water on board. Showers should be a "Navy Shower". Although it is a boat, we have all the creature comforts that you will find at home. (dishwasher, trashcompactor, toatser, microwave, refrigerator, ice maker, plenty of electrical plugs, Satelite TV, DVD, Stereo, ect.) You will however be in a very confined space with other people. If this is a problem don't come. Absolutly no smoking is allowed on the boat. Hopefully, you will enjoy the experience by boat as much as we do. Travel by water is a very enjoyable experience. We do not go fast. Top speed on our boat is 10 knots. We average about 8 knots. Weather is always a factor. We can not control the weather and it can drastically affect our plans. Make sure you have flexible arrival and departure plans. You are welcome to do as much or little on the boat as you would like. We always welcome an extra hand in maintenance, galley duty, navigation, and watch duties. We do require all children to wear life jackets if outside while underway.
Safety

Life jackets are located in the pilot house locker and also on "Time Out," our dinghy.
Fire Extinguishers are located in each room.
First Aid Kit is located in the Pilot House locker in a black bag.
In case of Man Over Board we have a life Sling and Life Ring. Our life
Boat is the dinghy "Time Out" on the top deck. We also have a Winslow 6 person life raft located in the Pilot House locker.
In case of emergency use VHF channel 16.
EPIRB is located in the Pilot house locker.
In case of emergency, please tell the captain immediatly. Everyone should then meet on the back deck.
Never ever put you or a part of your body between the boat and a fixed object (dock). The boat weighs 63,000 pounds. You will not be able to stop its momentum. Don't even try.
If there is ever a fire in the engine room, do not under any circumstances open the engine room hatch.