We delay our exit from Portage Bay for several hours to let the thick fog lift. Traveling up Stephens Passage, we make a turn into the extensive bay of Port Houghton. Today we are heading to Sandborn Canal. We made a brief visit here earlier this year but the bugs were so bad we left without getting a chance to explore the area. Hopefully these pests are now gone. It's a beautiful day to be out on the water with flat calm seas and whales feeding in the distance.
Wilderness Explorer, a small cruise ship, is anchored just outside the entrance to Sandborn canal.  They are too big to go inside.  It looks like all of their passengers have just returned from a kayak trip and they are preparing to move on to a new destination.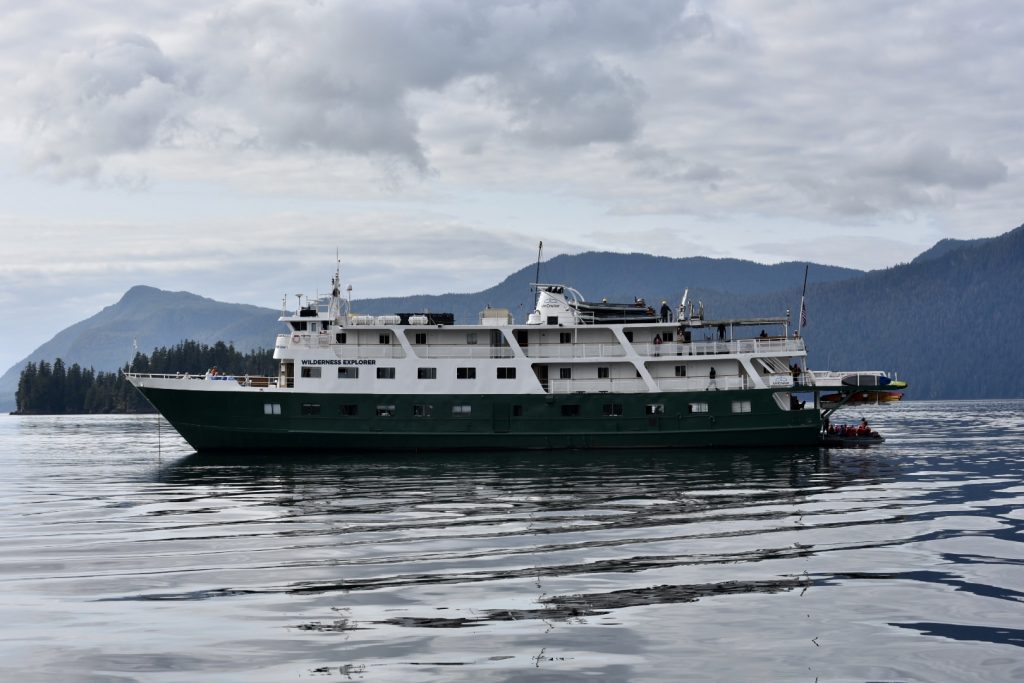 Reliable charts for this area are nonexistent. In fact the charts that are available are completely wrong. The mud flats at the head of the bay are deceptive. It's high tide when we arrive and you would think we could continue further for another half of a mile but we know better having charted it in the dinghy when we were hear earlier this year.

Depths go from 50 feet to two feet in a split second. When the tide goes out (remember we have 15 foot tides), you can see just how far the mud flats go.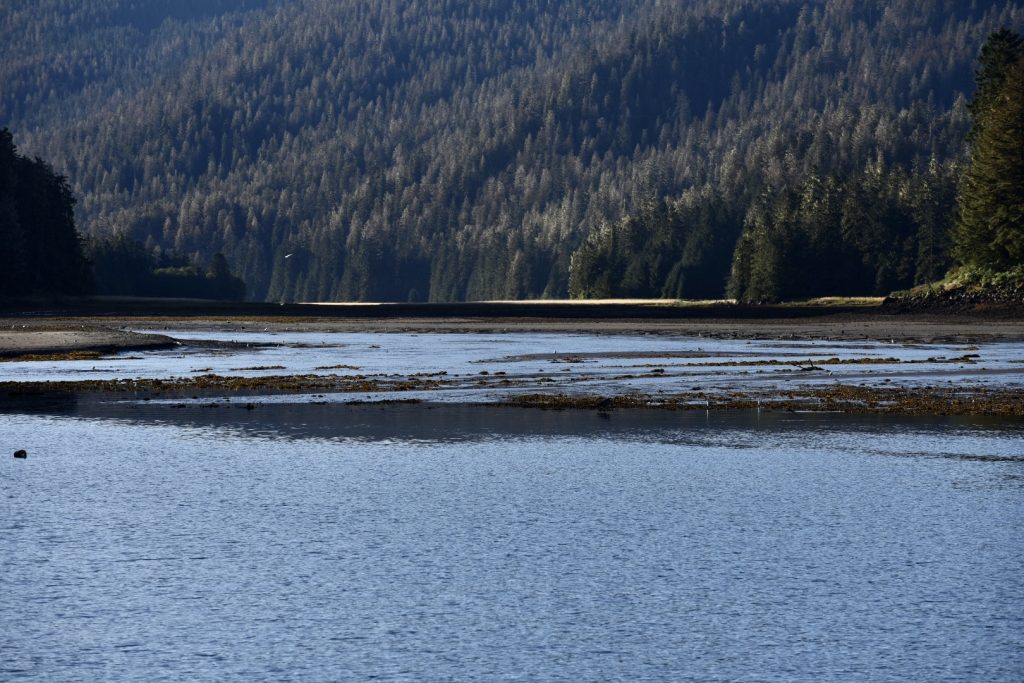 It would be easy to run aground if you weren't careful. Once anchored our two crab traps are set and we enjoy the evening watching all the birds feeding along the mud flats.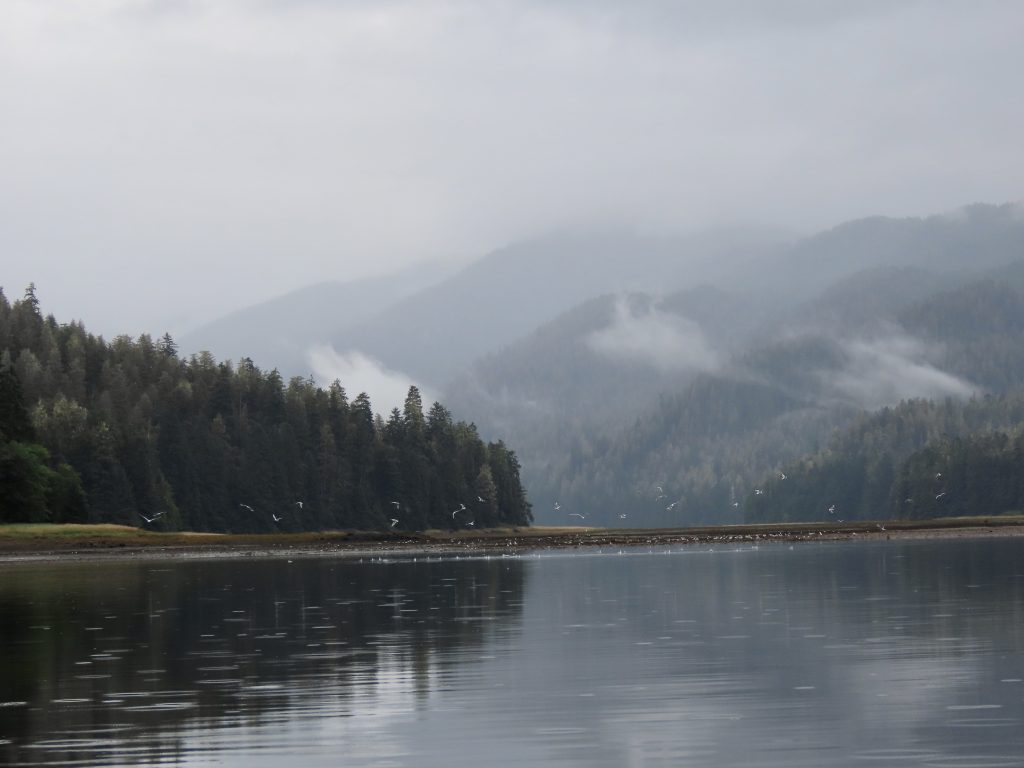 The salmon are here also. We know this because they are jumping clear out of the water. I suspect they must be Pink Salmon. Dick and Bridget on the Krogen 48 Ptarmigan join us at the anchorage later in the day.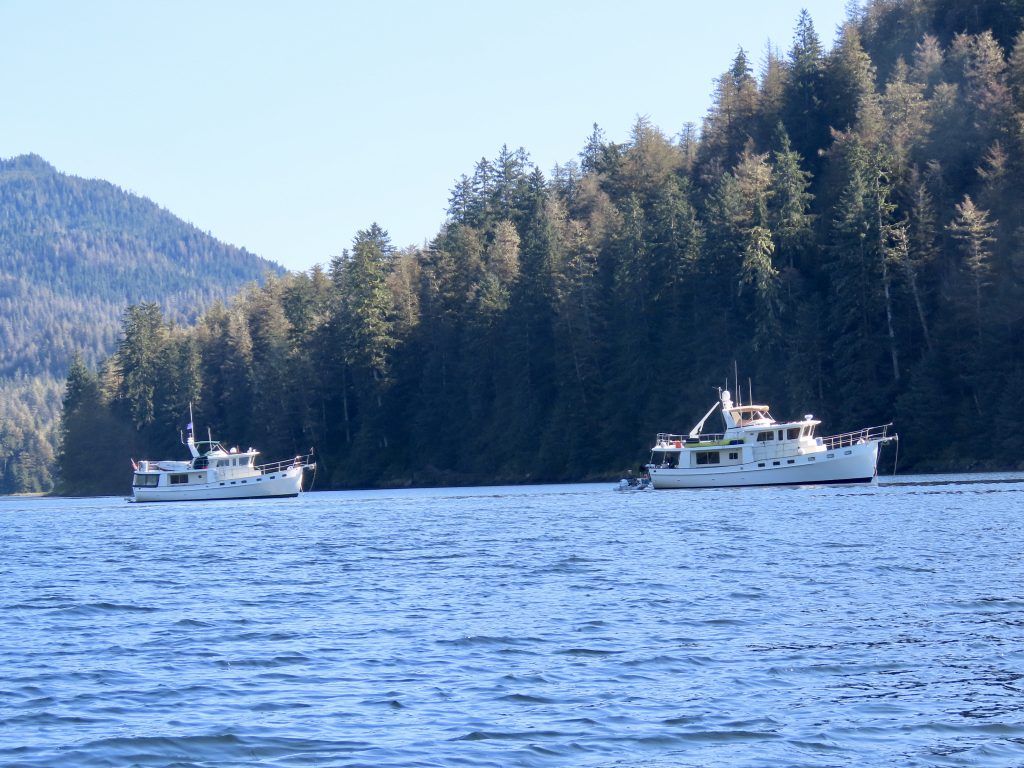 We are out the next morning in the dinghy to hook a Pink Salmon for crab bait. With the first cast of our red devil spinning lure, we have a fish on. As it reaches the boat, we are surprised to see not a pink but a very nice Coho. Woops….we forgot the net. When Jeff reaches down with the baseball bat to knock him out, we hear a metal clang and our nice fish is gone in a flash! The bat hit the lure and knocked it out of the salmons mouth. What are the chances? After a quick trip back to the boat to retrieve the net, we are soon fishing again. We manage to get two nice Coho aboard.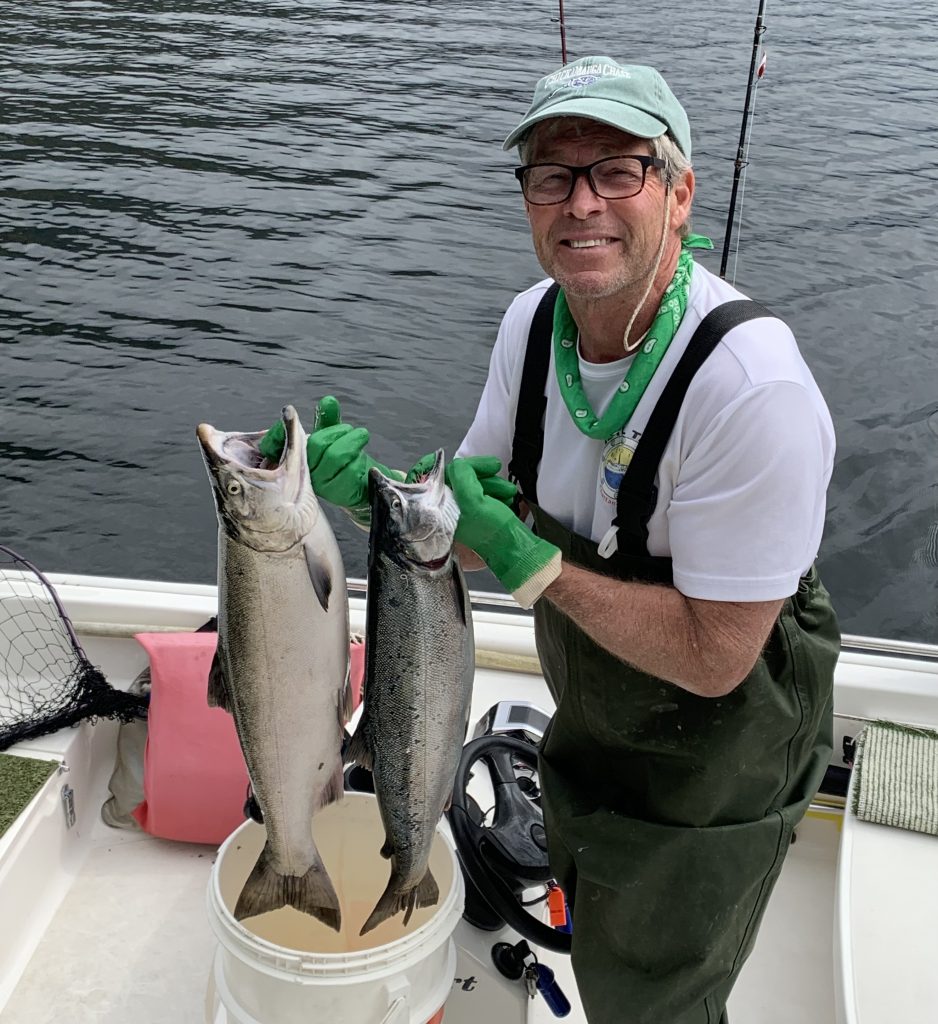 High tide today is 12:30 PM. We want to explore the canal by dinghy and our guide book recommends starting two hours before high tide to be able to cross the mud flats and continue upstream. Dick and Bridget join us in their dinghy for the exploration. It's nice to have two boats traveling together in such remote wilderness.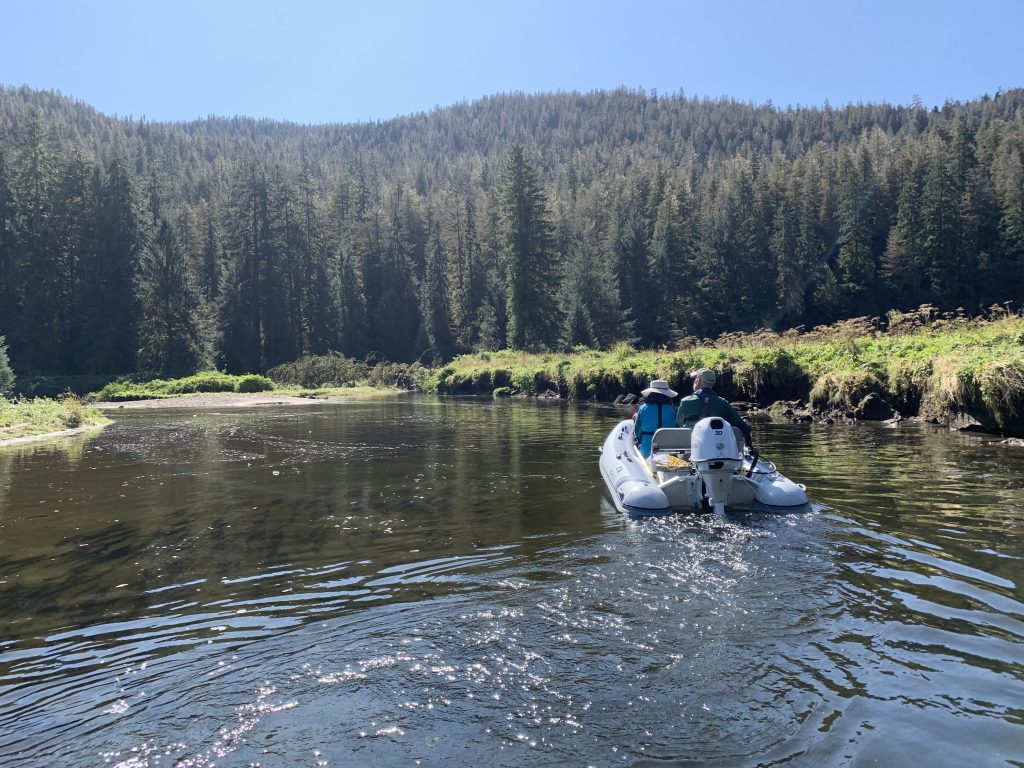 We much watch our time to make sure we have plenty of water under our keel to return back to our anchorage. It is a beautiful trip along the winding canal with marsh grass lining both sides and snow covered mountains rising up in the distance.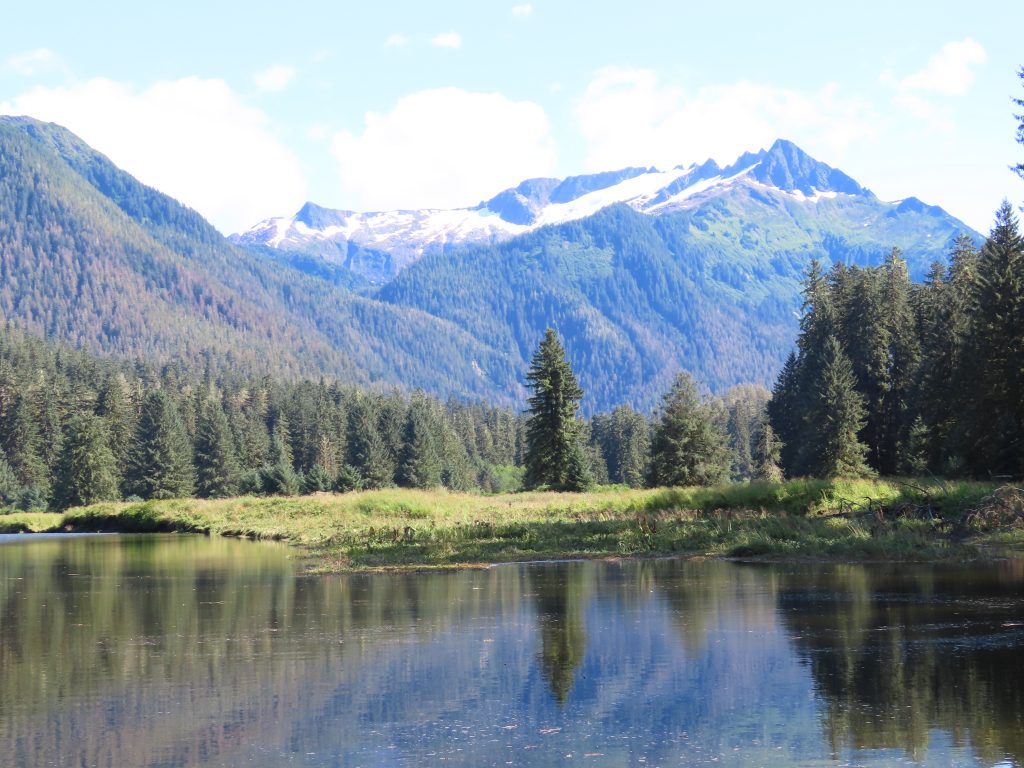 The salmon are jumping and we stop to collect another Coho. We keep a sharp lookout for bear or moose as this area is prime habitat for both. We travel almost three miles until a sandbar blocks us from going further.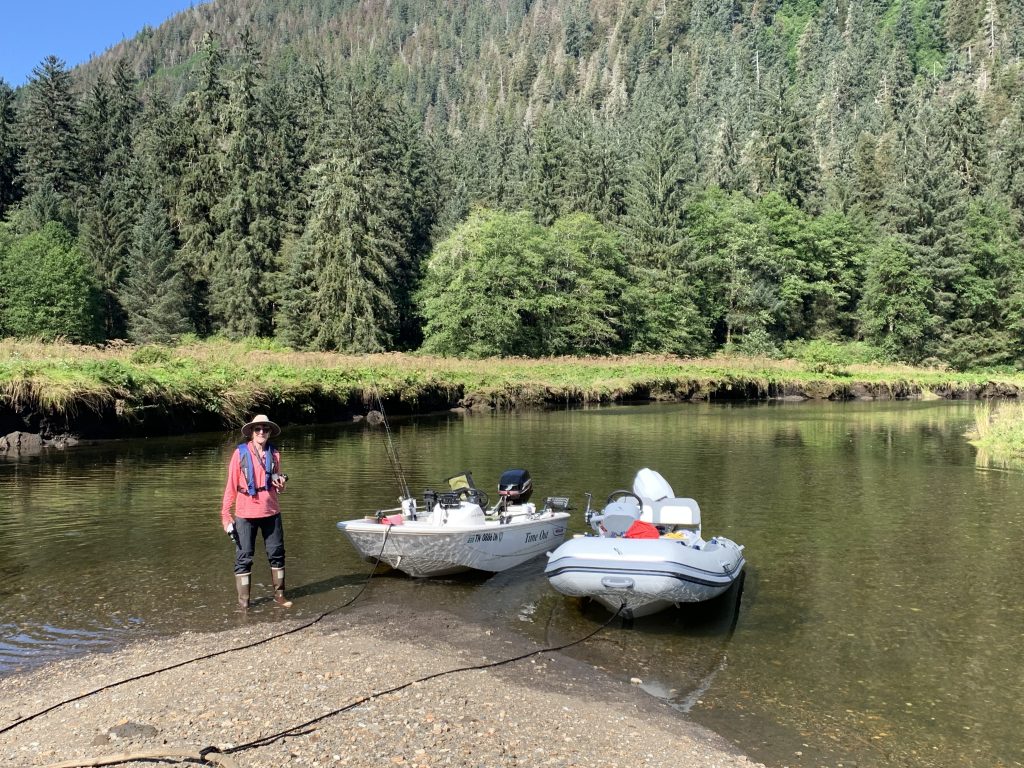 We are amazed to discover thousands of pink salmon gathered here as they are getting ready to spawn. The water is dark with so many fish.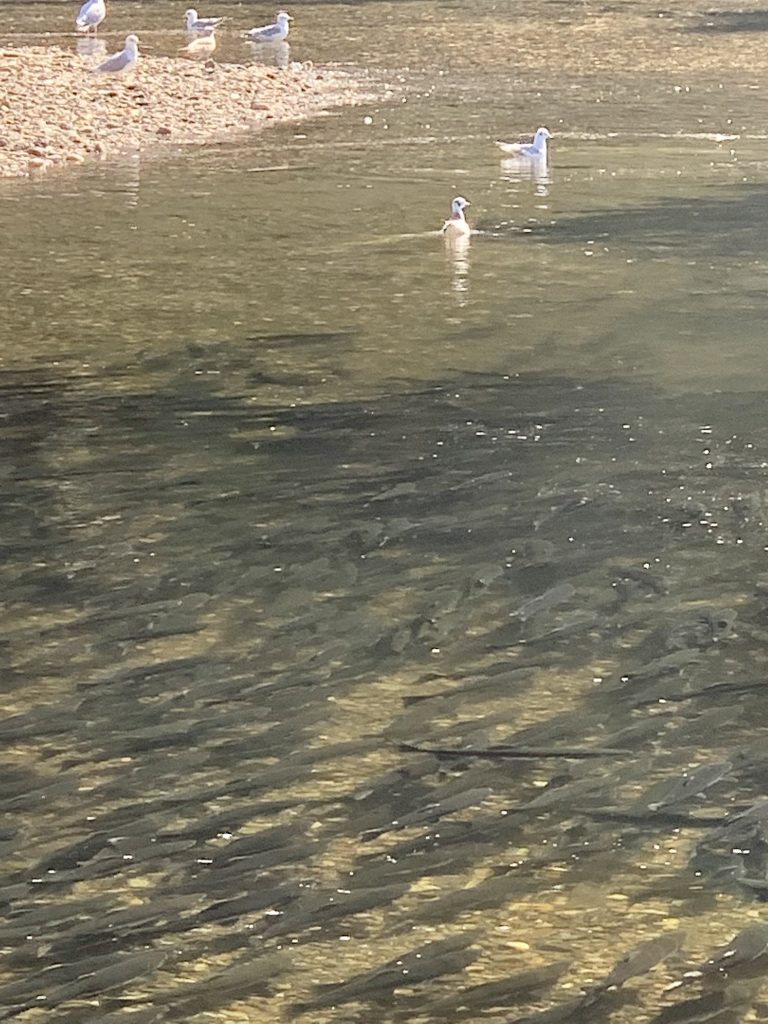 Several have already spawned and their decaying carcasses are resting on the bottom.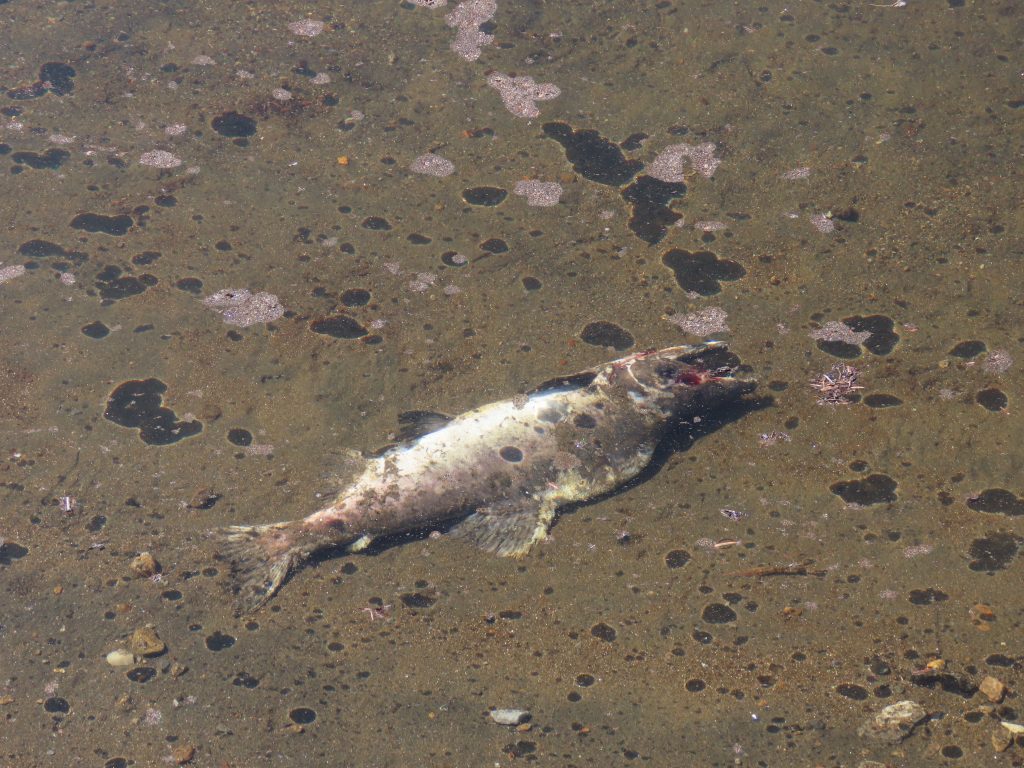 We are surprised to not spot any bears but you can see where they have been from the trampled vegetation along the banks. They are probably asleep in the woods with full bellies. It would be nice to linger here but we must proceed back downstream before the rapidly falling tide makes our escape impossible. We will definitely be returning here again next year.

Thanks for following along.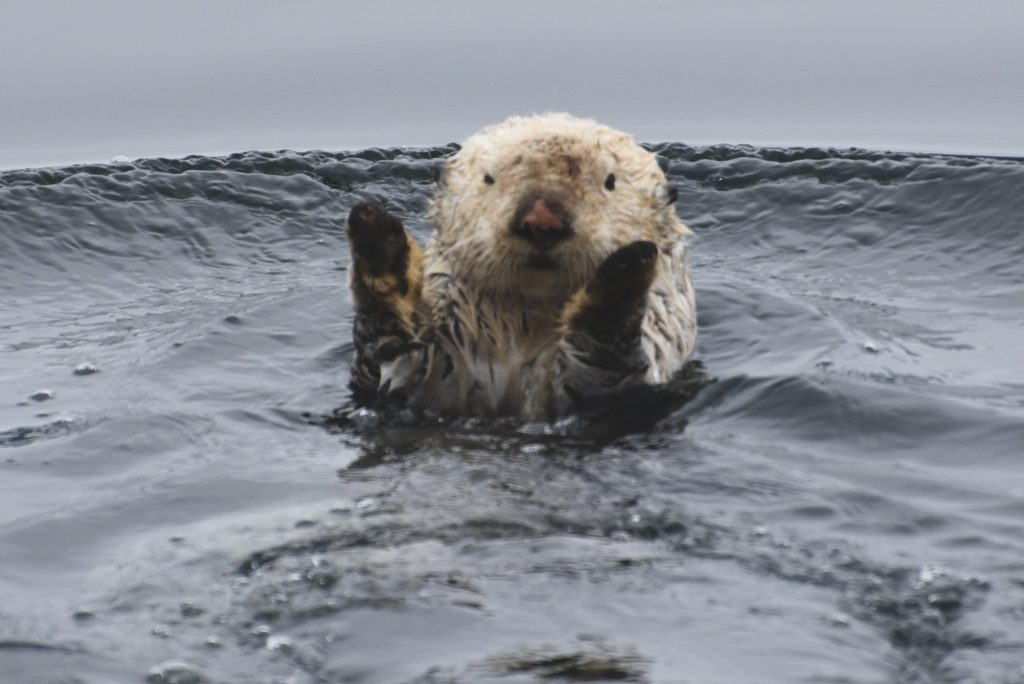 Details