Day 1: Dunedin to Gulfport:
Jeff's first words to me this morning were "we are leaving the marina today". Our original plan was to stay here in Dunedin for a week. Reports say that the small town is very nice and we were looking forward to some down time. With the Pinellas Bike Trail nearby , we had hoped to get in some much needed exercise by taking the trail 12 miles north to the Greek fishing village of Tarpon Springs. Well, those plans did not come to be. When we arrived at the Marina our depth sounder showed five feet here at the docks. That was at mid tide. After questioning the dock master, he assured us there was seven feet at low tide. The math just doesn't work. Sandpiper also showed five feet on her depth sounder. At 2:30 AM, low tide, Jeff was up to check the depth again. We now have four feet at the dock and Idyll Time is hard aground. Looking at the tide charts for the next few days, we see that there will be several extreme low tides up to a foot lower than what we just experienced. With these low tides, the depth will be only three feet at the dock. We can't stay here and risk something happening to our boat- I. E. tipping over. After talking with Betty aboard Sandpiper, we all agree to leave tomorrow. Since she has a mail drop in Tarpon Springs and we have boat supplies to pick up at West Marine, we split a taxi and spend the afternoon touring Tarpon Springs, a town rich in sponge diving history. The highlight of our visit was a wonderful Greek meal at Helgas, a local Greek restaurant. After a must stop to the bakery for a supply of yummy Greek pastries we arrive back to the boat just after sunset, tired but well fed.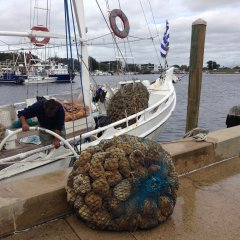 Our departure the next morning is delayed by several hours due to thick fog. Luckily, the fog lifts before low tide and we are allowed to escape into deeper waters. Just a few hours later and we are anchored off the tiny seaside village of Gulfport. It is cold, raining and windy. Neither us nor Sandpiper have the motivation to lower the dinghies and explore Gulfport. We will save this town for another time.
Total Miles Today: 29
Total Miles This Year: 430
Day 2-4: Gulfport to St. Petersburg:
After a short trip up the Tampa Bay ship channel, we are soon entering the Vinoy Basin which houses the mooring field for the city marina of St. Petersburg. There are only two other sailboats in the harbor. After scanning the moorings with the binoculars, we soon spot our assigned ball and are quickly secure. Sandpiper's mooring is directly behind ours. This is Gabby's first time picking up a ball and she does a great job snagging the pennant with the boat hook on her first attempt.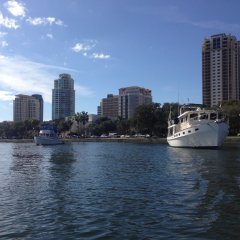 We couldn't ask for a better location. The mooring field is in the heart of downtown St. Pete. The city seems to be very vibrant with people out enjoying the waterfront. The park just off our bow seems to be a major attraction for both locals and tourists. There is a constant stream of bicyclists, runners, and others just out for an evening stroll along the multi-use bike path. Being just a few hundred feet from the shore, we enjoy watching the people as much as they seem to enjoy looking at us.
We always try to find local farmers markets while traveling on the boat and are excited to find one here in St. Pete on Saturday just a short walk from the dinghy dock. Being cool and sunny, it is a perfect day for exploring the market. With a mixture of both food vendors and local artists, this is one of the best farmers markets we have seen in quite a while. With empty stomachs and shopping bag, we have both filled after several hours of meandering through the booths. Being a dog friendly event, Sebastian joins us and meets and greets many canine locals.
Our afternoon is spent riding on the downtown trolly. By traveling through areas of the town we wouldn't have ventured into by foot, we get a good flavor for the city beyond the waterfront. Back aboard, we spend the evening listening to the sounds from the Jazz Festival along the waterfront while again people watching. We have enjoyed soaking up the sights and sounds of St Pete. Tomorrow will be time to move on.
Total Miles Today: 17
Total Miles This Year: 447
Day5-8: St Petersburg to Manatee River:
We have a short three hour trip down the Tampa Bay Ship Channel to the Manatee River. Just inside the river entrance is our anchorage. It is a nice wide bay with room for many boats. We anchor just off the nature preserve near their dinghy dock. Sandpiper is traveling with us and anchors a few hundred feet away.
Sandpiper will be leaving us tomorrow as Betty needs to be down in the Keys soon to meet some family. We will stay here for a few days to explore. A farewell dinner is quickly organized aboard our boat for one last meal together. We have enjoyed buddy boating with Sandpiper and hope to cross their wake again in the near future.
The next few days are spent exploring the area. Sebastian enjoys his daily dinghy rides into the dock along with hikes on the many well marked trails.
The Dolphins joins us daily as they swim along the mangroves looking for their next fish dinner. We enjoy kayaking and paddle boarding through the mangrove area in search of their company..Unfortunately, we see none while kayaking.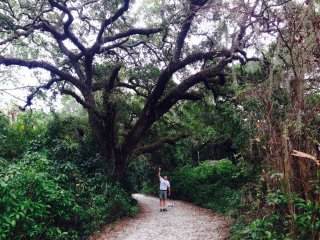 The temperatures have warmed up enough for Nate to have his weekly shower. Afterwards he enjoys sunning himself on the back deck while his feathers dry.
Since we are now in clean water, we decide to de- winterize our Spectra water maker. For the past two years, it has been pickled as we have not needed it while traveling on the inland rivers. When we went to use it, we found that it kept blowing a hose. After a quick call to Spectra, we learned that there is an authorized repair facility just 5 miles away. Two days later we pick up Jim, owner of Freundship Marine, at the dinghy dock for a boat call. After spending a few hours taking the system apart, Jim determines we have a defective diverted valve. Since this part will take several days to arrive from California, we decide to have it shipped ahead to Cape Coral. We will be there in a few days and Jim showed Jeff how to to install it.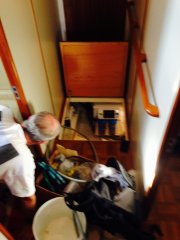 We have a pleasant surprise our last evening here as we spot another Krogen pulling into the anchorage. A VHF call is quickly made to Sharon Ann and we are soon aboard this beautiful 2012 Krogen 48 AE meeting new friends Alan and Sharon. Their home port is Bradenton, 5 miles up the Manatee River. They were out for an evening cruise when they spotted us anchored and decided to join us for the evening. It is always nice to make new Krogen friends.
Tomorrow we will continue our travels south.
Total Miles: 23
Total Miles This Year: 470