Idyll Time is now resting safe and sound in a large heated warehouse where she will patiently wait for our return next spring.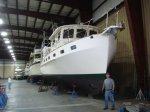 It is always a little heart stopping as the big fat girl is lifted out of the water. With the slings creaking and groaning as they lift the 68,000 pound lady out of the water, we hold our breath until she is safely ashore.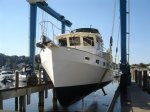 It is a little sad for us to be leaving her for such a long time. This is the only downside to cruising the Great Lakes. While the water and scenery are some of the best in the United States, the boating season is just too short up here.
We will spend the next six months on land with lots of hiking and exploring more of the US in our RV. A special exploration to Antarctica is also in the plans. We will keep you posted on some of our adventures.