With Idyll Time still in winter storage, we spent some time on land exploring the southwest. Below is the log of our travels.
Day 1 February 7th:Chattanooga to Natchez Trace Parkway: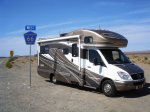 Today is our first day of travel as we head out west.  Other than our turn around point of Death Valley, CA, we have no plans. We take interstate 24 west to Franklin, TN and then head for the Natchez Trace Parkway.  Our first stop is Arrington Vineyards where we sample some local wine.  We learn that this winery is part owned by Kix Brooks of Brooks and Dunn music fame.  We then head for a local restaurant,Pucketts, in downtown Franklin.  We have a book called Road Eats which list many unique restaurants across the US.  Our goal is to stop at as many as possible.  Pucketts did not disappoint us. The pulled pork BBQ was just as good as described in the book.  From Franklin, we picked up the Natchez Trace Parkway at mile 444 and will travel this in its entirety to mile 0. Tonight is a stop at Meriwether Lewis campground at mile 380 on the parkway.  There is no power or water here but It is a free campground which makes it especially nice.  Only two other campers are here. Total miles traveled today was 239.
Day 2 February 8th: Meriwether Lewis Park to Rock Springs Campground: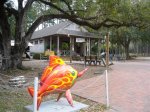 It was a cold 41 degrees this morning.  We were up early and back on the Natchez Parkway by 7:00 am.  There were lots of deer and turkey along the roads.  The parkway is nice with hardly any traffic.  Just past Tupelo we pass through an area that was hit by the 2011 April tornadoes.  The devastation continued for miles with trees tumbled down like pick up sticks. We detoured off the parkway in Jackson,MS for lunch at another restaurant in our Road Food book.  The Elite Restaurant has been an institution in downtown Jackson for over 50 years.  Jeff tried their fried chicken and I had the fried shrimp.  Both meals were very good.  The city itself looks pretty run down.  It is not someplace we would come back to. Tonight we are at the Rock Springs Campground at mile 54.8 on the parkway.  It too is free but with no water or power.  I was able to get a 4 mile run in before dark.
Today we traveled 348 miles.
Day 3 February 9th: Rock Springs to Abbeville,LA:
Today was another 329 miles.  We traveled the final 50 miles of the Natchez Trace to the town of Natchez.  We picked up I-10 in Baton Rouge and crossed the Mississippi River. Just across the 20 mile long Atchyaflaya Bayou Bridge we stopped at a very nice welcome center.  There was another View here from Alaska and we enjoyed chatting with them. From here we detoured down to Avery Island to tour the Tabasco plant.  We had lunch at a little road side restaurant and had our first boudin.  This Louisiana delicacy is a type of sausage similar to haggis.  The crawfish and seafood versions were much better than the pork but we would probably not order any of them again. Tonight we found a county rv park in the town of Abbeville,LA for $20.  I was able to get in a five mile run before the rain set in.
Day 4 February 10: Abbeville, LA to Lockhart,TX: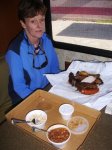 The rain continued all morning as we traveled west on I-10.  Today we saw our first oil well along the interstate.  Luckily the rain quit just before Houston.  There was lots of traffic along this stretch.  Following our Road Food book, we made a stop in Luling,Texas at the City Market which reportedly has the best barbecue in Texas.  Our meal consisted of beef brisket, pork ribs, and a beef sausage ring all served on brown wax paper with four slices of white bread and homemade sauce.  It was a eat with your fingers type of place.  The locals are all drinking a soda called Big Red so we tried that also.  We would have to say this is some of the best barbecue we have had. Of course we will continue to sample as we travel across Texas. From Luling, we headed to Lockhart State Park for the evening.  Today was another 380 miles of travel.
Day 5 February 11: Lockhart, TX to Sonora Caverns, TX:


Today we traveled through the hill country of Texas staying on the back roads.  Our first stop was Johnson City to visit the boyhood home of President Lyndon B. Johnson. From there we traveled 15 miles for a driving tour of LBJ's ranch which is now a National Historical Park. The park service provides you with an audio CD to play in your car while driving through the 762 acre ranch.  You can also do a ranger led tour of The Little White House where LBJ lived.  While President he spent 25% of his time here.  Next we continued on our Road Food tour with a stop in Fredericksburg to sample some pie at the Fredericksburg Pie Company. Fredericksburg is a German town with lots and lots of shops.  It is quite crowded today.  Coopers Barbeque in Mason, TX was our next destination.    Here we sampled beef brisket, pork ribs, lamb ribs, roast chicken, pork loin, and beef sausage.  Coopers has been voted one of the five top BBQ places in Texas for the last five years.  Similar to our first BBQ stop several days ago, everything is served on butcher paper and is no frills. The food was excellent.  From there we continued 100 miles to Sonora Caverns RV Park for the evening.  Our mileage today was 261 miles.
Day 6 February 12: Sonora Caverns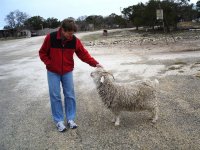 There is a winter weather advisory today with forecasted ice and snow on the roads.  We had hoped to get out of here before the sleet arrived but by 8:00 AM the ground is already covered.  We decide to spend the day here.  This is our first non travel day. We spent several hours on a tour of the Sonora cave system.  Our guide took us down 155 feet into the cave.  This was one of the most spectacular caves that we have been in with many limestone and calcite formations.  We are happy to be nice and dry in our camper as the sleet/rain mixture continues all day.  This afternoon the rain lets up and we are able to check out some of the beautiful scenery here in the Texas hills.  I brave the cold for a six mile run while Sebastian and Jeff get a nice walk in.  There is a pet goat running around which totally freaked Sebastian out.  He has never seen such an animal before.  The small campground is full this evening with about 10 other RV's.
Day 7 February 13: Sonora Caverns to Carlsbad Caverns: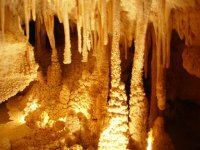 Tonight we are in White's City RV park just outside Carlsbad Caverns National Park.  We will tour the caves tomorrow.  Today we traveled mostly back roads through some very remote desert area.  There was absolutely nothing for miles and miles.  We stopped for lunch in the town of Pecos at a local Mexican restaurant which was excellent.  The winds are really blowing today as we travel through this flat as a pancake farmland.  Just before Carlsbad, the Guadalupe Mountain range looms ahead.  We had originally wanted to spend the evening at Guadalupe. There is a nine mile trail which takes you to he highest point in Texas at 8752 feet. We wanted to do this hike but the winds are forecast to 60 mph for the next few days.   We will save this hike for another time.  Today's distance was 290 miles.
Day 8 February 14: Carlsbad Caverns to Bottomless Lakes State Park: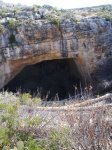 From our campground in White's City, it was a very scenic seven mile drive through the Chihuahuan Desert along the park service road to Carlsbad Caverns.    In the visitor's center parking lot, we meet Rick and Ami who are full time travelers in a Four Winds RV similar to our Winnebago.  They invite us to join them on the self guided audio walking tour through the Natural Entrance of the cave.  This two mile tour takes us 750 feet below the surface into the Big Room of the caverns.  The scale and grandeur of Carlsbad Caverns is truly a natural wonder.  This should be a destination on everyone's bucket list.  In the afternoon we did another two hour tour led by a Park Ranger into a different area of the cave known as Kings Palace and Queens Chamber.  This evening we rendezvoused with Rick and Ami  at the Bottomless Lake State Park a few miles east of Roswell,NM.  Over wine and cheese, we swap RV adventure stories with them.  Prior to becoming full time RV'ers, Rick and Ami lived aboard their 42 ft. catamaran while exploring the Caribbean and South America.  They gave us lots of great information for rv'ing in New Mexico and Arizona.  It was a pleasant evening with new friends.
Today was a short travel day of only 108 miles.
Day 9 February 15th: Roswell,NM to Alamogordo, NM:
Jeff and Sebastian spent some time hiking around the park while I did a 7 mile run along some of the trails.  We can hear the Sandhill Cranes in the distance.  Before leaving, we enjoyed a cup of tea with Rick and Ami.  I am sure we will see them again someday.  Today's trip took us through Roswell whose claim to fame is UFO sightings.  There is a museum here but we decided to continue on.  We traveled some smaller highways enjoying the rural countryside.  We then climbed to 8650 feet to the town of Cloudcroft.  There is snow on the ground but the mountain pass is clear.  The scenery is again stunning as we weave between the mountains.  Descending from Cloudcroft, the White Sands Desert can be seen off in the distance.  From this view it looks like the ocean.  We continue 14 miles east of Alamogordo to the Oliver Lee State Park.  We have a beautiful campsite with the Dog Canyon as a backdrop.  Total miles traveled today was 171 miles.
Day 10 February 16th: Alamogordo, NM to Deming, NM: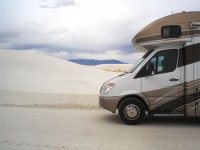 We went for an early morning hike up the beautiful Dog Canyon this morning.  It is a good climb.  We didn't have time to do the entire 11 miles but we did make it to 5000 feet with some spectacular views.  Sebastian especially enjoyed the climb.  Back on the road, our first stop of the day was to the White Sands National Monument.  These 275 square miles of desert is the largest gypsum dune field in the world.  The 16 mile driving loop through the dunes was like being on the beach in Florida except there is no ocean.  From there we climbed through another mountain pass and into the city of Las Cruces.  Here we continued on our Road Food tour with a stop at Nellie's Mexican Restaurant.  This little hole in the wall served up some of the best Mexican food we have eaten.  It was also some of the spiciest. From there we continued on 1-10 to Rockhound State Park just outside of Deming,NM.  This campground is at 4800 feet on the slopes of the Little Florida Mountains and is a popular rock and mineral collecting area. Today's trip was 162 miles.
Day 11 February 17th: Deming, NM to Tucson, AZ:
It is cold and windy today.  We skipped the geode hunting this morning but I did get in a 3 mile run before leaving.  Back on I-10 we crossed the Continental Divide at 4585 ft.  We have spitting snow.  Crossing into Arizona the desert landscape is dramatically different.  We now have huge boulders perched one on top of another. They look as if they could topple at any moment.  Our first stop in Tucson was to the Post Office for our mail drop.  We next continued on our Roadfood tour, this time for fast food Mexican at El Guero Canelo.  Their clam to fame is Sonoran hot dog.  We ordered the Sammy dog which is two dogs in one bun along with something called a caramelo.  What makes these dogs special is both the homemade buns and also how they are dressed.    The beef franks are topped with chopped tomatoes, pinto beans, onions, yellow mustard, jalapeño sauce, and mayonnaise.  Boy were they good.  We ordered a piece of Flan for later.  Tonight we are camped at Gilbert Ray Park which is 13 miles west of Tucson.  This is one of the most scenic spots we have camped.  We are in the middle of the Sonoran Destert with large saguaro cactus surrounding us.  This will be our home for two nights.
Day 12 February 18th: Tucson: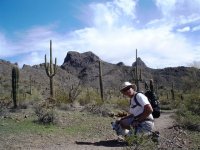 I enjoyed a beautiful 5 mile run in the Sonora Desert this morning.  We next headed just a few miles away to the Saguaro National Park and then to the Sonora Desert Museum. Several hours were spent enjoying the well done exhibits at the museum.  There was also a free flight raptor demonstration using Harris Hawks.  This was very fun to watch.  From our campground we were able to hike the Brown Mountain Trail enjoying some great views of the Sonoran countryside.  Unfortunately dogs are not allowed so Sebastian had to stay behind. Tonight we tried the Flan which we had bought yesterday at the Mexican Restaurant.  We wish we had bought several pieces.  It was sooo good.
Day 13 February 19th: Tucson, AZ to Picacho,AZ: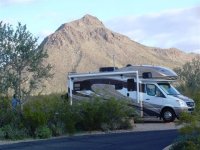 Today was a short travel day of only 65 miles.  Before leaving Tucson we continued on our Roadfood tour for a Mexican breakfast at Teresa's Mosaic Cafe.  Their huevos rancheros were incredible along with the homemade tortillas.  We ordered a piece of their flan to go for this evening. From there it was an easy trip north on I-10 to Picacho State Park.    Before hooking up in the campground, we drove to the Sunset Vista trailhead for a hike to Picacho peak.  This 6 mile hike takes you to the top at 3374 feet.  Since Sebastian was hiking with us, we opted to turn around before the last climb up to the peak.  This steep climb using cables would have been difficult with Sebastian.  We enjoy a quiet afternoon at our campsite at the base of Black Mountain.
Day 14 February 20th: Picacho, AZ to Quartzsite, AZ: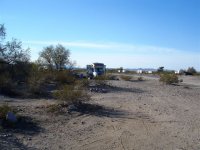 My 5 mile run around Picachio Park was tough.  There is not a flat spot here.  It is either up or down everywhere you go.  Today is Presidents Day so the traffic on I-10 was not too bad.  We took the Phoenix Bypass to I-8 into Yuma.  The big saguaro cactus are now gone and the desert is mostly scrub brush.  We saw several huge dairy cow farms along the interstate.  Their size was quiet impressive.  Yuma seems to be the RV capital of the United States.  There are parking lots everywhere full of retired RV owners who winter here.  We had searched for a RV site to spend the evening but almost all of them were for 55+ years of age. Plus it was just too busy for our liking so we decided to continue on. From Yuma we took State Road 95 through the Military Proving Grounds into Quartzsite. We passed through another Boarder Patrol checkpoint. This is the third so far on our trip.  They haven't checked us at any of these but just wave us through.  Our Roadfood tour did not have any stops here in Quartzsite but we did find Silly Ed's pizza which was recommended on another web site.  We ordered the Goliath 20 inch pizza to go.  We then drove three miles outside of town to the free Bureau of Land Management (BLM) campgrounds.  This is basically a dirt parcel where RV's can stay for up to 14 days at no charge.  There is no power or water or anything else.  But it is free.  Today's trip was 277 miles.
Day 15 February 21: Quartzsite,AZ:
Today was chore day.  Our first stop was the laundry mat.  Unlike on our boat, we have no washer and dryer aboard our RV.  Next was a much needed hair cut at the local salon.  We then headed to the RV repair shop to have a few minor repair items taken care of.  Our stop at the Post Office was not so productive.  Due to the holidays, our mail has not arrived.  This means we will be spending another night here.  The Post Office also only hands out General Delivery mail between 11-1.  That is something new to us.  Quartzsite is home to thousands of RV snowbirds and I guess the Post Office is overwhelmed with General Delivery mail.  We really hope our mail comes tomorrow.  There is not much to do here in Quartzsite.  Luckily our campsite is free.  These BLM campsites are a major draw for RVs here.  There is both a long and short term BLM.  The long term is $40 for 14 days.  The short term is free but you can only stay a maximum of 14 days.  These areas are really just dirt land where you find an open spot and pull over.  Many people spend the winters here.  Quartzsite has activities almost every night ranging from bingo to pancake suppers.  This is not someplace I would want to stay but to each his own.
Day 16 February 22nd: Quartzsite to Joshua Tree National Park, CA:


We found a dune buggy trail behind our campsite.  It seems to go for miles and miles.  Almost all the RV owners have a dune buggy in tow.  Riding around on all the vacant BLM land seems to be the major pastime.  I was able to get in a six mile run before leaving on this trail.  Our first stop today was at a place called The Pit Stop.  This facility is similar to a gas station, only here you purchase water and propane.  You can also dump your holding tank.  Water is .25 per gallon.  Our next stop is the Post Office in hopes our mail has arrived.  We can't leave Quartzsite unless our mail is here.  We have to wait until 11:00 am for general delivery.  After a 30 minute wait in line, Jeff returns with the mail in hand.  Yahoo!  We are free to leave.
Back on I-10, we soon cross over the Colorado River and into California.  There is a boarder check on the state line.  The agent inspects our refrigerator for citrus.  Evidently you can not bring in citrus from Arizona.   The desert has once again changed dramatically.  It is mostly rock and sand with no cactus and only sparse vegetation.  The mountains in the distance are getting bigger and bigger.  As we enter Joshua Tree National Park, we begin a long gradual climb up to our campsite at Cottonwood Park Headquarters.  Leaving Quartzsite we were at 879 feet and now we are at 3100 feet. There are plenty of campsites available.  The sites are small with no electricity but it is a beautiful area with mountains all around.  This afternoon we hike to Mastodon Peak.  From here we have great views of The Salton Sea.  Our 5 mile loop hike also takes us by the remains of an abandoned gold mine and also to Cottonwood Spring where we see some 50 foot tall desert palm trees.  Today's trip was 111 miles.
Day17 February 23rd: Joshua Tree: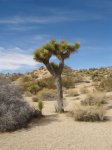 Today was a short travel day of only 38 miles.  We traveled north through the center of Joshua Tree National Park from Cottonwood campground to Jumbo Rocks Campground.  As we climbed above 3000 feet we reached the transition zone of the Colorado and Mojave Desert.  Sightings of the wild armed Joshua tree confirmed that we are now in the Mojave Desert.  These twisted, spiky trees straight out of a Dr. Seuss book were named by the Mormons after the biblical figure, Joshua.  These trees are actually members of the Agave family. The drive through this 792,000 acre park was amazing.  We climbed to Jumbo Rocks Campground which is at 4400 feet. After selecting our campsite amongst the jumbo rock boulders, we did a short 3 mile hike along the Skull Rock trail.  A coyote crossed our path as it was passing through our campsite.  We also saw several jackrabbits. They are huge with big floppy ears.   We have seen hoof prints and droppings from the native big horn sheep but have yet to see the animal itself.  This evening we were rewarded with a magnificent sunset among the rocks.  Joshua Tree is truly an amazing place.
Day 18 February 24th: Joshua Tree


This morning we had another coyote in our campsite.  We will really have to watch Sebastian.  He would make a great snack for the coyote.  Today we used our bicycles for the first time on this trip.  We found a very nice 20 mile loop along some of the less traveled dirt roads.  Our first stop was Queen Mine, an abandoned gold mine which was in operation until 1967.  From there we continued to Barker Dam which was built around 1900 for watering cattle.  At Hidden Valley Camp Ground, we stopped to watch several rock climbers in action.  This is a very popular activity in the park.  This afternoon we attended a ranger guided hike on the Skull Rock trail.
Day 19 February 25th: Joshua Tree to Tecopa Hot Springs: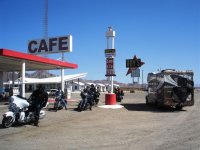 Today I did an 8 mile run from our campground out to the park entrance. Jeff and Sebastian followed in the RV.  It was a beautiful run down through the canyon as the sun was still rising and it was all down hill as we dropped from 4400 feet to 2200 feet.  Back in the RV, we continued on a two lane road out of Twenty Nine Palms, CA to the small town of Amboy where we visited the Amboy volcanic crater.  We stopped at the famous Roy's Gas Station on Route 66.  Before the interstate existed, Roy's was the only place to get gas for miles and miles.  Now it is more of a tourist stop. From there we continued through the mountains to the small town of Kelso which is in the Mojave National Preserve.  The geological diversity of this area is amazing.  We have seen volcanoes, huge sand dunes, vast desert areas, and towering mountain peaks all within a small area.  From Kelso we continued to Tecopa Hot Springs which is our destination for tonight.  Before going to our campsite, we drove another 7 miles to the town of Soshone for dinner at the Crow Bar Grill.  Diesel fuel in Soshone is $5.50 a gallon. After settling into our campsite we tried out the hot spring mineral baths here at the campground which is the big draw to Tecopa.
Day 20 February 26 th: Tecopa to Death Valley,Ca: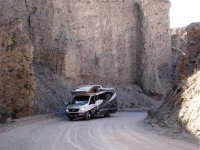 Before leaving this morning, we both went and had another soak at the mineral baths.  I was hoping they would not be crowded early in the morning.  But even arriving at 7:00 AM, there was already a crowd.  It seems to be mostly Japanese people.  The women and men each use separate pools.  There is both a hot pool and a cool pool for both.  Clothing is not allowed as they don't want any chemicals introduced into the water.  It is a strange place and I didn't stay in the tubs very long.
Our first stop after Tecopa was to China Ranch which is a local date farm. The drive down into the canyon floor to reach the ranch was impressive.  It is a one lane gravel road which is cut between the canyon walls.  Luckily, no cars are coming the other way as we traverse this twisty path.   At the date farm, we purchase some dates, date bread, and also enjoy a really good date milkshake.  From there we again travel through a very remote and sparse desert area to Death Valley. Our campground tonight is at Sunset Campground at Furnace Creek in Death Valley.  It is basically a gravel parking lot with no electricity.  They do have water here. The desolation of the gravel lot is more than made up for by the majestic mountains surrounding us on all sides.  We will spend the next week here in Death Valley.  Total miles today was 80.
Day 21 February 27th: Death Valley: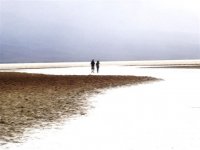 The word for today was WIND!  Boy was it windy.  We started off the day with a hike in Golden Canyon.  This was a ranger led talk on photography in the desert.  We did a 4 mile hike through this twisty and turning labyrinth to the Eastern valley wall to a place called the Red Cathedral.  After exiting the canyon, we watched as a dust storm with over 60 knot winds traveled north through the valley floor to the Furnace Creek Campground.  We were glad that we were not there right now.  We continued south another 11 miles to an area known as Badwater.  Being 282 feet below sea level, this is the lowest point in North America.  It is also the hottest spot on record with a temperature of 134 degrees Fahrenheit recorded here.  This is also said to be one of the driest places in the U.S.  Today was the exception as we actually experienced a rain shower which is very unusual.  They only get 1.2 inches of rain here a year.  This basin is now a shimmering expanse of salt.  Four thousand years ago there was a 30 foot lake here.  This water evaporated and left a 1-5 foot layer of salt.  We walked about a mile out into the salt basin.  This salt taste just like the table salt that we purchase in stores.  This evening we did some much needed laundry.  Tomorrow we will head north to another campground in the park.
Day 22 February 28th: Death Valley- Furnace Creek to Stovepipe Wells: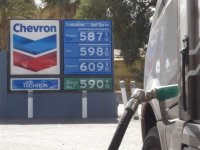 Our morning started with another Ranger led hike to the Kit Fox Canyon.  We saw several fox dens as we weaved our way through the canyon floor.  In the afternoon, we did a second Ranger talk along Salt Creek.  Here we saw our first Pup Fish.  These minnow like fish have learned to adapt to this harsh desert environment.  The water here is five times as salty as the ocean.  These fish were trapped here thousands of years ago by the retreating oceans.  This afternoon we paid our highest price ever for diesel at $5.90 per gallon.  Ouch!  It is the only available diesel for many miles.  Tonight we moved to another area of the park called Stovepipe Wells.  Jeff dropped me off seven miles from the campground so I could get in another run.  It was really tough running these 7 miles in the hot afternoon sun along the desert floor.  Our campground is another gravel lot with no power.  We do have water along with some great views.
Day 23 February 29th: Death Valley Stovepipe Wells: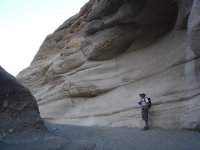 Just a mile from our campground are the Mesquite Flat Sand Dunes. This morning our Ranger talk lead us on a mile walk through the sandy dunes.  We learned to identify several animals' footprints in the sand.  These sand dunes only make up 2 % of the park.  Contrary to popular belief, most deserts do not consist of sand dunes and many are cold and dry.  The definition of a Desert is 10″ of rain or less per year. We stopped in the Ranger Station for Jeff to be sworn in as a Junior Ranger.  He has been working on his Junior Ranger book all week and has now completed all of his homework assignments.  After a detailed check of his book and taking an oath, he was awarded a plastic Junior Ranger badge. This afternoon we hiked from our campground into the Mosaic Canyon.  This 8 mile hike was very rewarding.  The walls of this canyon were unlike any of the other canyons that we have explored.  The polished rock appeared to be almost marble like.  There were several spots where we had to do some rock scrambling over the boulders.
Day 24 March 1st: Death Valley Stovepipe Wells to Mesquite Springs: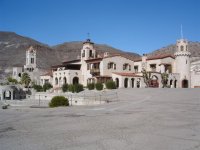 This morning we drove to the upper end of the park for a tour of Scotty's Castle.  This Spanish style mansion was built in the 1920's by the wealthy businessman Albert Johnson.  Much of the original furniture and clothing are still inside.  It reminded us a lot of the Vanderbilt's Biltmore House.  The history of this place is very interesting.  From there we drove to another campground called Mesquite Flats.  This is a much nicer campground than the others in the park.  It is smaller with only 30 sites.  Most campers don't come here because of its remote location. We have seen Backroads Bicycle Tours throughout the park all week.  This afternoon we decided to get out our bicycles out for an 18 mile ride to the Ubehebe Volcanic Crater.  It was a beautiful but hilly ride to the crater.  From the cinder top we could peer down into this 600 foot caldera.  This crater last exploded 200 years ago with a violent release of underground steam pressure.  This area has been very active over the past few years and some think another explosion could occur at anytime.  This was probably the most magnificent spot we have seen in the park.  Unfortunately our time here has come to an end. Tomorrow we will start working our way slowly back east to home.
Day 25 March 2nd: Death Valley to Valley of Fire State Park: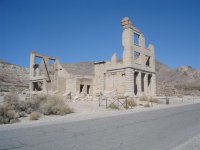 We took the northern route out of Death Valley to the town of Beatty.  Nearby was the ghost town of Ryloite.  We made a brief tour through the ruins of this cowboy town.  From there we headed south paralleling the Nellis Bombing Range.  We were lured into stopping for lunch at a local casino with their offer of steak and eggs for $5.99.  The irony of this is that neither of us ended up ordering this special but both had their burgers.  We then skirted around the northern side of Las Vegas avoiding most of the heavy traffic.  Our destination for tonight is Valley of Fire State Park.  Just past the entrance, we have a glimpse of why this name was given.  The fiery red mountains of sandstone loom up over us.  We find a great spot in the Atlatl campground overlooking the valley.  Total miles traveled today was 237.
Day 26 March 3rd: Valley of Fire to Lake Mead:


We began the day with a four mile run/ walk through this great state park.  This has to be one of the most magnificent we have visited.  Valley of Fire was the first State Park in Nevada.  It derives it's name from the red sandstone formations formed from great shifting sand dunes 150 million years ago.  This area has undergone massive uplifting and faulting.  Many of the rock faces are inscribed with petroglyphs.  This morning we attended a lecture at the visitor center on these carvings and how to locate them.  We saw many petroglyphs on a hike to an area called Mouse's Tank. We were also rewarded with our first sighting of the bighorn sheep.  Up in the rocks we spotted a heard of five sheep along with a small lamb.  Just outside of The State Park, we traveled along the North Shore Road into the Lake Mead Recreation Area.  The twisted yet scenic drive reveled the incredible volcanic history that makes this section of the region so dynamic.  After briefly stopping at two local marinas on Lake Mead, we continued on to the Boulder Beach Campground. We are only a few miles from the Hoover Dam.  Today was a short mileage day of only 86 miles.
Day 27 March 4th: Lake Mead to Willow Beach Campground: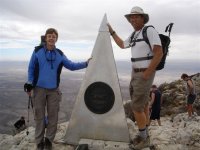 This morning, we drove into Boulder City for groceries and fuel before continuing on to Hoover Dam.  At Hoover Dam, we signed up for the power plant tour which took us down into the bowels of this engineering feat.  From there we had a short drive of only 15 miles to our campsite for tonight of Willow Beach.  This campground is part of the Lake Mead Recreation Area and is set beside the Colorado River in the Black Canyon, only 10 miles below the Dam. It is another great spot and we will spend two nights here so that we can kayak tomorrow on the Colorado River. This evening we hiked down to the water to check out the kayaking.  On our way back to our campsite we had our second sighting of Big Horn Sheep just below our camp site.  Today was another short travel day of only 41 miles.
Day 28 March 5th: Willow Beach Campground:


During our run/walk this morning, we again spotted the Big Horn Sheep high up on the hill.  They don't seem to be afraid of humans, and watched us with intent curiosity.  I think Sebastian's presence was baffling to them.  Aboard our RV, we carry two inflatable kayaks.  These kayaks are wonderfully portable with their own backpack for places just like this.  Loaded with these on our backs, we journey the steep 1/2 mile down to the Colorado River.  The real challenge will be toting these back up the hill.  While setting up our kayaks, we talk to someone who is kayaking from Hoover Dam to Yuma,AZ (340 miles).  What a great trip that would be.  Another thing to add to our bucket list.  The section of river that we are paddling is amazing.  The narrow gorge snakes through the tall canyon walls.  Other than a multitude of birds, there is not another sole on the water.  Sebastian happily sits in the bow taking in all the sights. The water is incredibly clear and cold. About three miles upstream, we find a nice sandy beach for a picnic lunch. Jeff didn't get to do his Polar Plunge while in Antarctica earlier this year so decides to give this 57 degree water a swim.  He did it, but not for very long.   From there it is a much easier paddle downstream back to our campsite.  We have really enjoyed our stay here and will for sure come back some day.  Willow Beach is our new favorite campsite.
Day 29 March 6th:  Willow Beach to Lake Havasu City, AZ: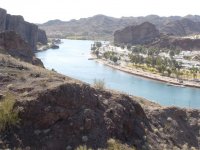 We were up and out of our campsite early today.  The winds are forecast to blow really hard and we wanted to get to our next destination before they picked up.  Already, it is gusty and we travel extra slow just to keep the RV on the road.  We make a quick stop in Kingman, AZ for some mail and then to Lake Havasu City for the evening.  The Windsor Beach State Park is right on the Colorado River.  This area is much different than our previous camp.  The river is very wide and the town very busy. Lake Havasu City seems to be another RV Capital of the southwest. There are RV parks everywhere.  The weather forecasters were correct.  It is WINDY!  We have had gust to 55 MPH.  There is a haze in the sky for miles.  It is the dust.  Everything both inside and out seems to be covered with a fine layer of grit.  Another RV'er had recommended two restaurants, Scottie's Broasted Chicken and Angelina's Italian.  Having a hard time choosing, we finally decided to give Angelina's a try tonight. It was very good.  On our way back to the RV, we stopped in at Scottie's and ordered chicken and Ribs to go.  Now we have dinner for tomorrow and also get to try both restaurants.
Day 30 March 7th: Lake Havasu to Cattail Cove State Park: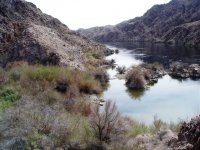 My morning run took me down to the London Bridge.  Yes, it is the actual London Bridge which was falling down over the River Thames in London.  It was purchased by a local resident and the pieces were transported to Lake Havasu City.  The bridge was reconstructed in 1963 and is now a major tourist attraction.  Our drive today was a short 33 miles just outside of town to Cattail Springs State Park.  The park ranger assigned us to the best spot in the park as someone had just vacated it.  We are right on the beach overlooking the Colorado River.  This afternoon we do a 3 mile hike along the shoreline bluff trail.  We have wonderful views across the Colorado River into California.  The clear blue waters provide a striking contrast to the surrounding desert brown mountains.  It would be another great place to kayak but today it is just too cold and windy.  Tonight we attend a ranger talk on hummingbirds which is very interesting.
Day 31 March 8th:  Cattail Cove to  Buckskin Mountain State Park:


Our morning started with a two hour volunteer led hike learning about desert plants.  It is evident that the lack of rain this year is taking its toll on this already aired part of the country.  This walk really helped us appreciate the many plants and animals that inhabit the desert washes and hillsides.  Our travel today was a very short 13 miles to Buckskin Mountain State Park.  Like Cattail Cove, this park is also located on the Colorado River in a very scenic area.  We would like to get the kayaks out but it is still way too windy.  Instead, we spend the afternoon hiking some of the trails around the park.  We are again rewarded with great vistas of the Colorado River from high up in the barren hillsides.
Day 32 March 9th: Buckskin Mountain to Lake Pleasant County Park, AZ: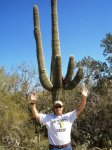 Today was a short travel day of only 169 miles.  We stopped in the town of Wickenburg,AZ to pick up our weekly mail drop.  From there we traveled another 22 miles to Lake Pleasant County Park just outside of Phoenix.  The park is surprisingly huge with a large lake.  We are now back in the land of the large Saguaro Cactus.  We inflated the kayaks for a paddle this afternoon.  The winds seemed to pick up as soon as we hit the water.  With the choppy water, the kayaking was not to great today.
Day 33 March 10th: Lake Pleasant to Scottsdale,AZ: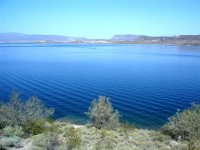 Today was another short travel day of 77 miles to Scottsdale,AZ.  There is a 15k road race here tomorrow so we decided to hang around another day for that.  Jeff has more sense than me and he has elected to stay with Sebastian while I try to kill myself on the run.  I haven't been running this long a distance so I am a little unsure of my ability to complete this 9 mile run.  Tonight we are at a very nice RV park just a few miles from the race.  This afternoon we enjoyed their pool and hot tub while doing laundry.  Tonight we took advantage of the free shuttle to the casino.  They have an all you can eat crab leg buffet which was pretty good. The RV Park had given us a $30 coupon for use in the casino.  We decided to try our luck on the slot machines with this free money.   We couldn't cash this money in but we could cash out any winnings.  We ended up leaving with $60 of the casino's money.  It was a productive evening.  We at least paid for tonight's stay at the RV Park and also our dinner.
Day 34 March 11th: Scottsdale, AZ to Tucson, Arizona: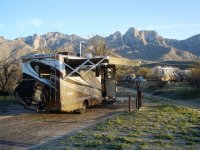 I hope we didn't wake any of the other RV'ers this morning as we left really early for the 15k road race.  Today is the start of daylight savings time so we made sure to move our clocks ahead last night. When we arrived to the race shuttle area, hardly anyone was there yet.  There were only five other runners on my shuttle bus to the mountain top start.  We later discovered that Arizona does not observe daylight savings time.  Now I have a two hour wait up on top of the mountain in the freezing temperatures for the race start.  No wonder there was hardly anyone on my bus.  Time goes quickly and I am soon to the finish of the nine miles.  It was a good run and I end of getting second in my age group.  Not a bad way to celebrate my birthday.  After a quick shower, we are again back on the road to Tucson.  We see an advertisement for In-N-Out Burgers.  This is Regional franchise similar to Mc Donald's.  Someone had told us that their burgers were really good and we have wanted to try them.  A double burger, fries, and chocolate milkshake make a great birthday dinner.  After running nine miles, I don't feel so bad eating this.  We were  impressed with how the staff really hustles.  The place was packed and they do a great job of turning out the food.  For fast food, it was actually pretty good.  With our bellies full, we continue on to Catalina State Park.  We have a great campsite at the foothills of the Catalina Mountains.  This evening we check out some of the hiking trails.  The park has an amazing network of trails. One climbs to the summit of Mt. Lemmon which is the highest point in the Catalina's at just over 9000 feet.  We would like to return here someday and do this hike. This area was also used by Lance Armstrong and his Radio Shack bicycle team for training several years ago.
Day 35 March 12th: Tucson, AZ to Tombstone, AZ: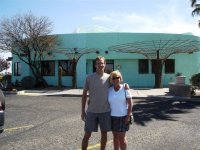 This morning we did a short hike to the Equestrian center here in Catalina State Park.  For  $15.00  a night, one can stay in the park with their horse and trailer.  There is an extensive network of horse trails and the paddocks were completely full of horses.  On our way out of Tucson, we met up with Jeff's sister who is also visiting Tucson and friend Chris for lunch at Thresa's  Mosaic Cafe for a Mexican meal.  From there we headed to Tombstone, AZ for the evening.  Our RV Park is in the heart of this historic old west town.  We toured through the town checking out all the well know sights such as the O.K Corral, Bird Cage Theatre, and Boothill Graveyard.  This evening was a ghost tour aboard the trolley.  Although pretty touristy, some of the stories were very entertaining.
Day 36 March 13th: Tombstone, AZ to Deming, NM: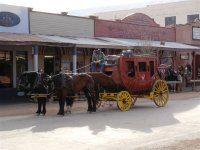 Continuing our long trek home, today we opted for the more circuitous   route staying south of I-10.  On Highway 80 we first headed to the historic town of Bisbee.   We stopped here briefly for a cup of coffee and walked around the downtown area.  It seems to be an interesting town with lots of nice shops.  The huge copper mine that made this area famous now serves as an open air museum.  This open pit mine is enormous.  From Bisbee, we continued south to the town of Douglas.  Douglas sits on the US/Mexico Border.  We drive south until the road ends at the concrete and steel boarder fence before turning around. From Douglas to I-10, this stretch is heavily patrolled by the US Border Patrol.   Every few miles we see a Border Patrol vehicle. Otherwise, we see no one. It is a beautiful drive through this section of the Chihuahuan Desert.  In Deming,NM, we head north 25 miles to City of Rocks State Park.  Today's mileage was 237 miles.
Day 37 March 14th: Deming, NM to Guadalupe Mountain National Park: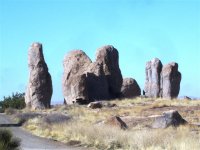 We have really enjoyed our stay here in City of Rocks State Park.  There is a four mile trail which circles the park and winds its way across the plains of the Chihuahuan desert.  Exploring this on my morning run, I was really surprised at how far out in the desert the trail took me.  I never feel very comfortable running out here by myself in the land of rattlesnakes and Mountain Lions. It was however comforting to know that Jeff and Sebastian were out walking in the area also.   We learned that these bizarre monolithic rock formations exist in only six other places around the world.  Formed of volcanic ash and welded together 35 million years ago, they have been sculpted into all sorts of shapes by the wind and water.  The campsites are nestled between these stone sentry's.  We continue on I-10 to El Paso and then east on State Road 80 which is referred to as The Mountain Pass Road.  Arriving late afternoon to the Guadalupe Mountain National Park, we cross our fingers that space is still available for overnight camping.  Here it is first come first serve.  The campground consists of a paved parking lot. The advantage to being here is that the trail head for all the hiking trails begins here.  Luckily there are still plenty of open spots.  At $8 a night it is a deal and we will spend two nights here so that we can get in some hiking tomorrow.  Today's mileage was 243 miles.
Day 38 March 15th: Guadalupe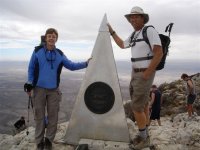 As planed, we spent most of the day hiking the Guadalupe Mountain trail.  This 8.4 mile hike took us to Guadalupe Peak which is the highest point in Texas at 8749 feet.  The trail was very steep and rocky with an elevation gain of 3000 feet.  We enjoyed lunch on top with great views over the Texas plains.  We were very lucky with the weather today.  The winds were almost calm and it was partly cloudy making it very enjoyable at the peak.  We had wanted to do this hike when in Carlsbad on our trip west but at that time the winds were blowing 70 knots.  In talking to the Rangers, today is an exceptional day and should be enjoyed to the max. It is rare to find a day when the winds are less than 20 knots.  At Guadalupe Peak, we signed the log book and took pictures at the plaque.  Going down, we soon realized how steep the climb had been. We couldn't believe our eyes as we passed a true hiking dive outfitted in a long flowery dress and flip flops about 1/3 way up the trail.  When she asked if she was 1/2 way up, Jeff said "no only 1/3 and you better be careful on the rocks".  We are still wondering how she made it that far and if she made it back down without serious injury.  This afternoon Jeff completed his third Junior Ranger program and received his spiffy badge along with being sworn in by the Park Ranger.
Day 39 March 16th: Guadalupe to Albany, TX:


Today was not very exciting.  Just a long travel day.  We traveled just north of I-20 on the smaller two lane State Highway 180.  It was a nice road with almost no traffic.  We went through the small towns of Hobbs, Lamesa, Snyder, and Anson.  There are some very long stretches of nothing but red clay fields.  Just outside Snyder, we travel through a long section of windmills.  There are hundreds of them as far as the eye can see.  We stop for the evening in the small town of Albany at the Albany Motor Inn and RV Resort.  Continuing on our Roadfood adventure, dinner tonight was at the Fort Griffin General Merchandise Store.  It has been voted one of the 100 best small town restaurants in Texas.  Housed in old saloon and general store, the atmosphere inside is western and the menu is extensive.  Jeff ordered the prime rib and I tried the fillet.  Both cuts of meat were excellent and reflect the quality of beef in this area.  Today's mileage was 357.
Day 40 March 17th: Albany, TX to Shreveport, LA: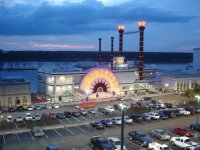 Today was another long traveling day of 347 miles.  There was again very little traffic on Highway 180 until Dallas/Fort Worth.  It is nice to finally see some green grass.  At Fort Worth, we are back on Interstate 20 to Shreveport, LA.  Tonight's home is the Horseshoe Casino in Bossier City just across the Red River from Shreveport.  There are quite a few other RV's in the large free overnight parking lot. Next door to the Casino is a waterfront boardwalk with a multitude of shops and restaurants.  We spend some time this afternoon walking along the river and also checking out one of the largest Bass Pro Shops. We had planed on eating dinner at the casino buffet. On our way in however, we saw a billboard advertising a Saturday night all you can eat Maine Lobster Buffet at the Boomtown Casino just down the street.  We could not believe anyone would offer a lobster buffet so I called to verify.  Sure enough, for $24.95 it is all you can eat Maine Lobster.  It turns out to be a fabulous buffet with lots of other choices besides the lobster.  12 lobsters later, Jeff finally gives in and has a plate of salad.  I don't think they made any money on us.  On our way out of the casino, we took our turn on the free spin slot machine.  We both won a free buffet. Looks like we will be eating breakfast here tomorrow. They are definitely loosing money on us.
Day 41 March 18th: Shreveport, LA to Vicksburg, MS: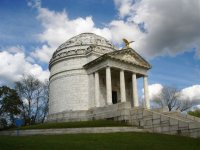 Our free campground here at Horseshoe Casino was noisy last night.  We are right next to interstate and we could hear the traffic all night long.  I guess we can't complain though because it is free.  Before leaving this morning, we headed back to the casino for our free breakfast buffet.  Checking our casino cards, we found that there was $10 of free gambling money on each one.  We are not sure why but theorize that maybe this was because we purchased the dinner buffet last night.  Anyway we played our free money and cashed out our winnings with another $14 in our pockets.  Back on I-20 we had a short trip of 197 miles to Vicksburg,MS.  We spent the afternoon on a 16 mile driving tour of The Vicksburg National Military Park.  After 46 days under siege, the surrender of Vicksburg was a major turning point in the Civil War.  This evening we are at the Ameristar Casino RV Park.  The casino is across the street along the mighty Mississippi River.  Unlike the other casinos, there are no freebies here.  We did check out their buffet.  It looks really good but we are both too stuffed from last night to even consider eating here.
Day 42 March 19th: Vicksburg, MS to Florence, AL:
Before leaving Vicksburg, we made a stop at the Post Office to pick up our mail delivery.  From there we hopped on I-20 which took us east to the Natchez Trace Parkway.  It would have been quicker to stay on the interstates but we have found the Parkway to be traffic free and much more relaxing.  Tonight's stop is at Joe Wheeler State Park in Florence, AL.  We have been here several times by water in both Idyll Time and our smaller boat Idyll Out.  Each year the Great Loop Fall Rendezvous is held here.  We have now stayed here in our boat, in the hotel, and also our RV.  It is good to be in familiar territory and close to home.  Watching the weather, it looks like we got out of Texas just in time.  There are severe storms, wind warnings, and also tornadoes where we were just a few days ago.  We are glad to be traveling east so quickly. Today's mileage was 338 miles.
Day 43 March 20th: Florence, AL to Chattanooga, TN:
It was a short and uneventful trip home along Highway 72.  Miss Daisy is now parked securely in the driveway awaiting her next adventure.  Below are statistics of our trip.
Total days   43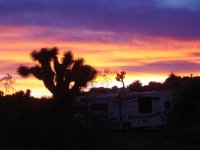 Miles traveled 6302
Total fuel costs. $1627.40
Average miles per gallon 17
Highest price per gallon. $5.90 at Death Valley
Highest elevation reached 8749 feet at Guadeloupe Peak
Lowest Elevation 282 feet below sea level at Bad Water
We had a great time on land exploring a small part of America. We are now anxiously awaiting spring on Lake Michigan so that we can get back on the water. Idyll Time should be "splashed" in early May.