Hello, my name is Stormy
and I am Uncle Jeff and Aunt Susie's 10 year old nephew. I visited them for two weeks aboard their boat. The first day I came with Uncle Jeff on a jet flight and we had a billion delays. That part of my summer was not that fun staying at the airport all day. Then I came on board the boat at 10:00 PM. This year I have my own room and slept with Sebastian, their dog, and the two parrots every night.
The first morning the Nina and Pinta came to the docks in Petoskey.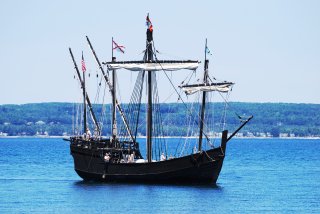 After we looked at them we took the boat to Harbor Springs. It was a lot of fun because we went to Yummies, an ice cream place. I had vanilla and French silk ice cream and Sebastian had a doggie sundae which he thought was very good. Uncle Jeff ate part of Sebastian's sundae which had some dog food on it. Gross! We kayaked at Harbor Springs and the water was very clear and pretty. We stayed for two days and on the third day we left and went to Beaver Island.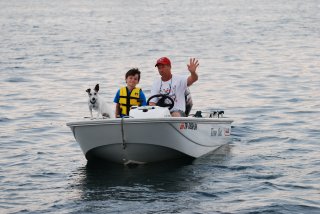 At Beaver Island the water was very clear and pretty like Harbor Springs. I snorkeled on a wreck and found two gold coins.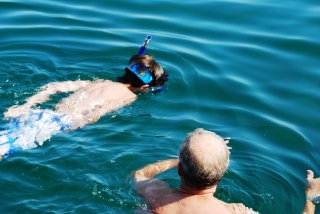 We went to the bakery and I had three donuts every day. Also on Beaver Island we hiked and found a beach where the water was very shallow. Uncle Jeff and I snorkeled again and saw a lot of crayfish there. We went to the Beaver Island Toy Store which was very cool. They had things there for five cents. Then Uncle Jeff's birthday came up and Aunt Susie and I baked him a cake without Uncle Jeff knowing. He was very surprised about his cake. I was sad to leave Beaver Island because it was very nice there.
After we left Beaver Island for Charlevoix, we anchored in Oyster Bay. Me and Uncle Jeff snorkeled to a wreck that was three feet under water.
I found a cool spike. After that, we swam back to the boat and jumped off the top of the deck four times.
The next day we got up at 5:30 AM and it took us all day to get from Charlevoix to Frankfort. In a car it would only take an hour but the boat only goes 8 mph. When we got to Frankfort, we stayed on the boat in the harbor for the rest of the day. The next morning we went to shore and got donuts at a bakery. Aunt Susie bought me a really neat Lego Titanic model. Then we went back to the boat and got some fuel for the boat at the boat dock. After that we went to Ludington. It took us all day again. The next day we went to shore and found a really nice beach. Then we went downtown and had lunch at the House of Flavors. It was very busy. They had good ice cream. We went back to the boat and went swimming some more.
We also worked on my Lego Titanic model some.
The next morning Uncle Jeff and Aunt Susie drove the boat at 5:00 in the morning. I was still asleep while they were driving. It took us all day again. It was a long ride. I slept most of the day.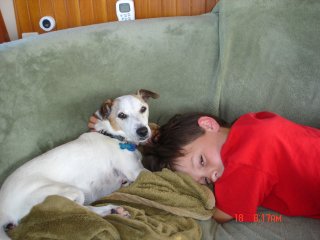 When we got to Grand Haven, it was neat there. There was a nice pool and me and Uncle Jeff went swimming. That day we finished the Lego Titanic model and it is very cool looking. It was a hard Lego set to build.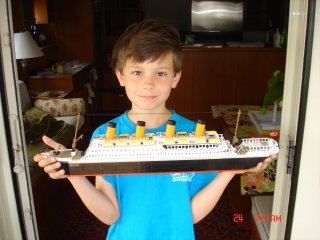 Some friends of Aunt Susie and Uncle Jeff came to our boat for dinner. We had good pizza and chocolate chip cookies. Their friends were very nice.
Tuesday was my last day on the boat. That day we packed my clothes and swam some more in the pool. After we picked up a rental car, we went hiking on some sand dunes. Tomorrow Uncle Jeff and I will drive for 12 hours back home.
I had a great vacation. It is sad to leave but I will be happy to be back home.
THE END