Stormy's Log:
Hello again, my name is Stormy.  You probably remember me from my other log several years ago.  I am now 12 years old and I am spending the next two weeks with Aunt Susie and Uncle Jeff.  Let me tell you about my trip aboard Idyll Time with Sebastian.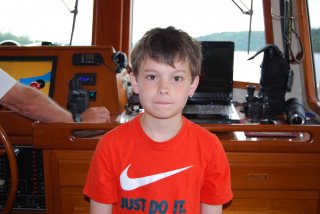 My trip started by driving in the car for four hours with both parrots, Homer and Nate, and Sebastian all crammed in the back seat.  When we finally got to our destination,Aqua Yacht
Harbor, I felt happy to be back aboard Idyll Time.  The next day we all drove to Shiloh Battlefield and learned everything we could about the civil war battle.  We watched a movie about this battle and did a driving tour to visit the monuments where all the fighting happened. After Shiloh, I got to go to Haggies Catfish House where Uncle Jeff tied his record of eating 9 catfish again.  How embarrassing for me!
The next day we sadly left Aqua Yacht Harbor and traveled to Panther Creek where we anchored overnight.  This was our best anchorage of the trip.  We swam, kayaked, and paddle boarded.  I also jumped off the very top deck of Idyll Time.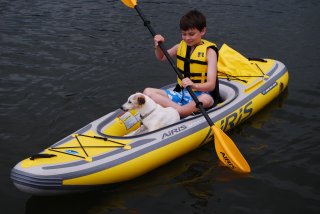 The day when we left Panther Creek, we went to Florence Harbor Marina.  While we were there, we got the courtesy van and visited Ivy Green, the birth place of Helen Keller.  I learned many of the things she did for the deaf and blind.  That night we went to the Florence Harbor Marina restaurant and they had really good hamburgers.  We also met the owners of a boat named Kiki.  They were traveling with their 4 dogs and an African Grey Parrot named Quigley.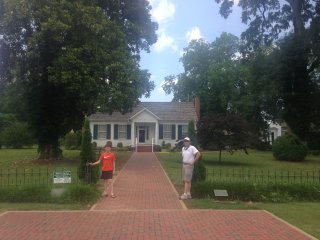 The next day we left to go to Joe Wheeler State Park.  While we were cruising there, we had to go through Wilson lock, my first lock ever.  It was cool.  Wilson Lock is the fifth tallest lock in theUSand is named after President Woodrow Wilson.  When we got to Joe Wheeler State Park we anchored.  It was very windy and wavy. It was too rough to kayak or paddle board but Uncle Jeff and I went swimming anyway.  I jumped off the top deck many times.  In the morning, we went to the Joe Wheeler dock and went to breakfast at the lodge.  They had a really good buffet.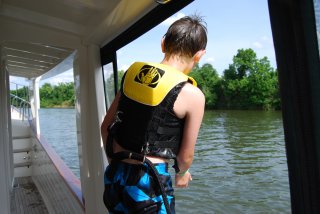 We left Joe Wheeler and motored up the TN River to Ditto Landing Marina in  Huntsville,AL.  After we docked, we ordered Marco's Pizza and their pizza was really, really delicious.
The next day we went to Burns Island and anchored.  The current was so fast here that you could not swim against it.  So Uncle Jeff put a life jacket on me and tied a rope on it so he could pull me in.  I defied death by jumping in several times.  It was fun and crazy.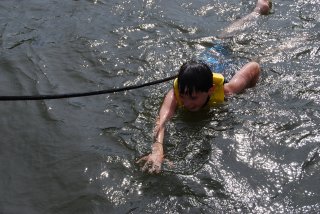 The next day we anchored at Little Cedar.  We put the dinghy in the water and I got to drive all around.  On the last day we traveled all day and reached Chattanooga and docked at the yacht club.  We spent the night at the yacht club inside the boat house.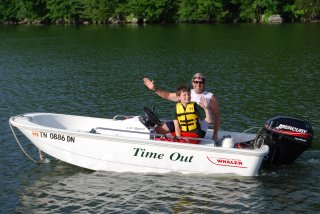 I had a great week aboard Idyll Time with Aunt Susie and Uncle Jeff.  They said I was a good boat boy.  I learned many things about the boat.  I hope to someday own this boat.
Goodbye,
Stormy