With the fog beginning to lift, we weigh anchor at 10 am and ease out of Geike Inlet. We keep a sharp lookout for the Orcas that were in the anchorage earlier today but they seem to have disappeared. The weather improves as we work our way "up bay".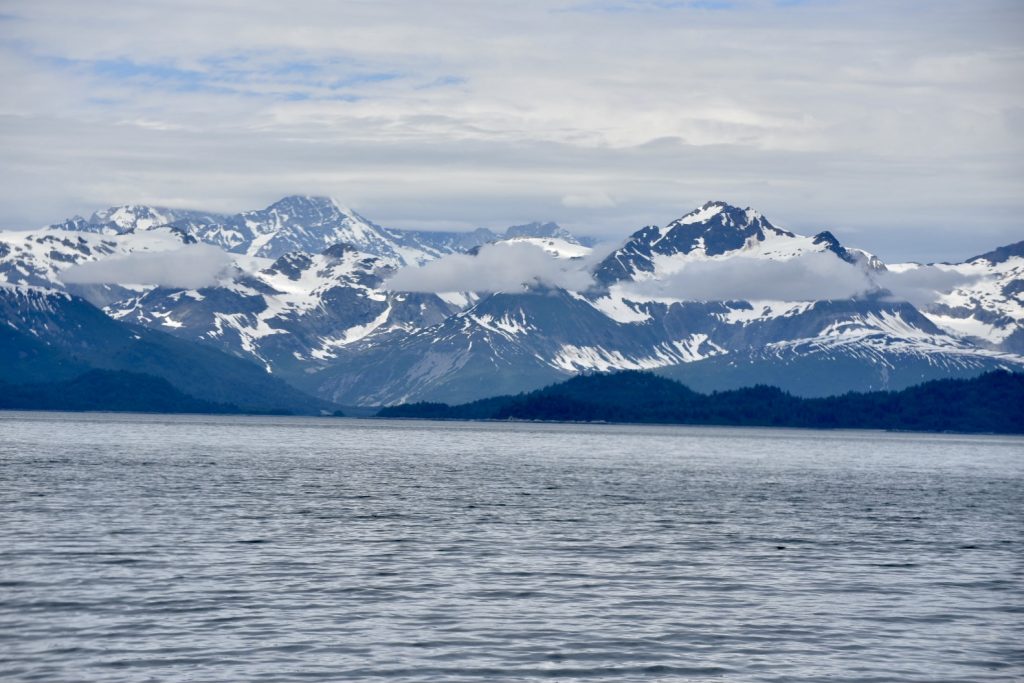 Reaching Reid Glacier we find a small 12 passenger cruise ship already in the anchorage. There is still plenty of room for us to set the hook on the shallow (fifty foot depth)glacial moraine. The big cruise ships haven't arrived to Glacier Bay yet but we have had reports that the mega ships will be arriving the beginning of August. Even though they bring tourists to SE Alaska, it has been nice not having to deal with them.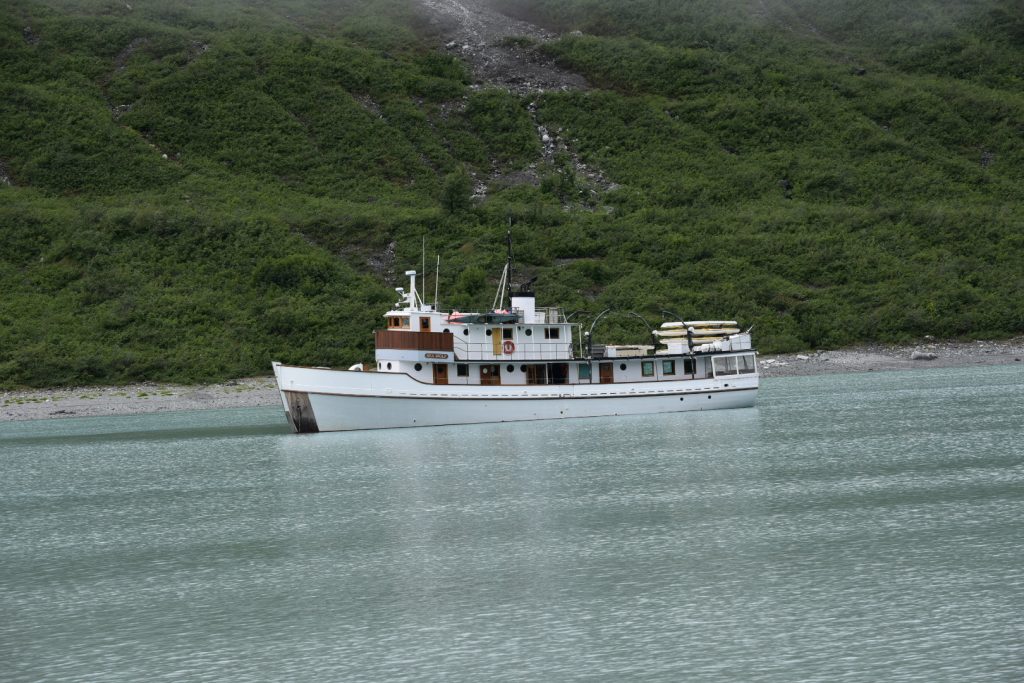 When John Muir paddled into Glacier Bay in 1879, the glacier ice had already retreated over 40 miles since Vancouver's explorations in 1794. At that time Reid Glacier extended out several miles into the bay. It is now a non-tidal glacier meaning the high tide waterline never reaches the base of the glacier.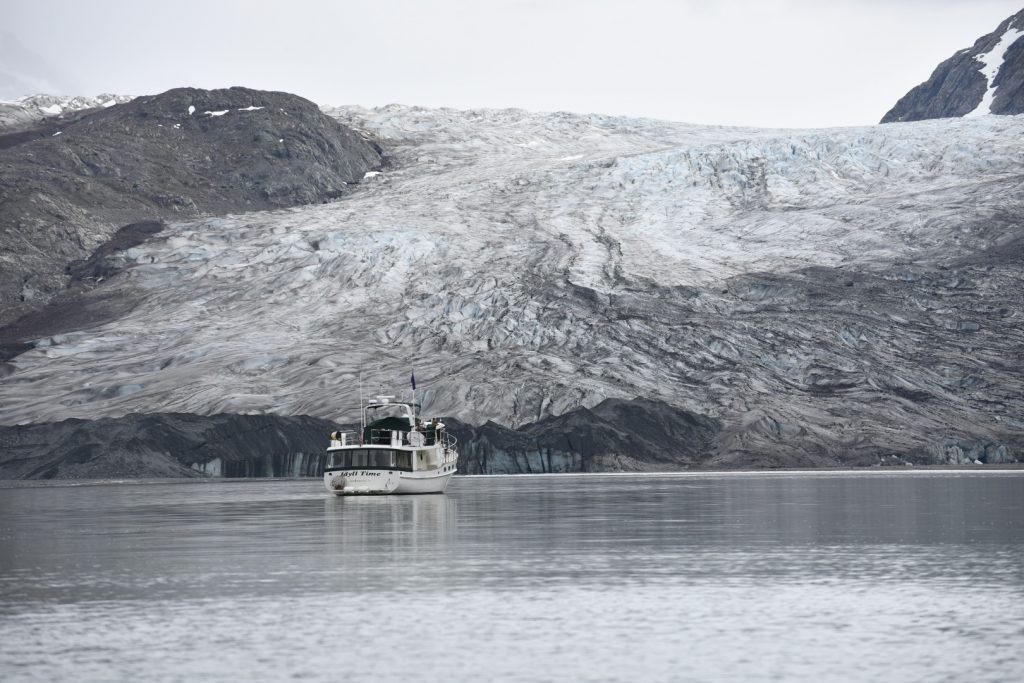 With the dinghy deployed, we spend some time hiking around the foot of the glacier.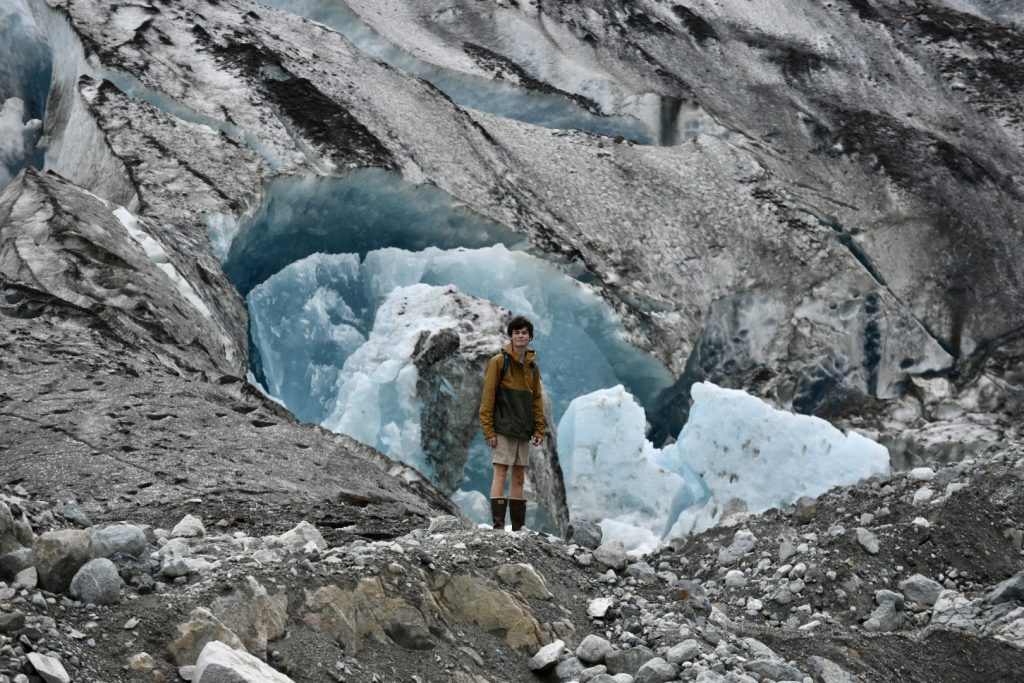 It appears to have receded even more since we were here two years ago. Glacier Bay is experiencing a phenomena know as Isostatic Rebound. Since the heavy glacier ice has melted on much of the land, the land is now springing up just like your mattress does after you get out of bed. Here in Reid Glacier it is estimated that the earth is rising 2" per year.
It is a little chilly overnight being next to the glacier. Water temperatures have dropped to 47 degrees. Rising early the next morning, we continue working our way up bay towards the John Hopkins Glacier.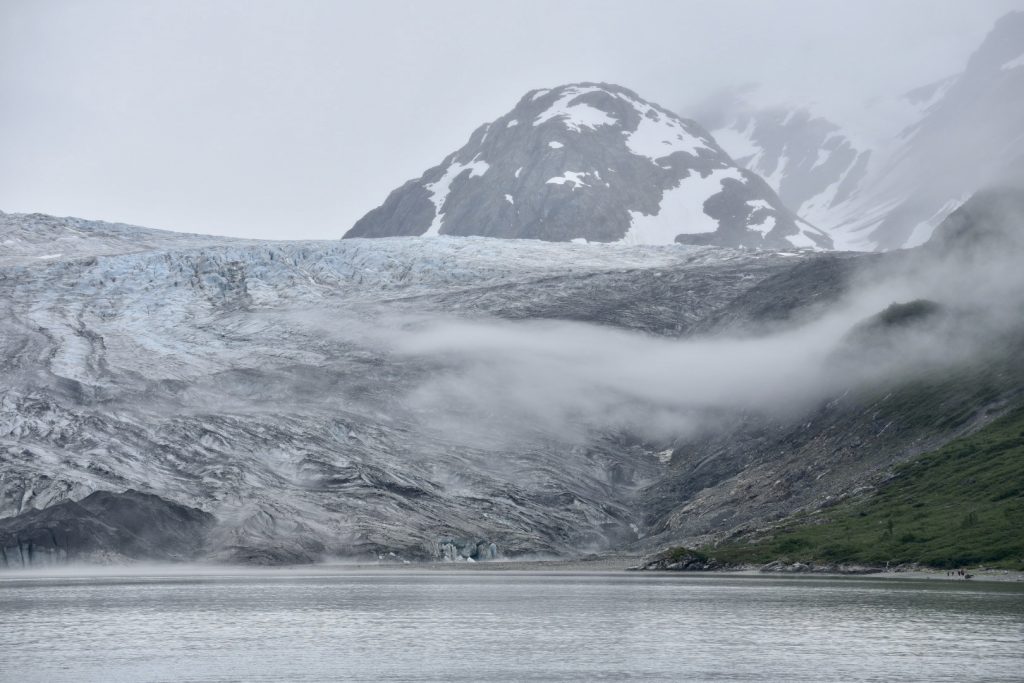 Just outside of Reid we pass the small but beautiful Lamplugh Glacier. It's blue ice comes from the dense Brady Ice field. It too appears to have changed greatly since we were here two years ago.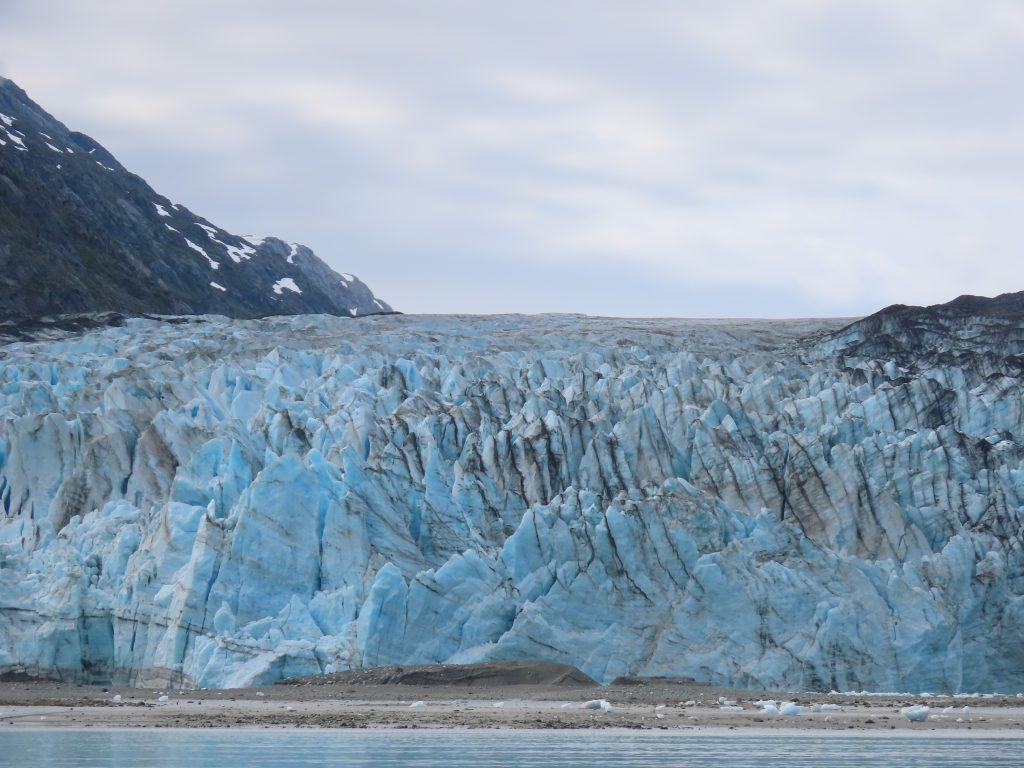 We must now keep a sharp lookout for ice bergs lurking in the water. Rounding Jaw Point, we get our first views of the John Hopkins Glacier. The waters ahead are littered with small bergie bits. Up until two weeks ago no vessels were allowed past this point as seals use the ice for raising their pups. We slowly work our way towards the glacier. The ice bergs become more numerous but Jeff is able to find a path to weave our way thru.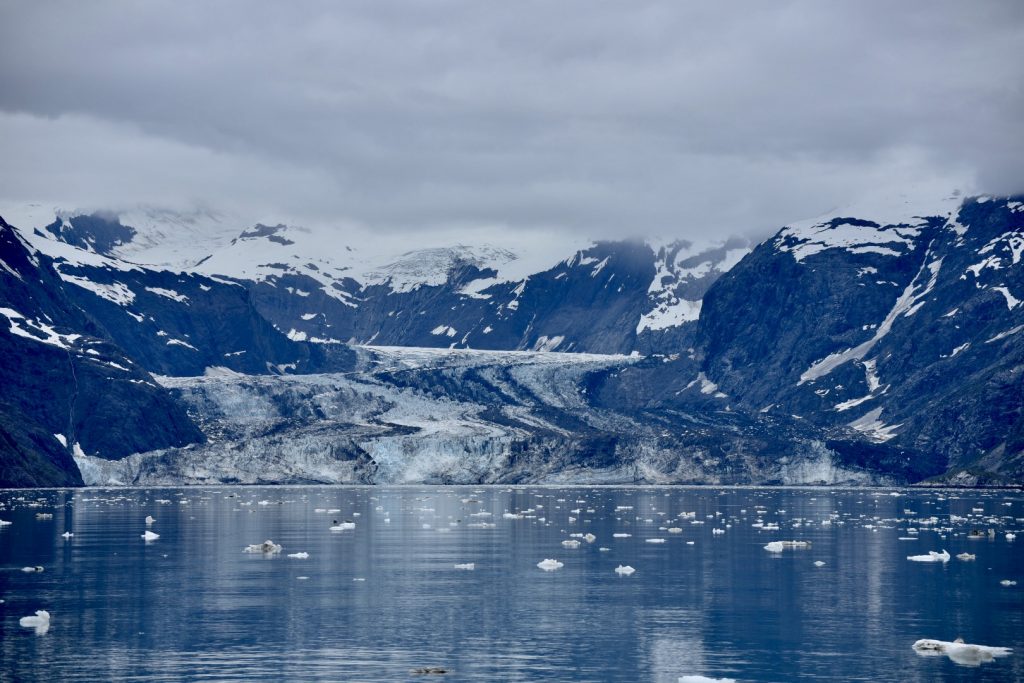 We spot several seals resting on the ice but don't see any pups.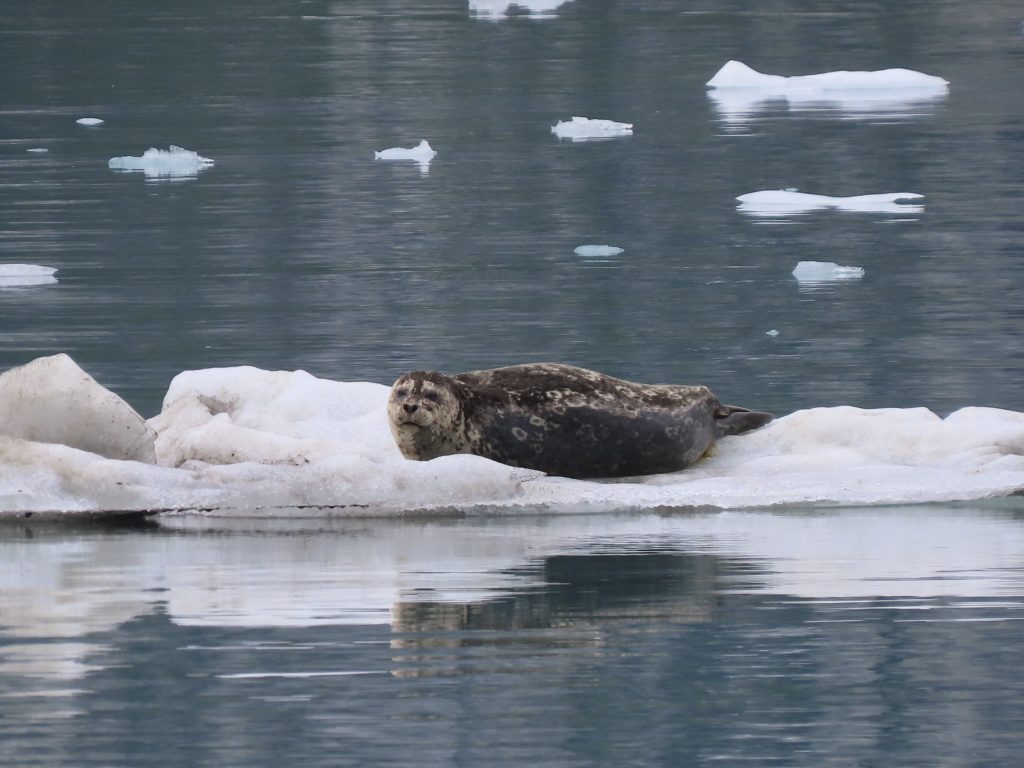 Going up to the glacier is always special but it does add a higher level of tension dealing with floating ice. We reach within two miles of the glacier face and call it quits. We spend an hour just floating and taking in these marvelous sights. Several loud booms remind us that this glacier is still active. What a treat to have the majesty of this special place all to ourselves.
It's now time to head back down the bay and see what other wildlife we can spot. Thanks for following along.