After spending an hour floating around the ice of John Hopkins Glacier, we point the bow south and retrace our path "down bay" in search of more wildlife. As we round the backside of Russell Island, we see a brown bear cruising the beach in search of food.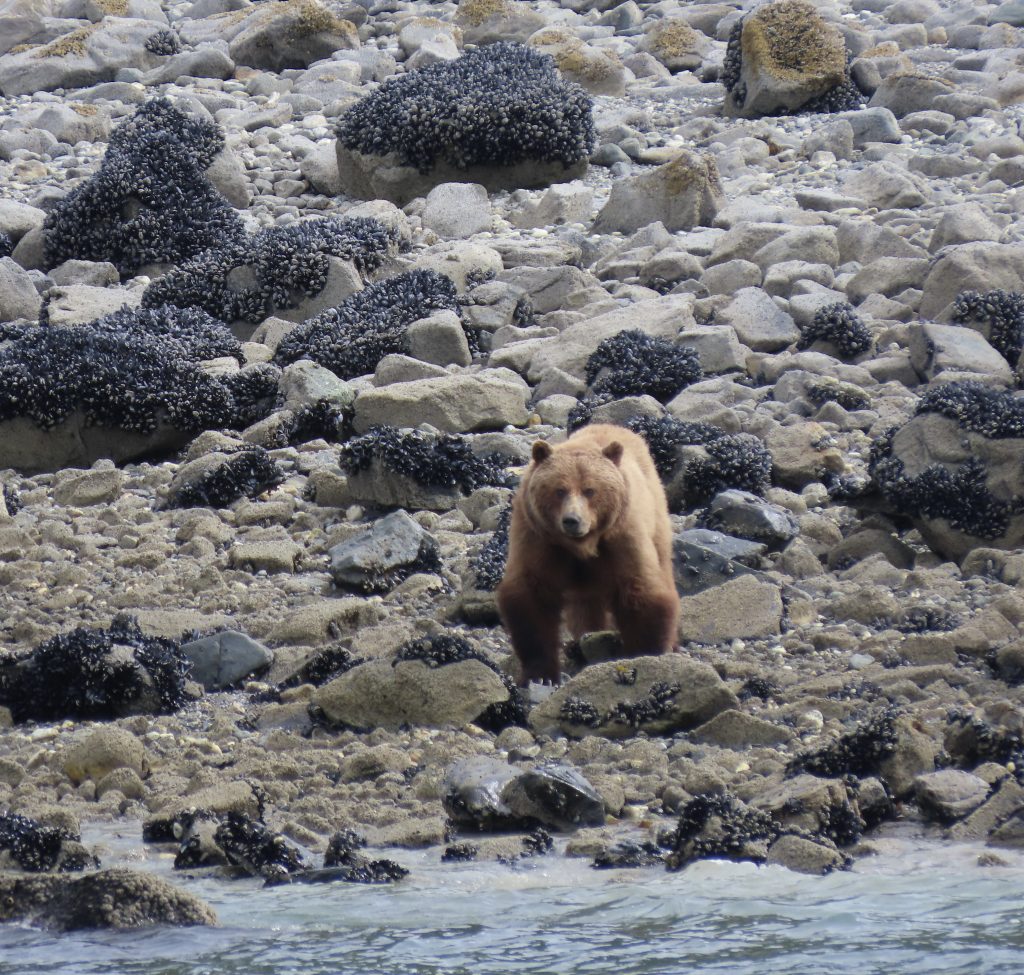 We spend an hour watching him tip over 100 pound boulders as if they were pebbles while he searches for tasty critters underneath. A bears strength is truly impressive. He shows no concern that we are nearby.
Our next stop is Gloomy Knob in search of mountain goats. We work our way south scanning the steep rocky cliffs for some white dots but none are to be found. Just as we are ready to leave, a family of six mountain goats ramble over the summit of Gloomy Knob.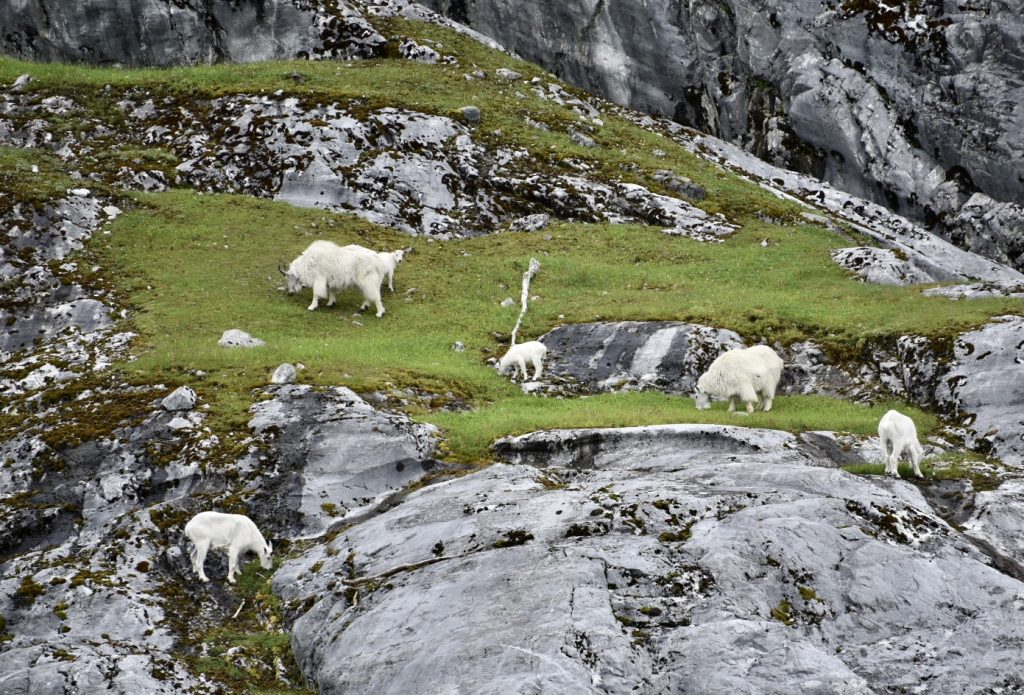 We watch in awe as they navigate these vertiginous cliffs with little concern.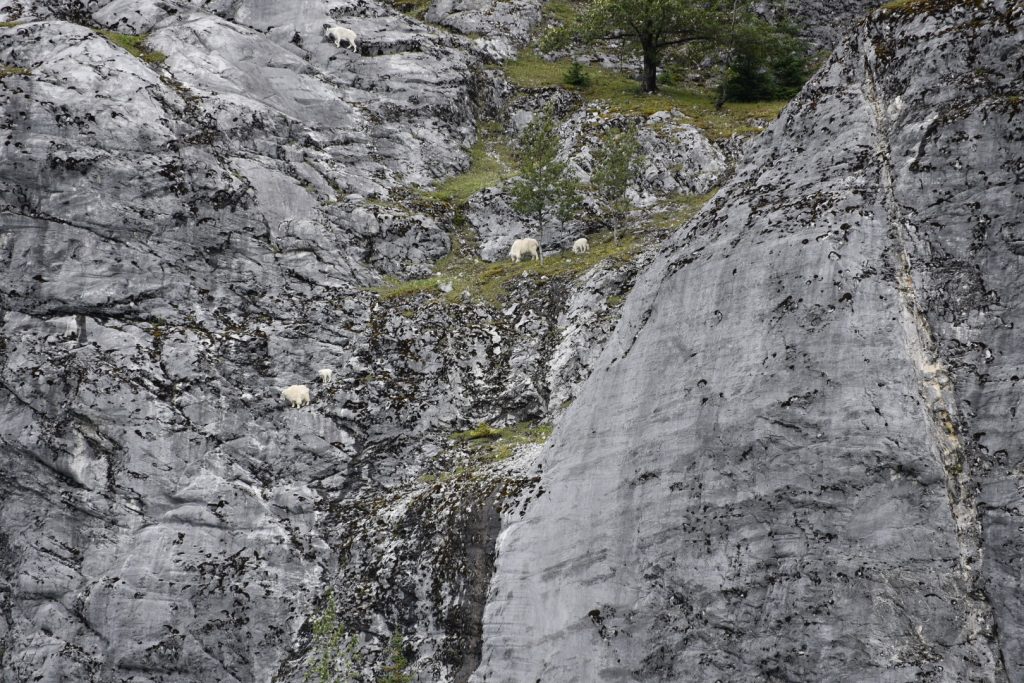 They descend over 500 feet in a matter of minutes.  There are two young kids that follow closely behind one  of the parents.  They too are impressive in how easily they descend.  Once the clan is down  on the broad grassy plateau, the kids begin to romp and play as if to celebrate their big descent.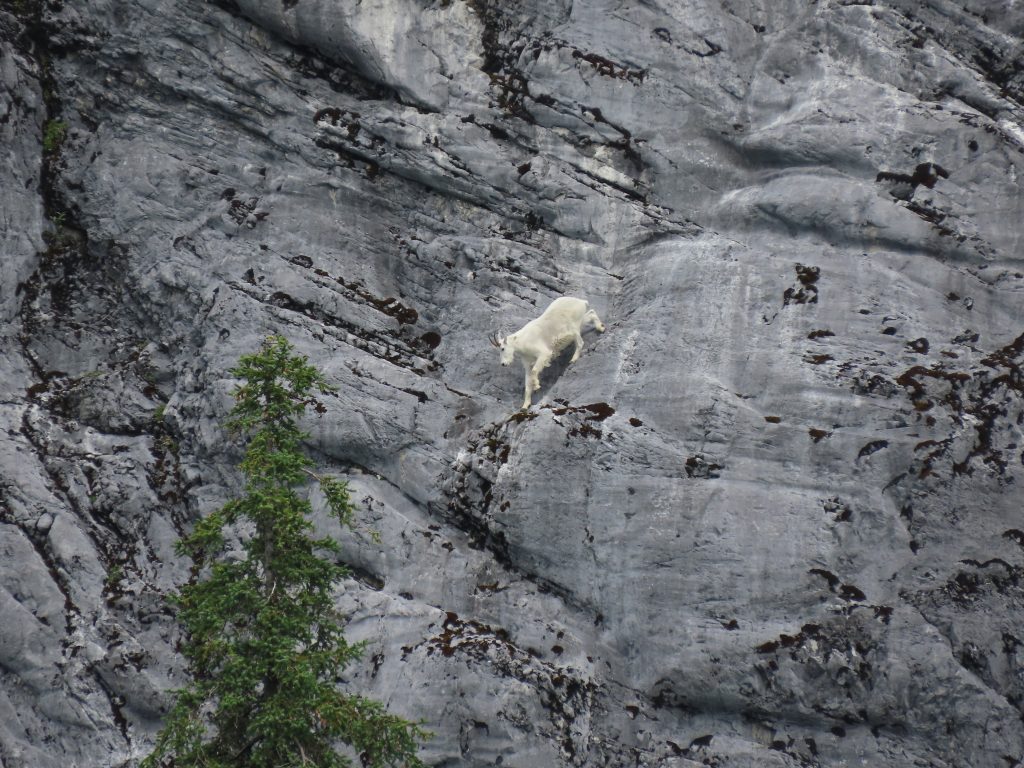 We can't believe what we just saw and it will definitely be a highlight of this years exploration of Glacier Bay.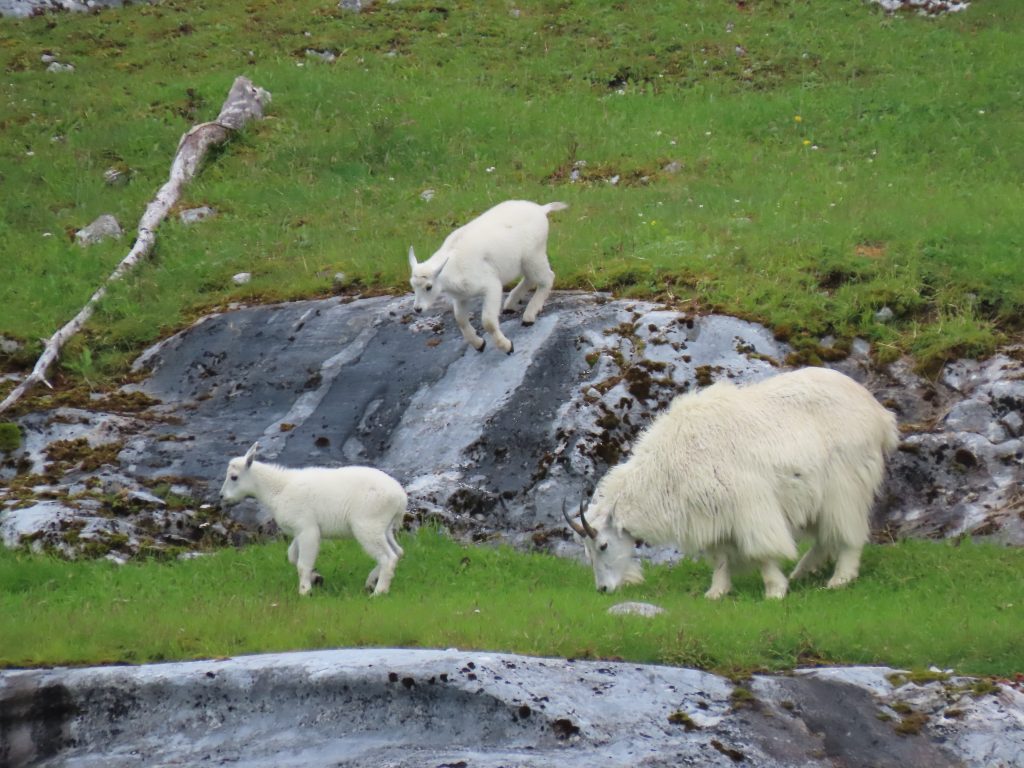 Our next stop is a rocky outcrop known as South Marble Island. This island is home to a colony of Stellar Sea Lions. You can smell and hear them from several miles away.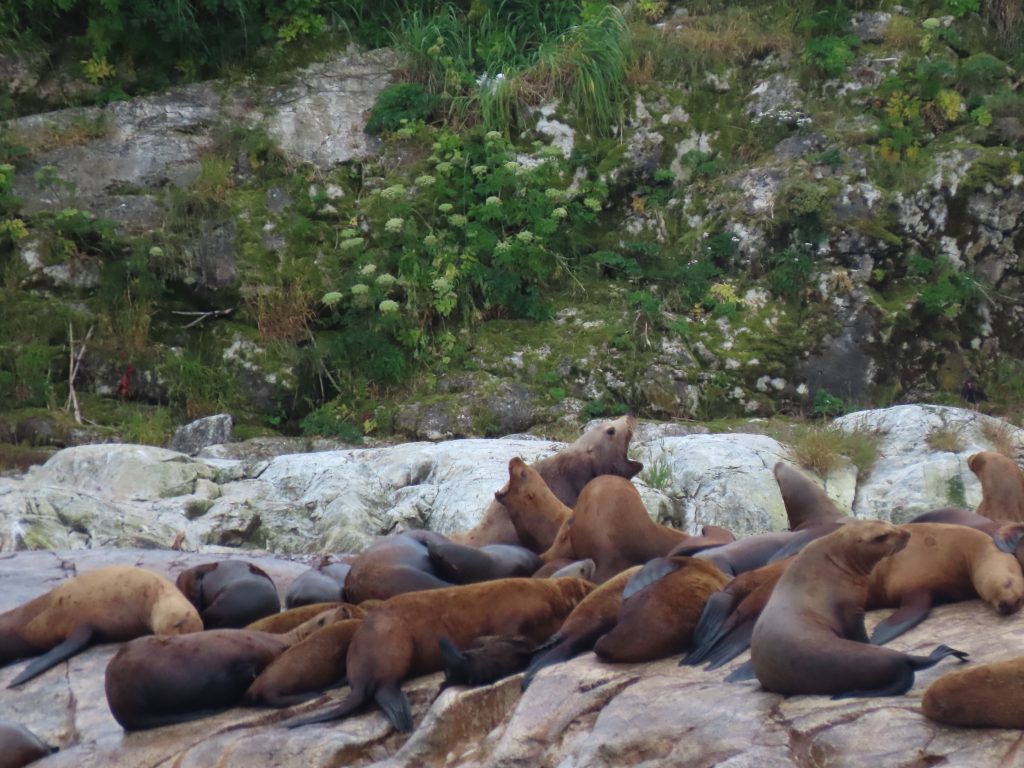 South Marble is also home to hundreds of seabirds. My favorite are the Puffins. There are two types here. The more common is the Tufted Puffin.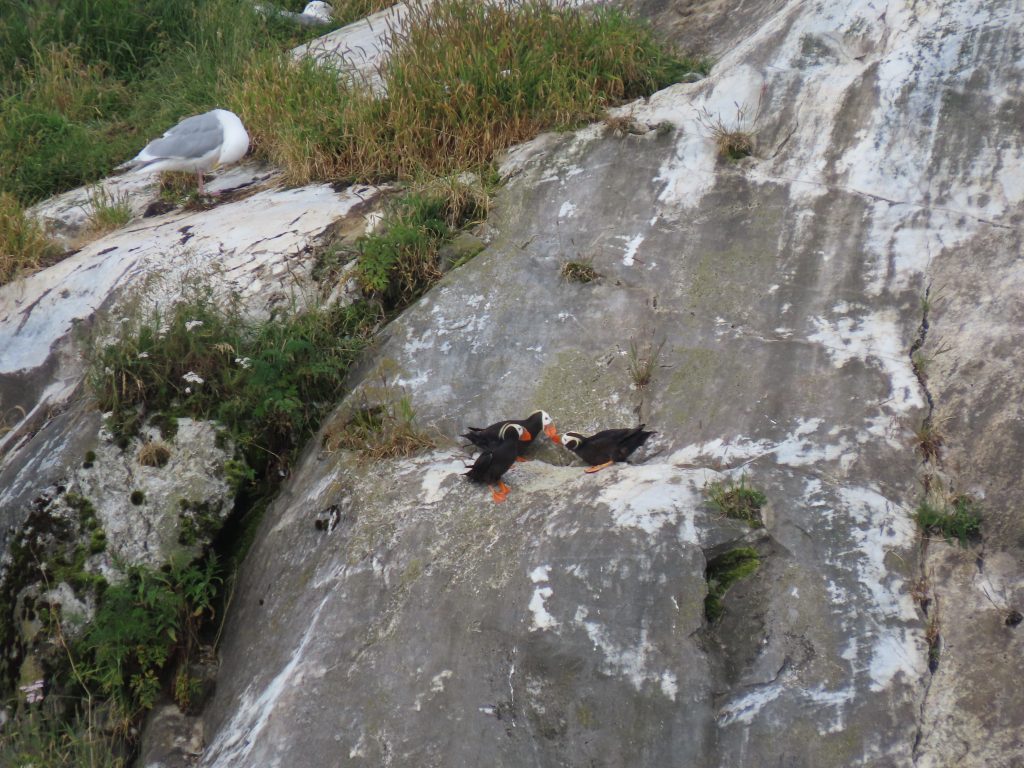 We are also thrilled to spot the Horned Puffin bobbing in the chilly water. According to a Park Ranger, only four pairs of Horned Puffins are know to call Glacier Bay home.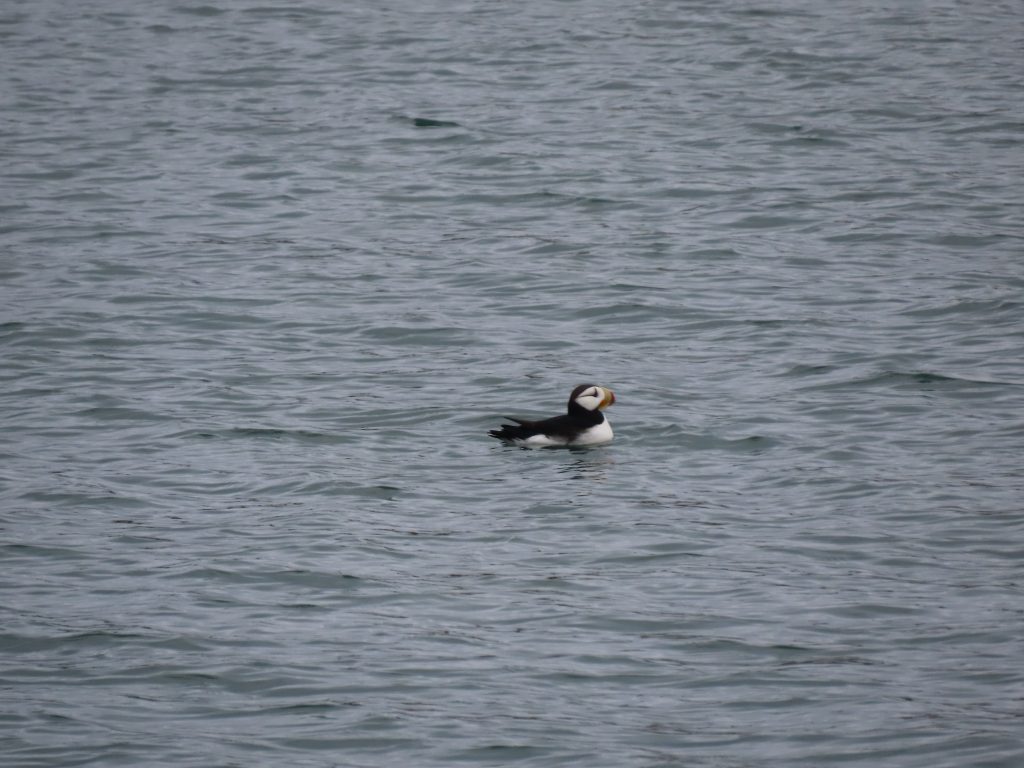 Our anchorage for the evening is North Sandy Beach. As we turn into the harbor, we see spouts just off our bow. It's a humpback whale feeding inside the anchorage. He entertains us all evening with several passes coming very close to the boat. He is so close his breath smells of fish. During the night, the whales exhalations can be heard next to our hull. At one point Jeff heard the anchor chain rustle and feels the boat move ever so slightly as if the whale has grazed our anchor chain. We later learn and see a video of a similar size boat, anchored in this same cove a few days prior to our arrival, who had a whale move their boat over a 100 feet. At that time the whales were bubble-net feeding directly under their boat and they believe one of these leviathans hooked the anchor chain with it's fluke. Luckily it did not become entangled and swam away unharmed.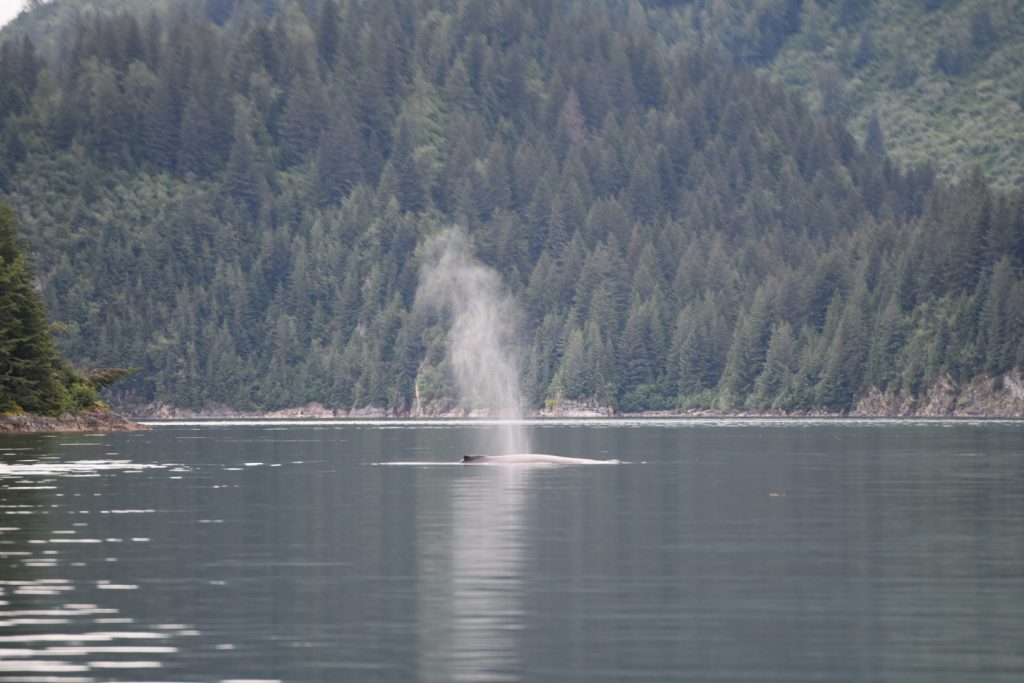 With our time in Glacier Bay coming to an end, we spend our last two nights in Bartlett Cove near park headquarters. The lodge runs a tour boat from here that takes visitors on a day trip of exploration in the park. Storm, Jeff, and I spend the next eight hours enjoying the ranger led narration as we travel through the park. It's nice to let someone else do the driving as we gain a greater appreciation of Glacier Bay and see more incredible wildlife.
Glacier Bay continues to be one of our favorites destinations.  Each year there is always something that leaves us in awe and admiration. We will be back. Thanks for following along.