If you have followed our blog, you know that Thomas Bay is one of our favorite anchorages. One attraction to this anchorage for us is the ability to hike on the Cascades Creek trail. We have hiked parts of the difficult trail but have never made it to Swan Lake about 10 miles away. So before heading back to Petersburg we decide to stop once again at Thomas Bay and attempt to reach Swan Lake. The weather looks great for a day of hiking.
Our goal is to reach the Swan Lake Forrest Service cabin. This A frame cabin located along the alpine Swan Lake is said to offer some spectacular scenery as it is surrounded by steep peaks of the Coast Range. The Canadian border is within viewing distance. Rainbow trout are reported to be numerous in the lake. It sounds like a dreamy place to visit.
Our trail starts at the Cascades Creek Forrest Service cabin along the shore in Thomas Bay.
We dinghy over early as we know the hike will take all day. It will be a 4 to 5 mile hike each way over some tough terrain. We are surprised to find three bear carcasses along the beach. They look pretty recent. There are five or six Eagles feeding on the remaining flesh.
The cabin is full of stuff that the hunters appear to have just left. It is really kind of eerie!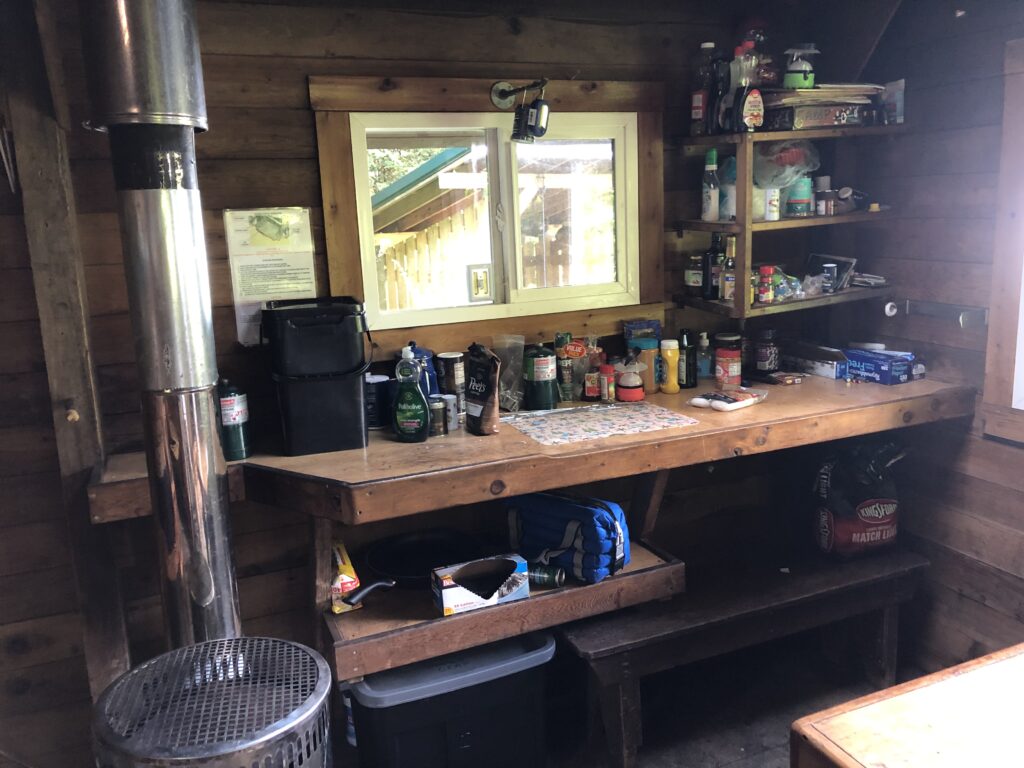 Continuing on to the the lower falls, we pass a sea kayaker's kayak and tent. We saw him come in last night. He must be out hiking the trail also.
The lower falls are raging today.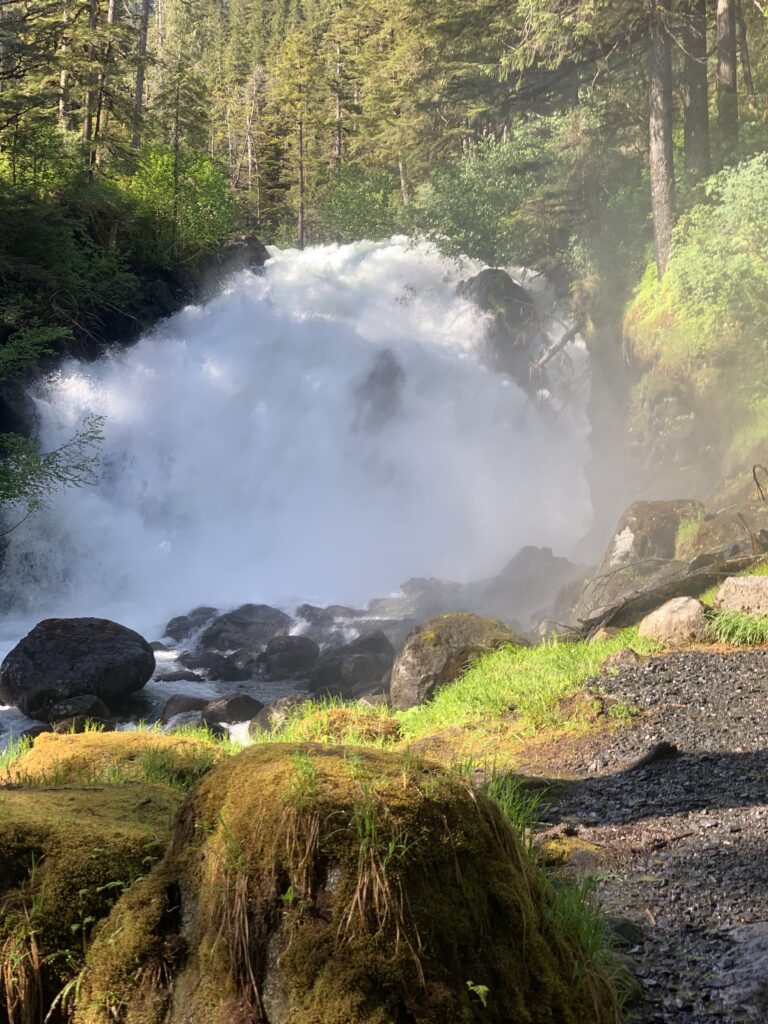 We have never seen them at this high a flow rate. From here we begin a steep climb but we are expecting this as we have hiked this section before.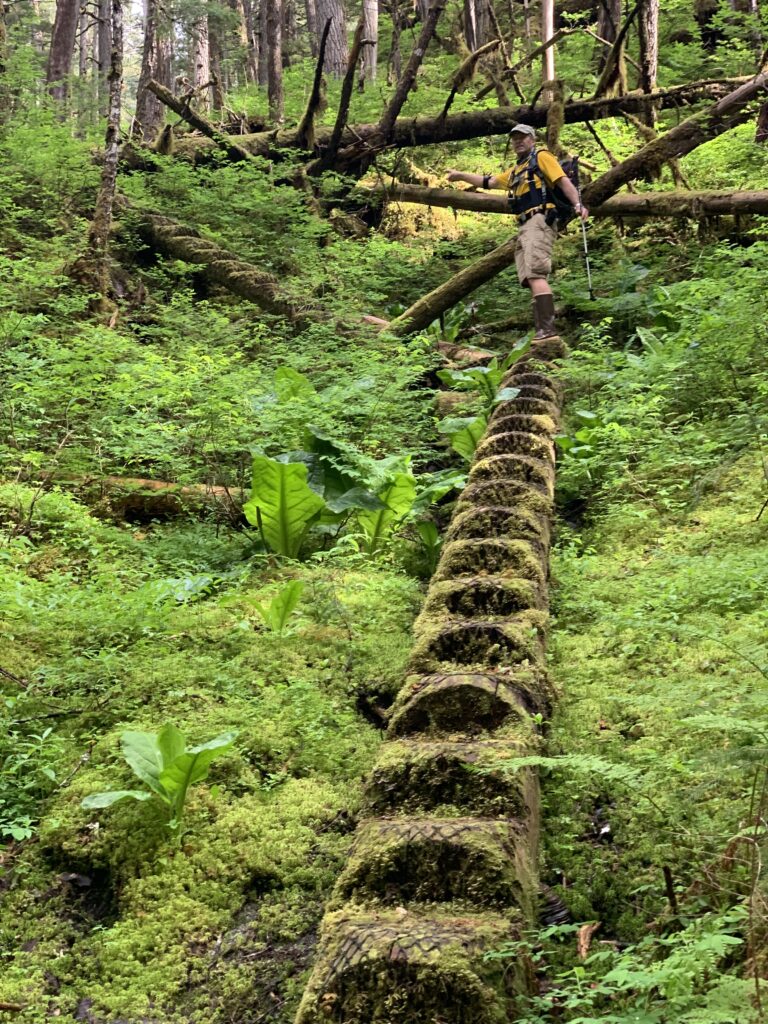 We have several log crossings.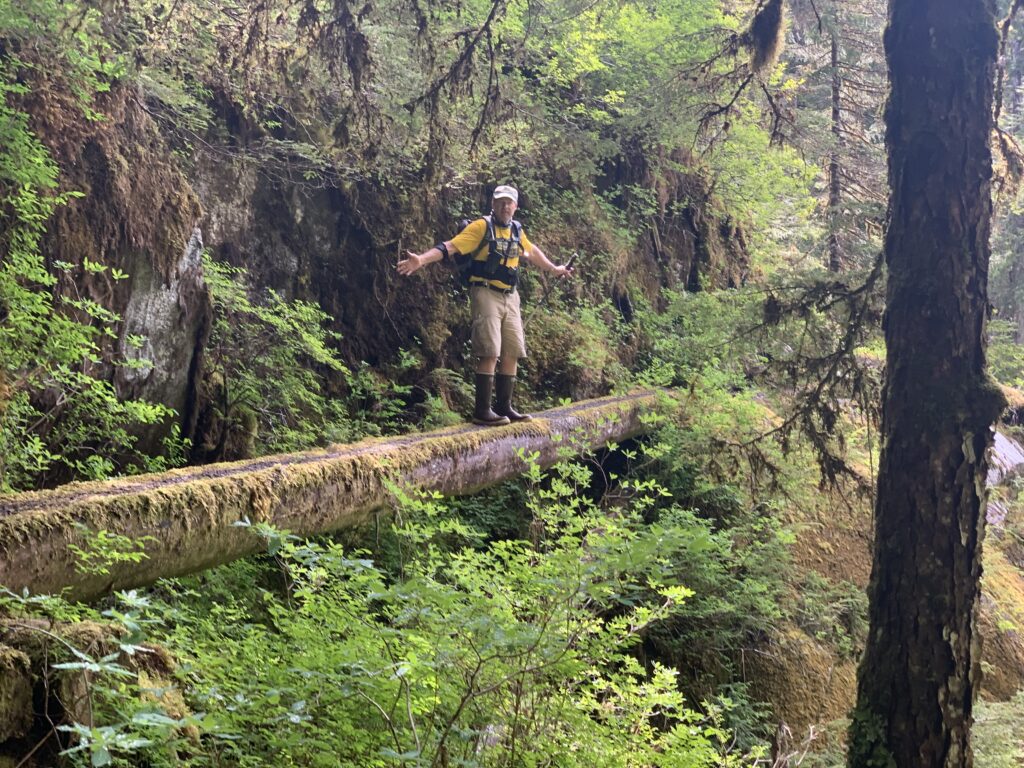 We try to make lots of noise to notify any bears of our presence. With the loud roar of the falls, I am not sure any animals could hear us. Along the trail we pass both black bear and moose scat.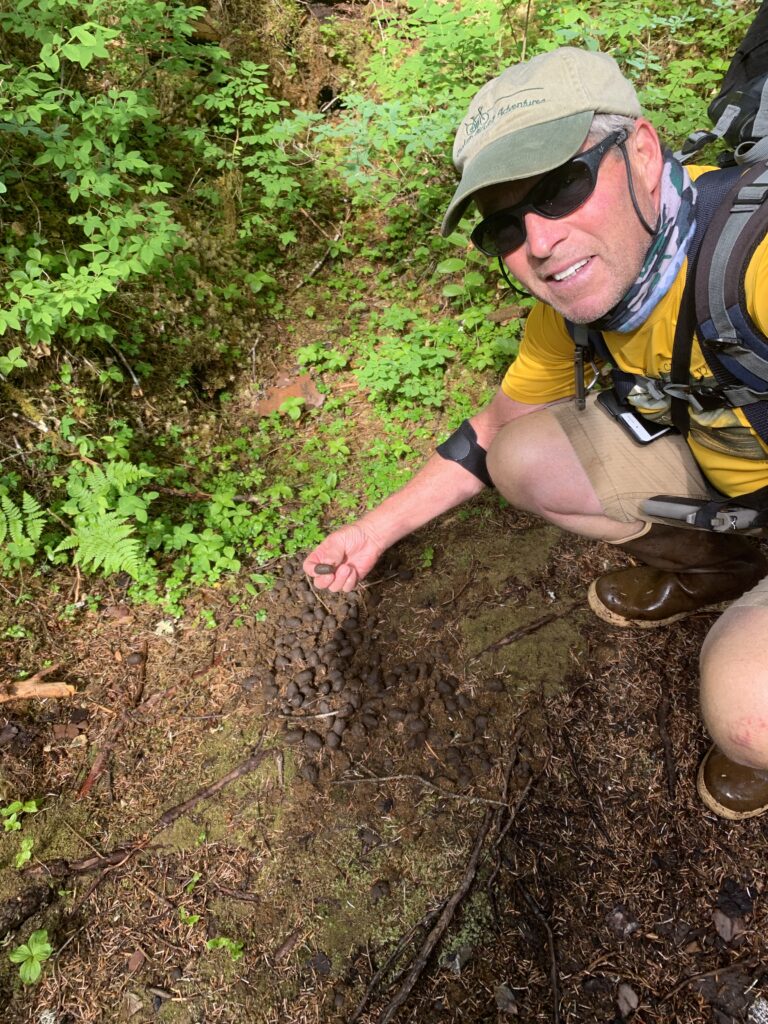 After 3 miles of arduous hiking, we reach beautiful Falls Lake. In the past we have always made this our turn around point. Not today, our goal is to reach Swan Lake.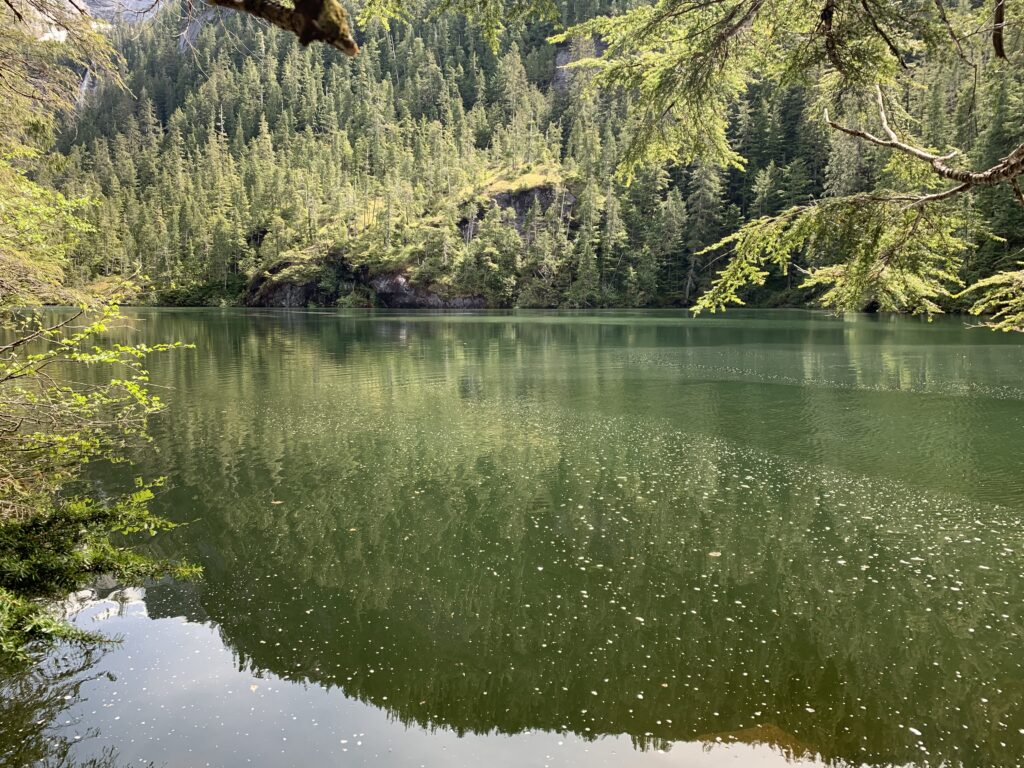 By taking the row boat across the lake, we can cut off about a mile each way of the hike to the cabin. At least that was the plan….we are very disappointed to find the row boat gone. We assume the kayaker ahead of us must have rowed it across the lake.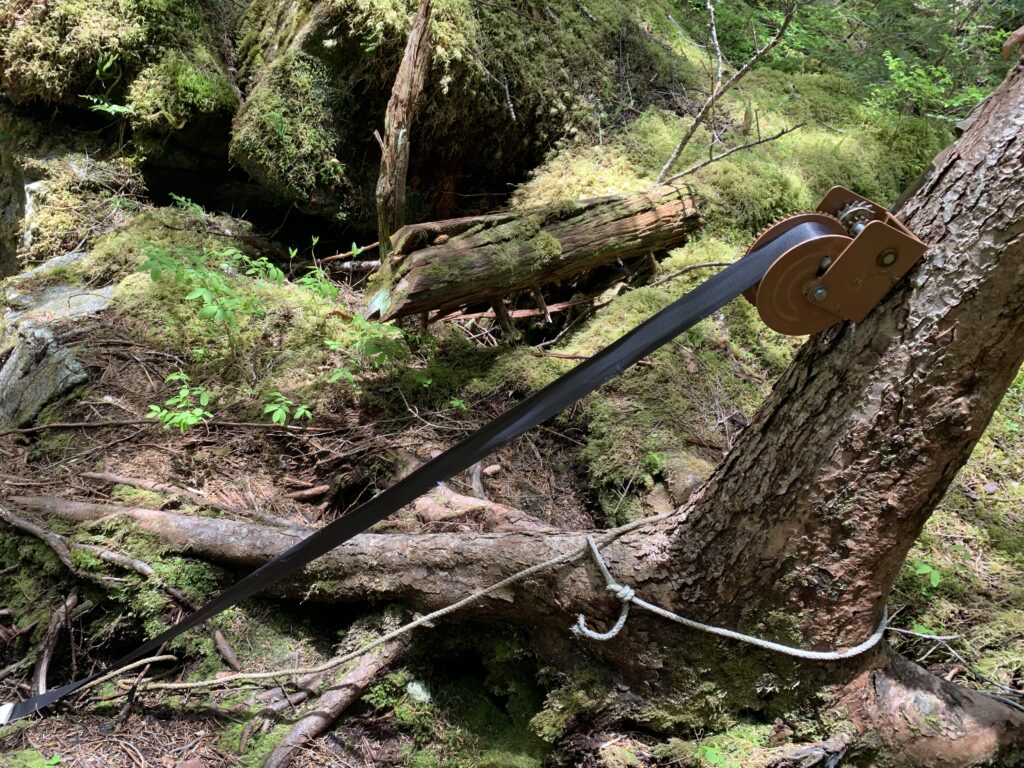 Ugh!! Ok, plan B. We will hike the alternate route to Swan Lake. This will add at least two miles to our trip, making the hike at least 10 miles and another 1000 feet of climb. The trail description warned that "this section of the trail is minimally developed and very challenging". Surely it can't be any worse that what we have just hiked, right?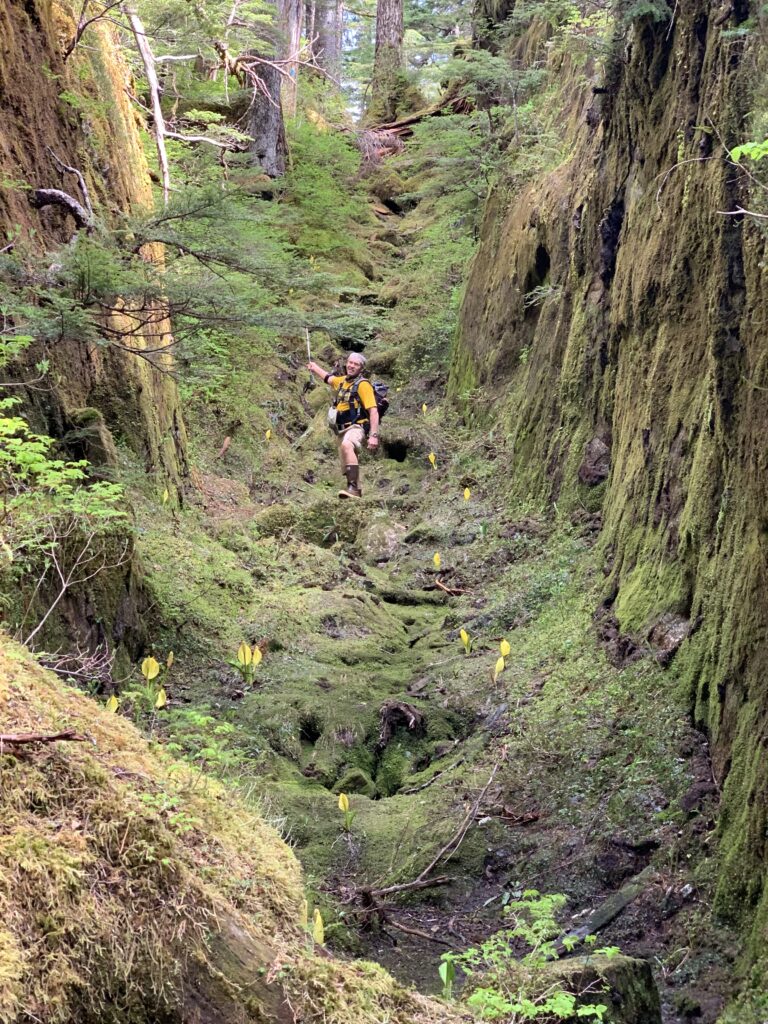 After a steady hand over hand vertical ascent, we reach the high muskeg. It is beautiful being this high above the tree line.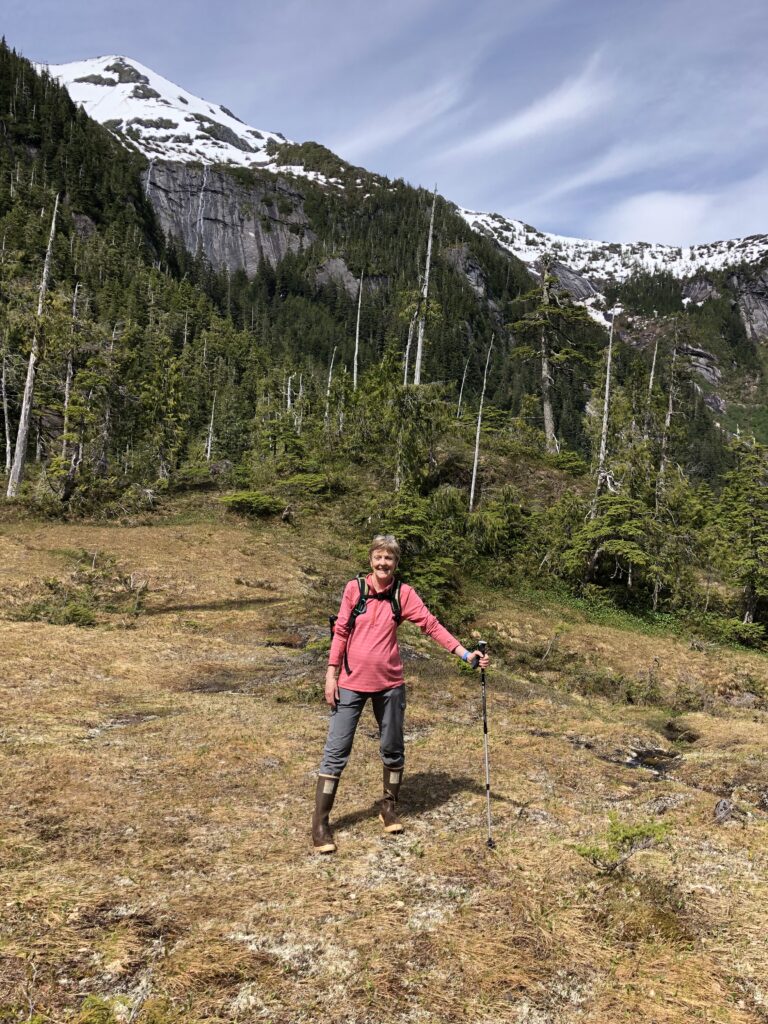 We can see our anchorage far below in the distance.
What we don't see are any trail blazes. We rely on a faint warn path. Every once in a while we spot a blue blaze confirming we are on the right route. Jeff also marks our route with orange fluorescent survey tape so we can find our way back.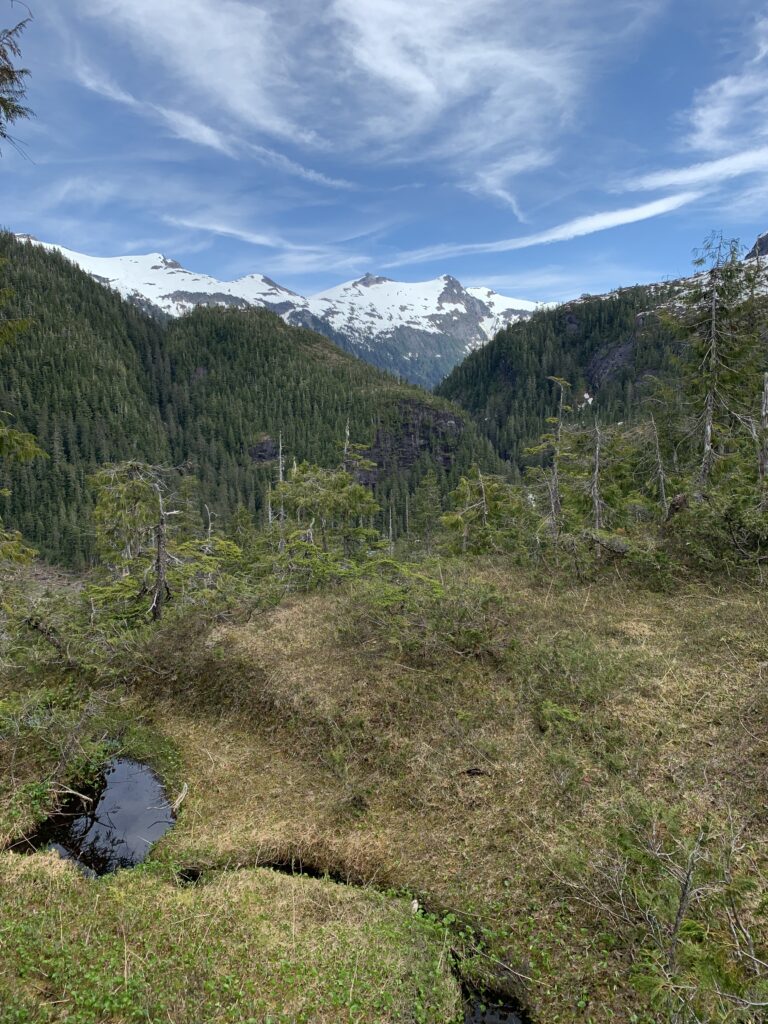 It's an enjoyable hike with no signs of animals or humans. The surrounding snow covered peaks and cascading waterfalls are spectacular.
It is also utterly silent up hear. At the far end of the muskeg all signs of a trail have disappeared. We look for any blue blaze and cannot locate one. From here it is a steep decent down to the lake below. We know the cabin is below us somewhere about a mile away but we can't find the trail. Our Garmin GPS says we are in the correct location. At this point we are starting to get tired and are unwilling to bushwhack our way down in search of a trail. We take a break for a snack and ponder our situation. It is at least a four hour hike back from this point so we decide to turn around here.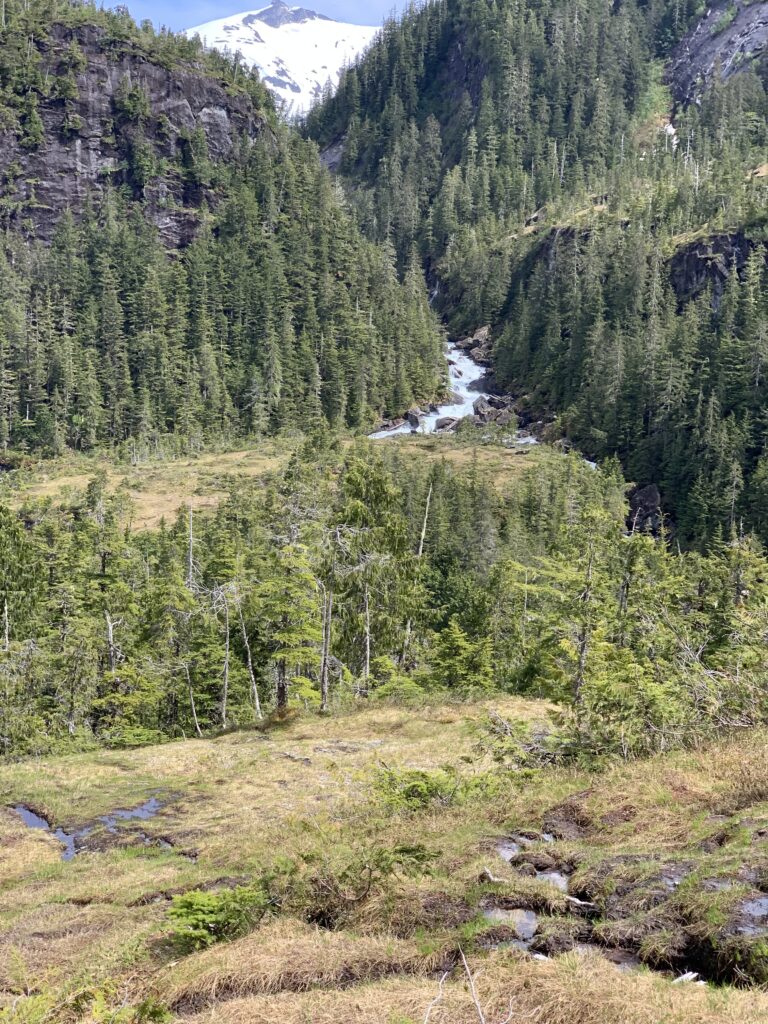 Just as we are about to head back, we spot a hiker coming towards us. It is the sea kayaker that was hiking ahead of us. We spend 15 minutes chatting with Thomas from Tacoma, Washington. He is on a 7 day kayak trip from Petersburg. He had taken the row boat earlier like we thought but he could not find the trail at the other end of Falls lake due to massive blow downs and trail destruction. He rowed back and followed our trail to this point. We say goodbye to Thomas as he has decided to stay up on the muskeg a little longer and continue searching for the trail.
Another 2 hours pass and we are back at the Falls Lake trail junction when Thomas appears walking up from Falls Lake. What a surprise to see him! It tuns out he could not find the Swan Lake trail either but did find the trail down to the north end of Falls Lake where there was a second row boat. He took that boat back across Falls Lake and met us here. We continue hiking with Thomas two hours back to the beach. I think we were all glad to have another person along while traveling through this wilderness area.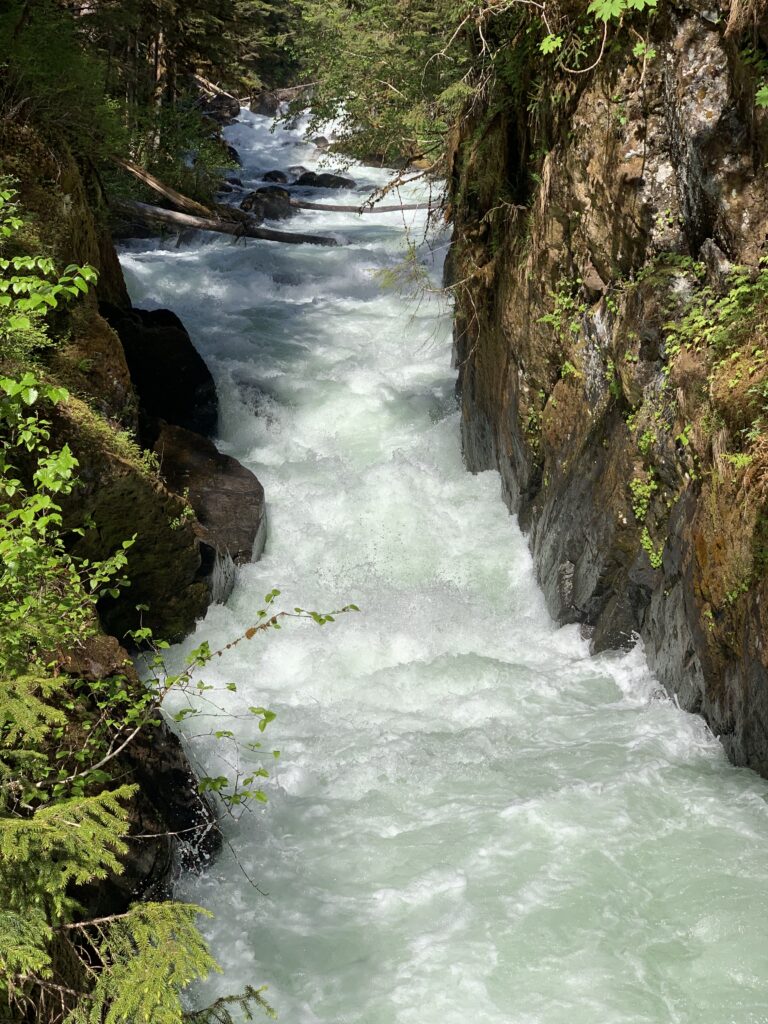 Reaching Cascade Creek we say our goodbyes but extend an invitation to Thomas to visit us back in Petersburg once he finishes his kayak trip in a few day. It was a long and strenuous 8 mile and 8 hour hike with over 5000 feet of total elevation change. We are disappointed not to reach Swan Lake but are happy to have experienced the sights along this beautiful and remote trail.
The Swan Lake Cabin is still on our bucket list of things to see and do. Perhaps instead of hiking to it we will rent a float plan and fly in like most people do. Something to think about for next year.
As we exit Thomas Bay the next morning in the comfort of our pilot house, we smile as we spot Thomas paddling across Frederick Sound in his Kayak. Hopefully our paths will cross again in Petersburg.
Thanks for following along.