It's another early morning departure as we continue working our way south along the Inside Passage. Today we have several rapids to transit. It's critical that we arrive to Green Point Rapids at slack tide. This rapid has currents up to 7 knots with whirlpools and over falls. By arriving at slack, we can avoid all of this. Slack tide last only a few minutes before the tide reverses and the current picks up again. After weighing anchor at 6 AM, we are soon engulfed in fog as we navigate through Blackney Passage and into Johnstone Strait.
This 54 mile long narrow waterway is the major highway both north and south for all traffic on the Inside Passage. We check the AIS for any nearby traffic. Several cruise ships are just ahead.
We encounter this pod of about 30 dolphins. They entertain us as they race across Johnstone Strait. They seem to be in a hurry to get somewhere. We wonder if they are being chased by Orcas but we don't see any. (To view the video click on the white triangle below)
After several hours, the fog slowly lifts giving us glimpses of the snow capped mountains towering above.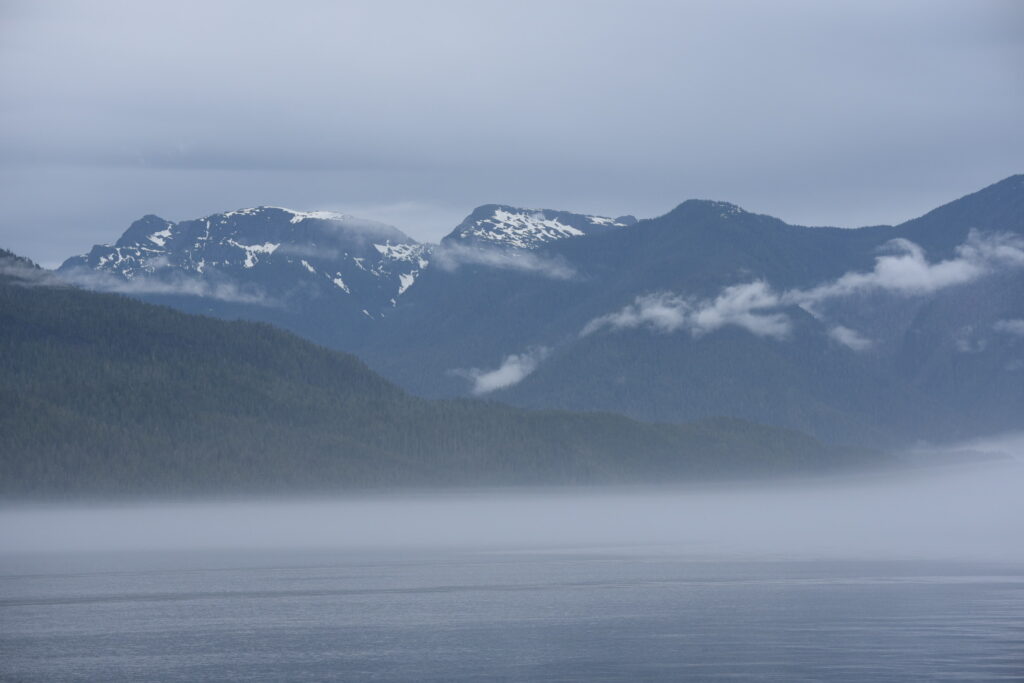 At mile 40, we turn east off Johnstone Strait into Sunderland Channel. The warm fog is still hanging low just above the cooler waters.
It's sad to see all of the fish farms along the waterways. Atlantic Salmon are raised in these floating pens. They pollute the bottom and spread diseases to the native Pacific Salmon due to overcrowding. The BC government doesn't seem to care and the wild salmon populations have crashed. If you see farm raised Atlantic Salmon in your grocery store please boycott it.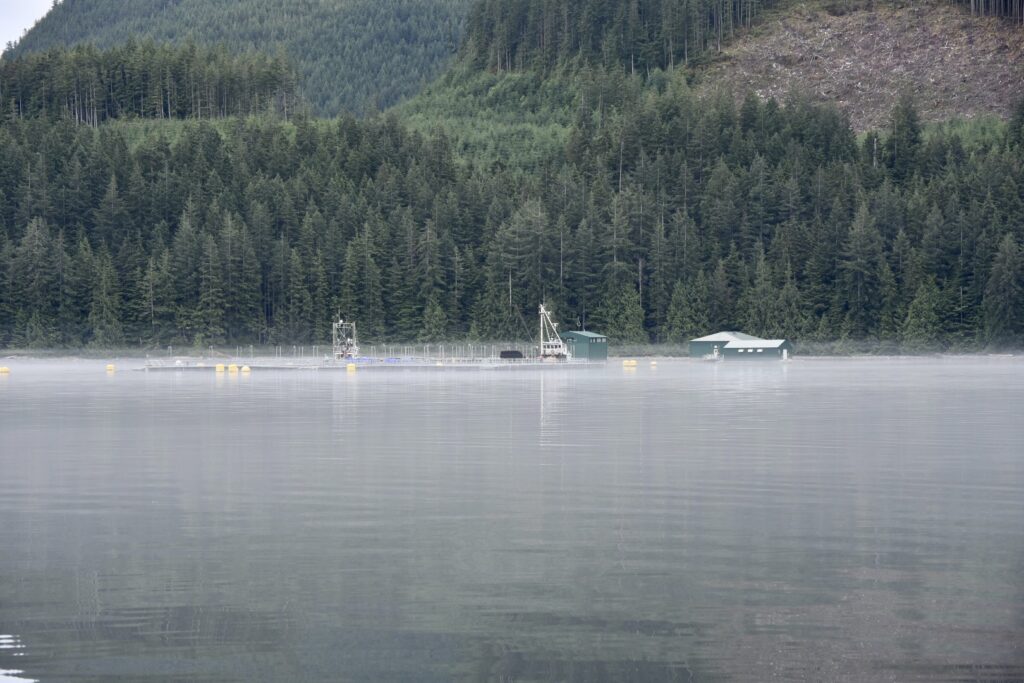 Whirlpool Rapids is just ahead. In order to reach Green Point Rapids at slack, we must transit Whirlpool Rapids a few hours before slack. We arrive about three hours before slack and still have 3 knots of current. It's not an issue with this set of rapids and we have a non eventful passage.
Twelve miles further, we reach Green Point Rapids exactly at slack tide. Our timing worked out perfect and the rapids are calm.
Just past the rapids we can see Blind Channel Resort our destination for the night.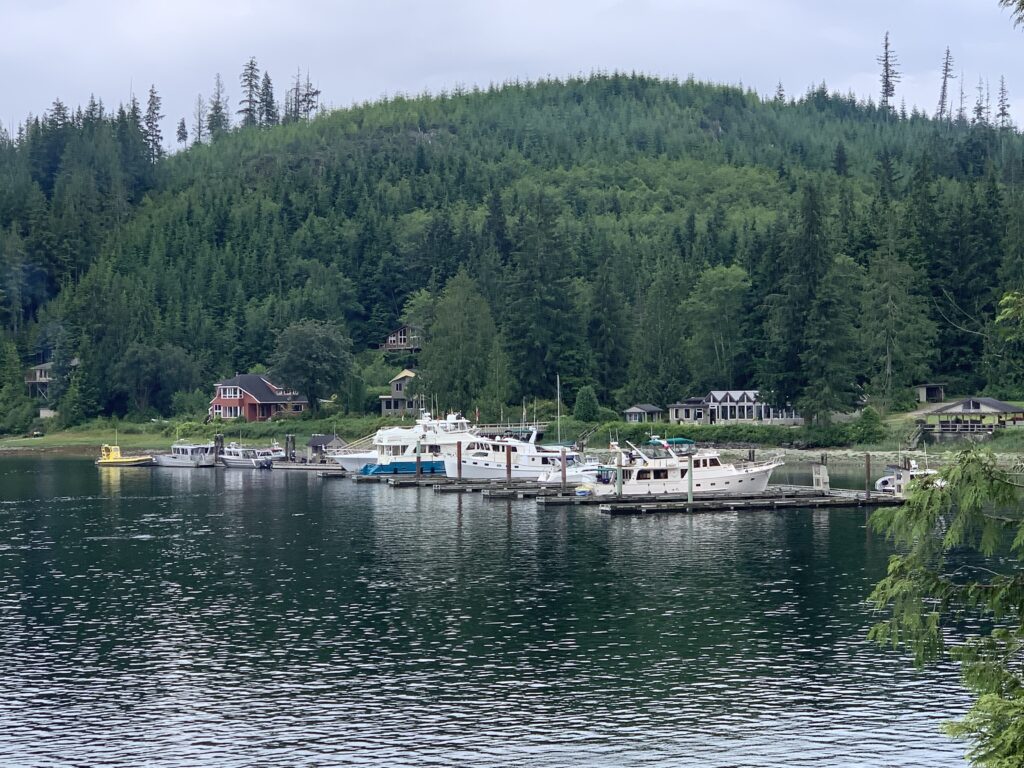 This family owned resort has been in operation since the 1970's when Edgar and Annemarie Richter sailed their boat here and decided to make this their home. The only way to get here is by boat or float plane. In the early 1900's, the Thurlow Island Lumber Company sawmill was located here. The population grew to 120 people by 1918 and Union Steam Ship freighter and passenger boats stopped here regularly. After many years of hard work, a second and third generation of Richter's run the small resort. Ashore we find three rental cabins, six homes, and a German style restaurant. Attached to the restaurant is a well stocked small grocery and liquor store and also houses the community post office.
We spend the afternoon hiking on some well established trails thru the old growth coastal marine cedar forrest. This complex and highly evolved eco system is home to some truly massive trees.
Our hike takes us to a 900 year old cedar tree 16 feet in diameter.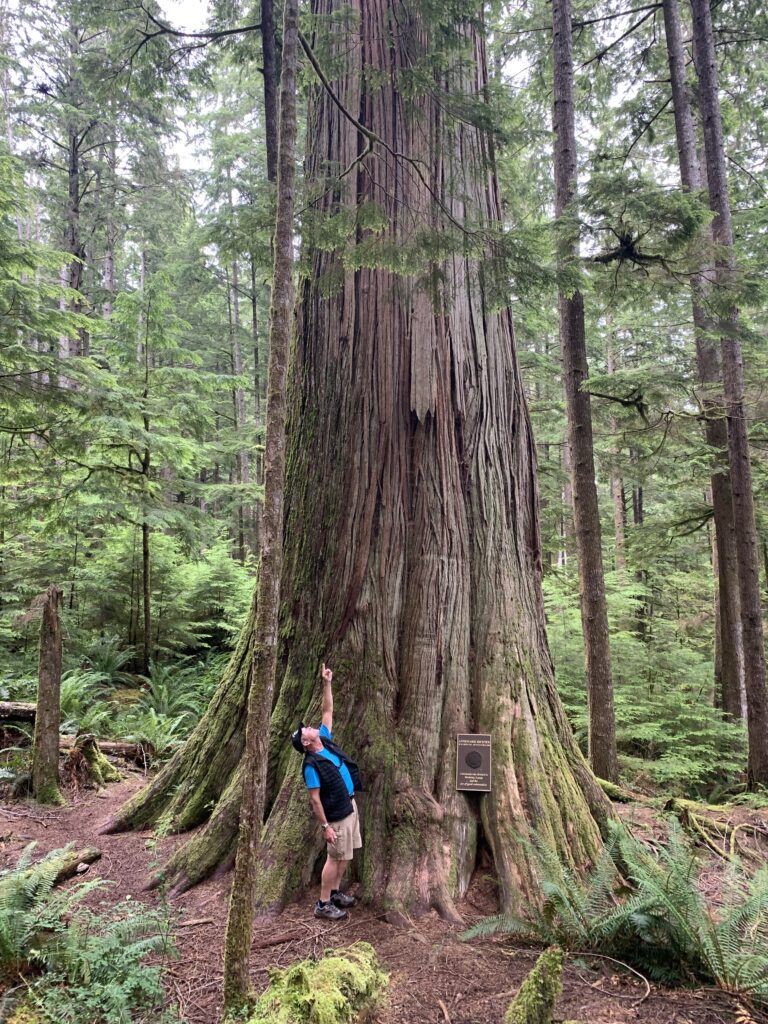 That evening we have a great German dinner at the Cedar Post Restaurant.
Both of our meals were fantastic.
Homemade cinnamon rolls are baked each morning at the store. We delay our departure the next morning in order to secure two of these delicious pastries.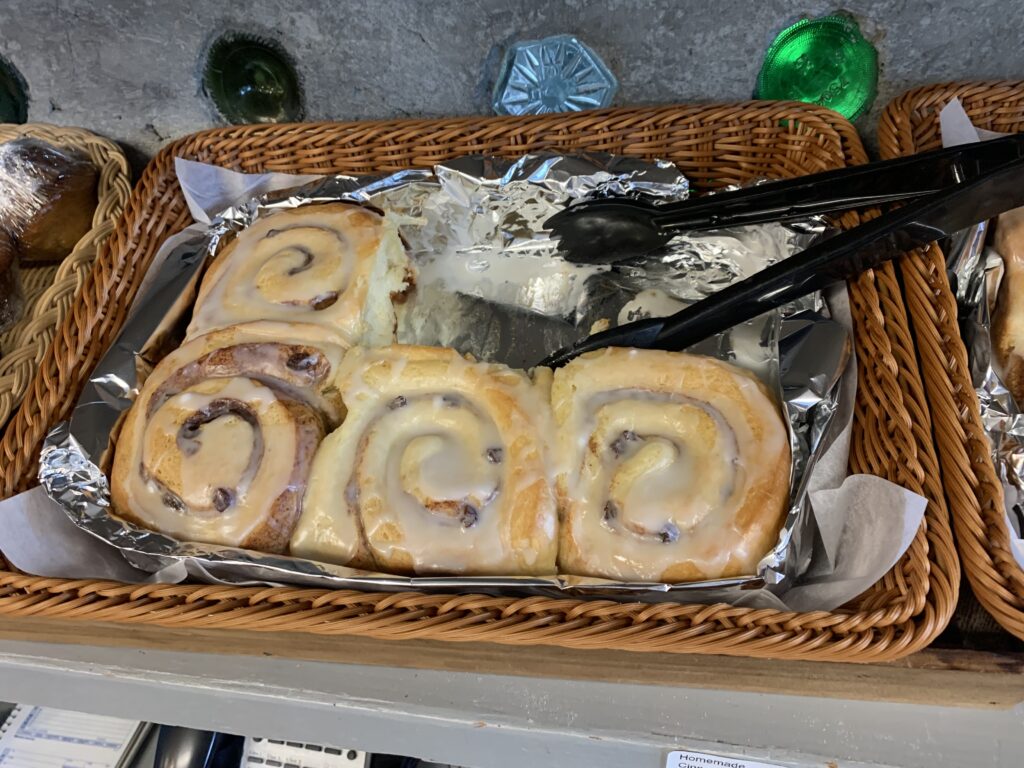 We have a short travel day of 31 miles to our next anchorage of Waiatt Bay in the Octopus Island Marine Park. The Okisollo Rapids are just before our anchorage but we time our arrival to slack current and they are not an issue.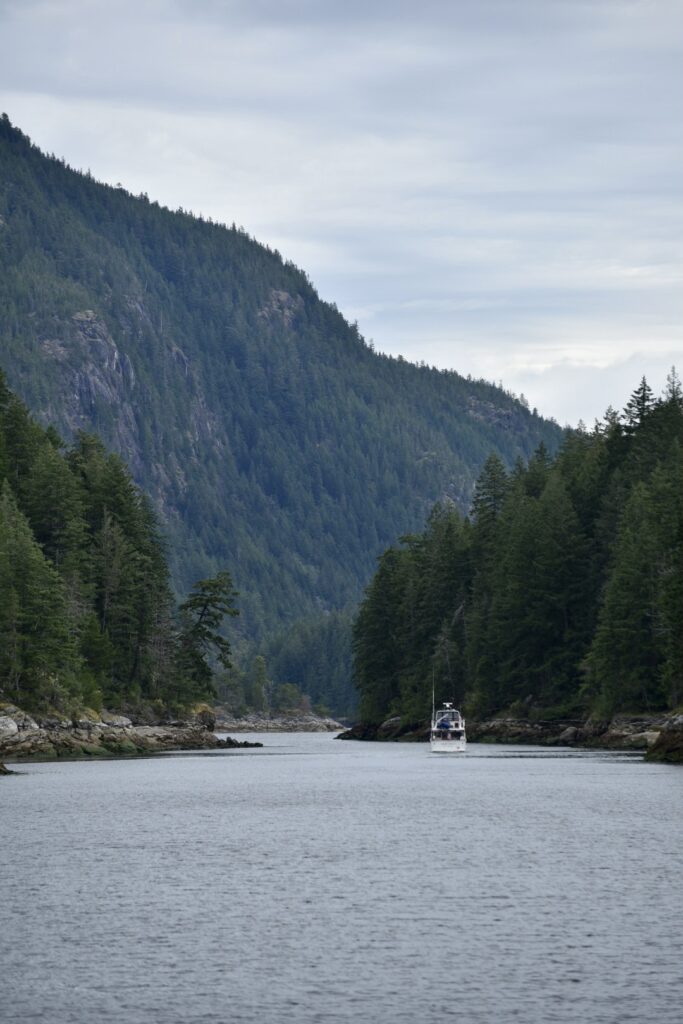 Located on a small island in the marine park is a dilapidated cabin that has become an "art museum" where the tradition is for boaters to leave wooden driftwood with their boat name inscribed and other mementos of their trip.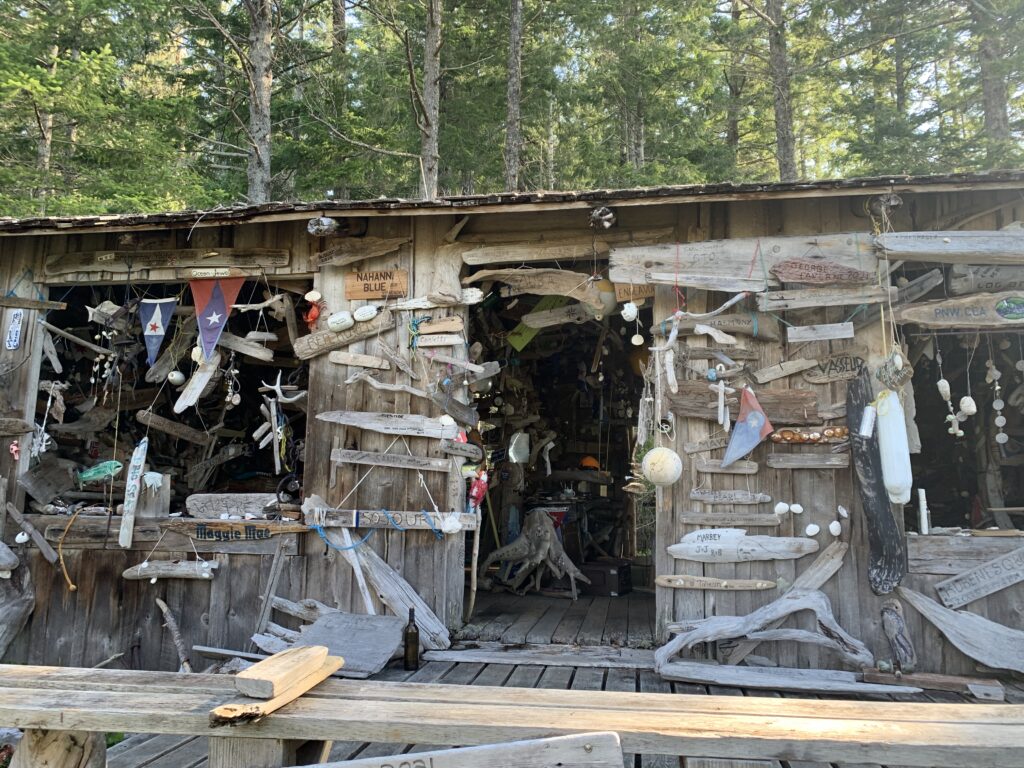 We left signs in both 2017 and 2019. It takes us a little while of searching but finally we find our previous signs. We add a new piece of driftwood with Idyll Time's name to the collection.
After visiting the cabin, we dinghy to the head of the bay and have an enjoyable hike through part of the BC Provincial Park on the Small Inlet trail.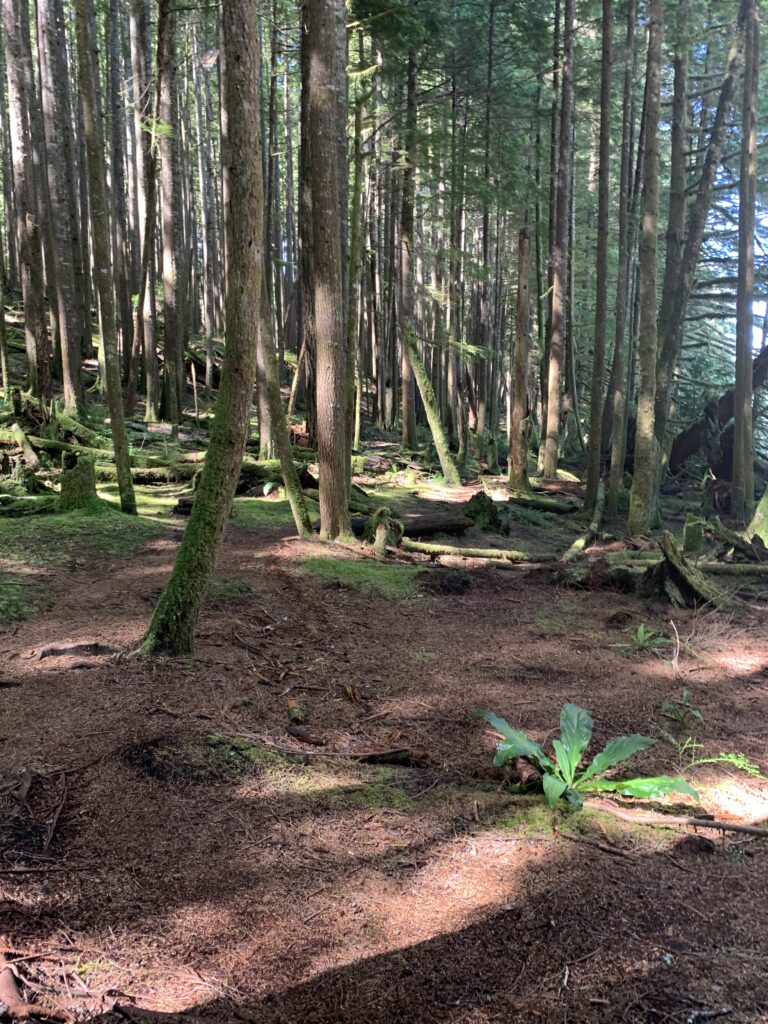 The hike takes us past beautiful Newton Lake on Quadra Island.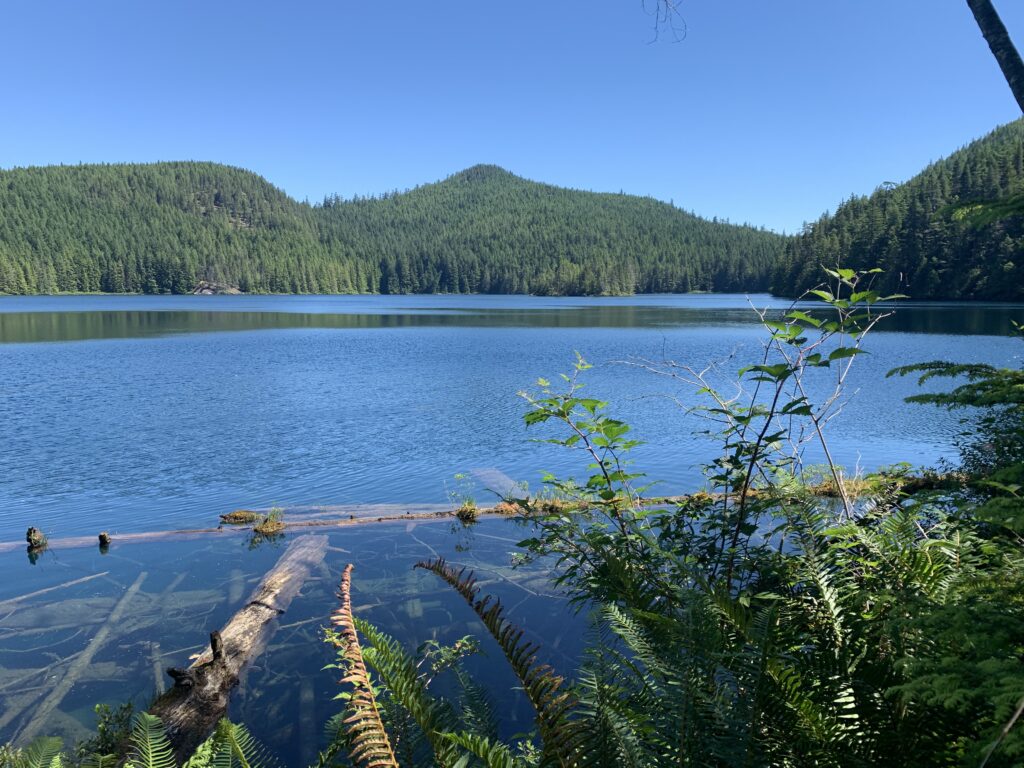 We eventually wind up along a gravel road which leads to Granite Bay. We retrace our path back to Waiatt Bay with tired legs from the 9 mile trip.
Tomorrow we will continue our trip south through Desolation Sound. Thanks for following along.