With all of our boat projects finished, it's time to push away from the docks and point the bow North towards Alaska. But before doing so, we must clear out of Canada on our work order and re-enter under a cruising permit. This is called "Turning the Flag" and is a relatively easy process with the U.S. boarder just 14 miles outside of Sidney. We stop briefly to top off our fuel tanks before heading into U.S. waters.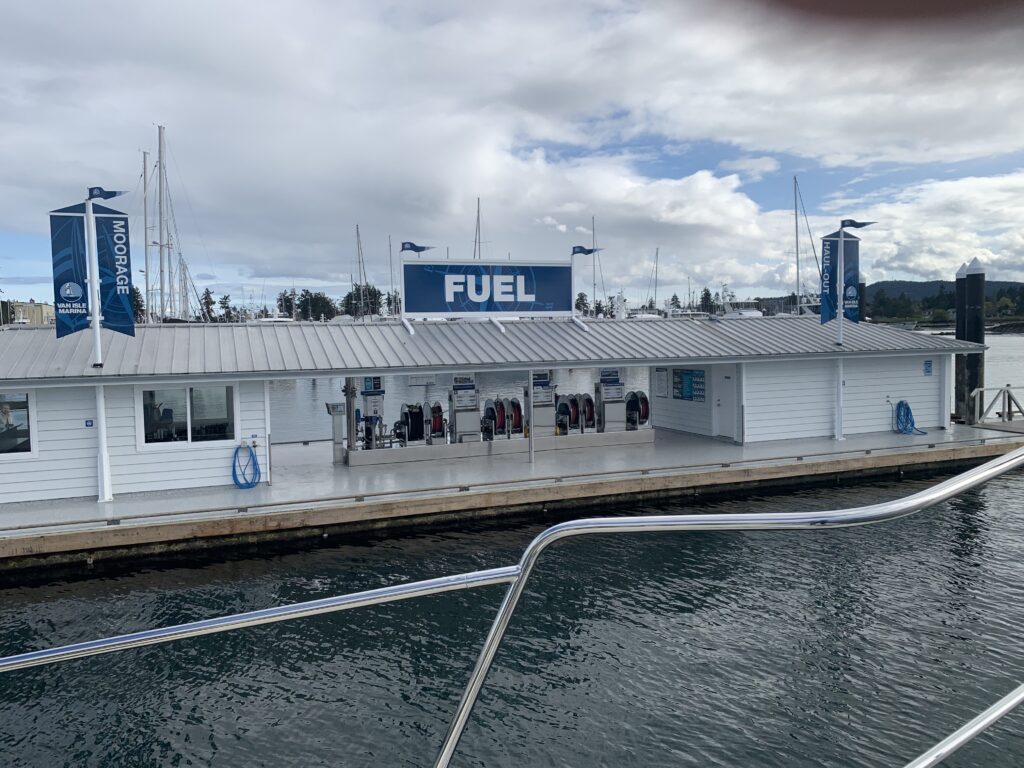 Using the CBP Roam app on our iPad, we are able to do a video chat with U.S. Customs and are soon admitted into the U.S. We then make a U turn and head right back into Canada and the Custom's dock at Van Isle Marina. With our Canadian Cruising Permit in hand, we are all set for cruising up the Inside Passage.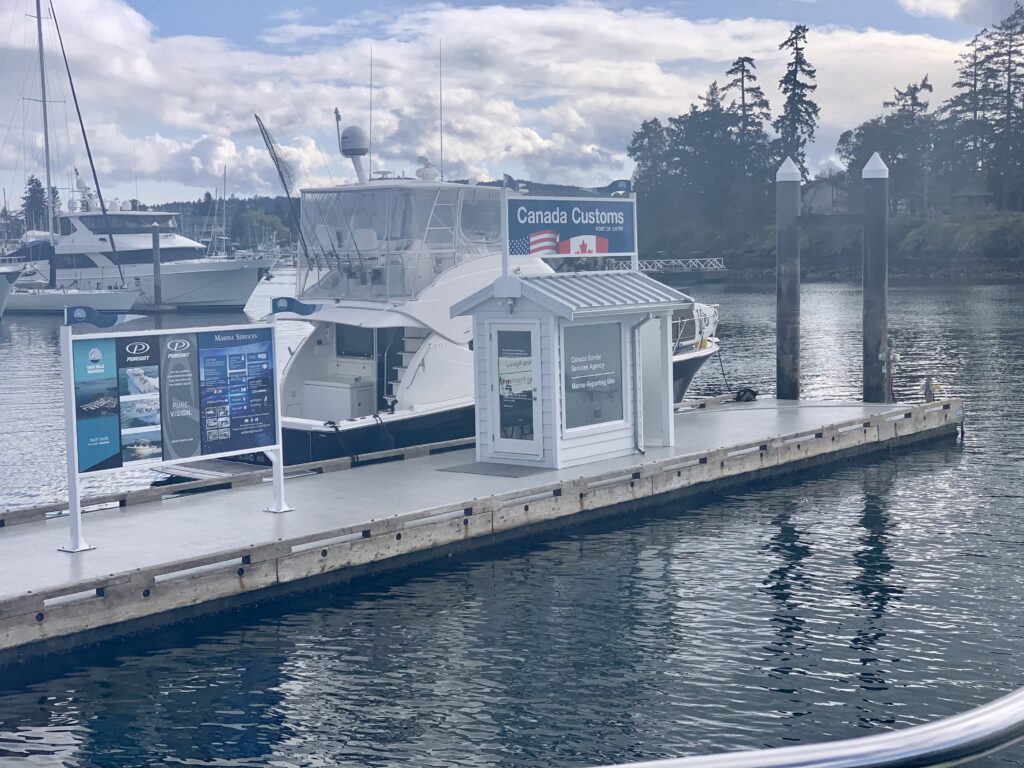 Day One:
What a great feeling to finally be on our way up to Alaska.  This will be our third trip up the Inside Passage.  It is a sunny 55 degree spring day.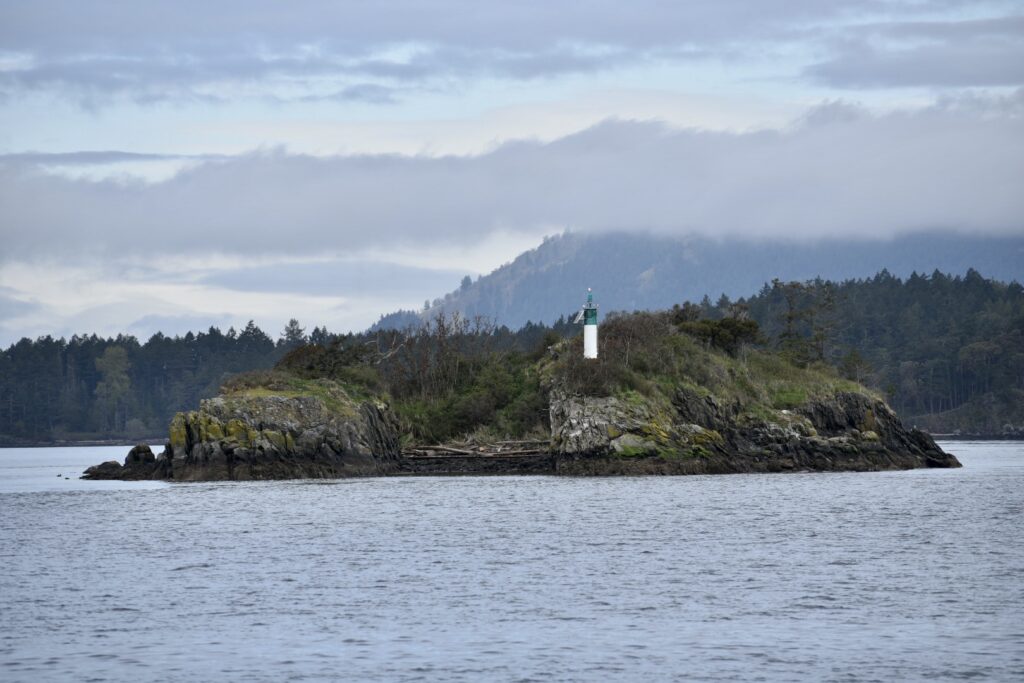 Just as we are settling in up in the pilot house, our radar shows a target coming up fast on our stern. It's the Canadian Border Security coming to board us. Jeff steps outside to see if they want us to slow down. No….just maintain speed. They bring the skiff alongside and one of the officers climbs aboard.
He quickly ask us if we were the same people they boarded six years ago. Sure enough, it's the same guys that had boarded us when we had just arrived to the PNW in 2017. This broke the ice pretty quickly and after looking at our passports and cruising permit they were gone, no other questions asked.
We have a short cruising day of 19 miles to Montague Harbor on Galliano Island. Other than the numerous Ferries, very few boats are out. Idyll Time performed flawlessly after her winter hibernation. We enjoy a quite evening aboard.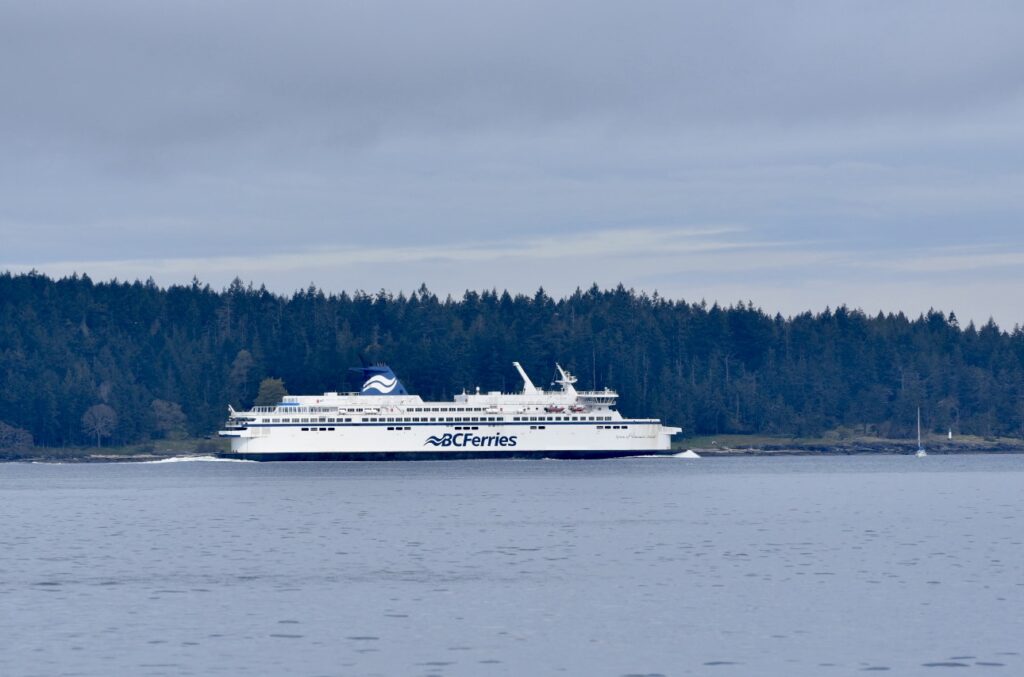 Miles:15
Total Miles:15
Day Two:
We must time our departure today for transit thru Dodd Narrows. These narrows are one of several "gates" along the Inside Passage. With currents up to 9 knots, we time our passage for slack tide. It's another beautiful day with tall snowcapped mountains starting to appear.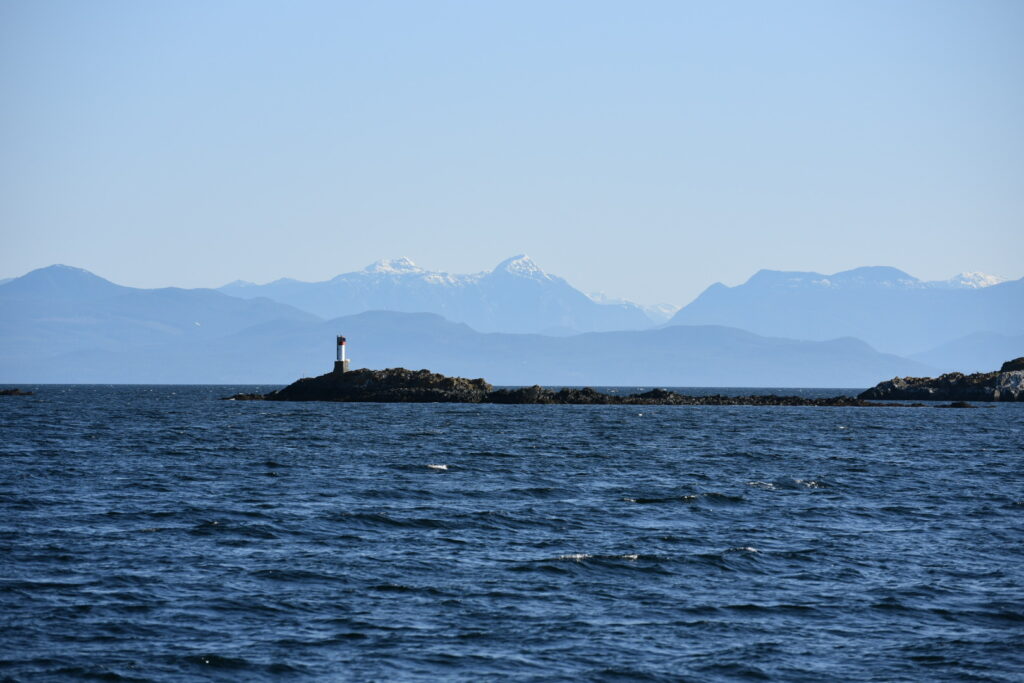 We transit the narrows 30 minutes before slack. There is still a good bit of turbulence but nothing IT can't handle.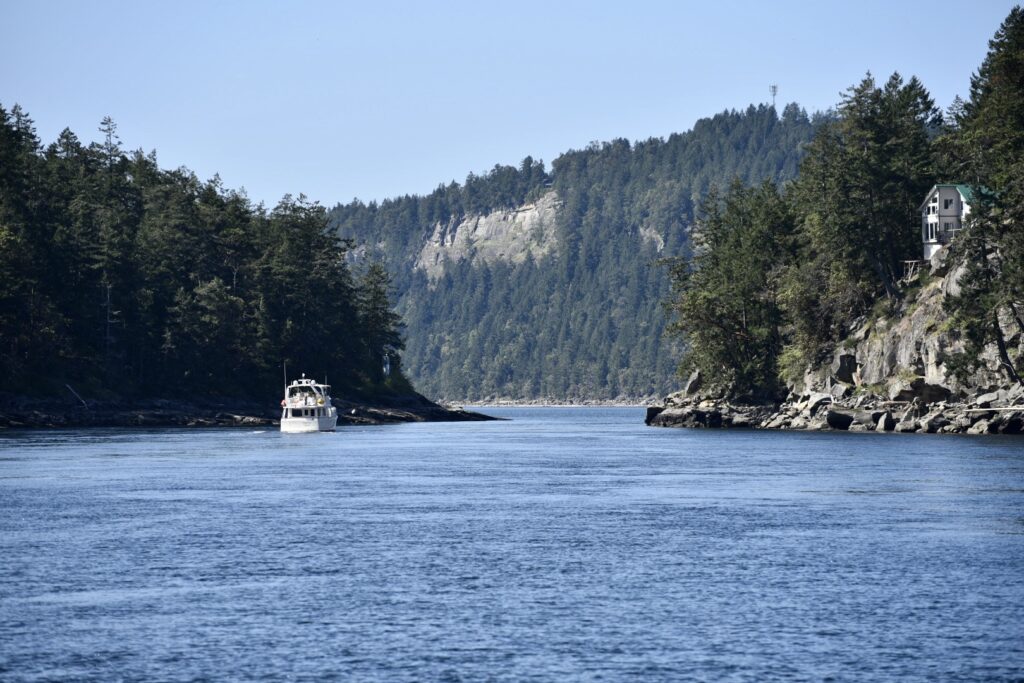 We anchor for the night off the busy town of Nanaimo.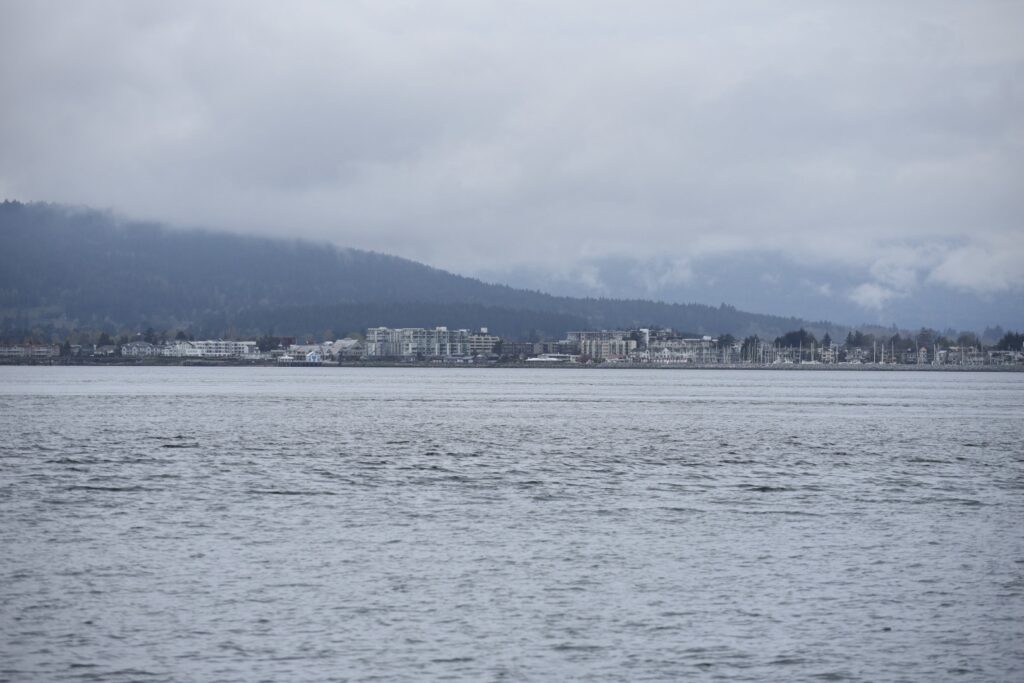 The dinghy is deployed for a beautiful evening hike around Newcastle Island.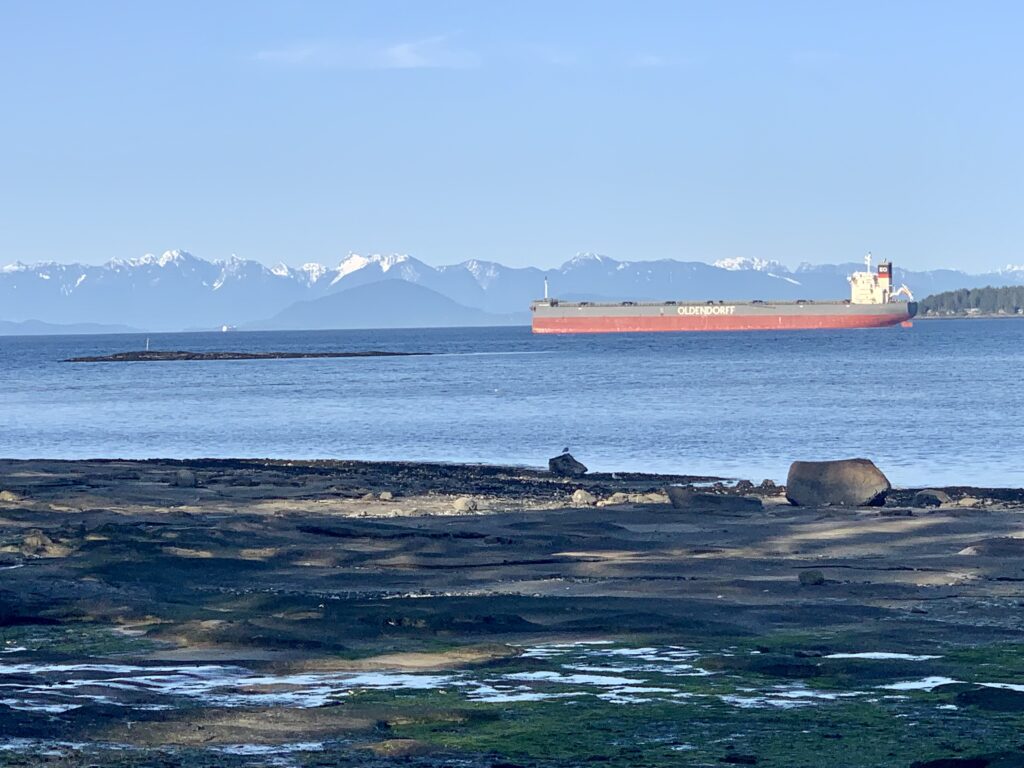 Miles:34
Total Miles:49
Day Three:
We weigh anchor at 7:00 am for our northbound passage up Georgia Strait.  The Nanaimo Harbor is busy this morning with ferries coming and going along with the many float planes buzzing in and out.   The military range Whisky Golf is not active today so no detour around that is needed.  We have a stiff 15 knot NW wind on the nose but are thankful for anther warm sunny day.  The wind dies after several hours and we have a beautiful day on the water.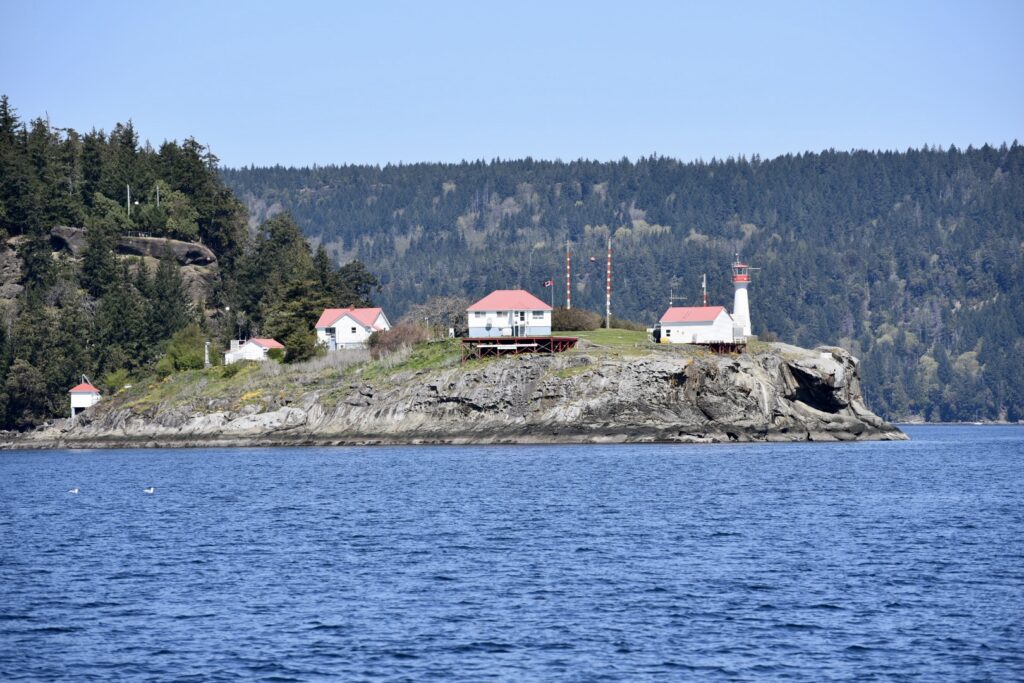 We see no other boats out today. Most of the cruisers don't leave Washington until mid May, so we are ahead of the pack. Todays destination is Henry Bay on Denham Island. We have never stopped here before but a boating friend recommended the anchorage just outside of Comox.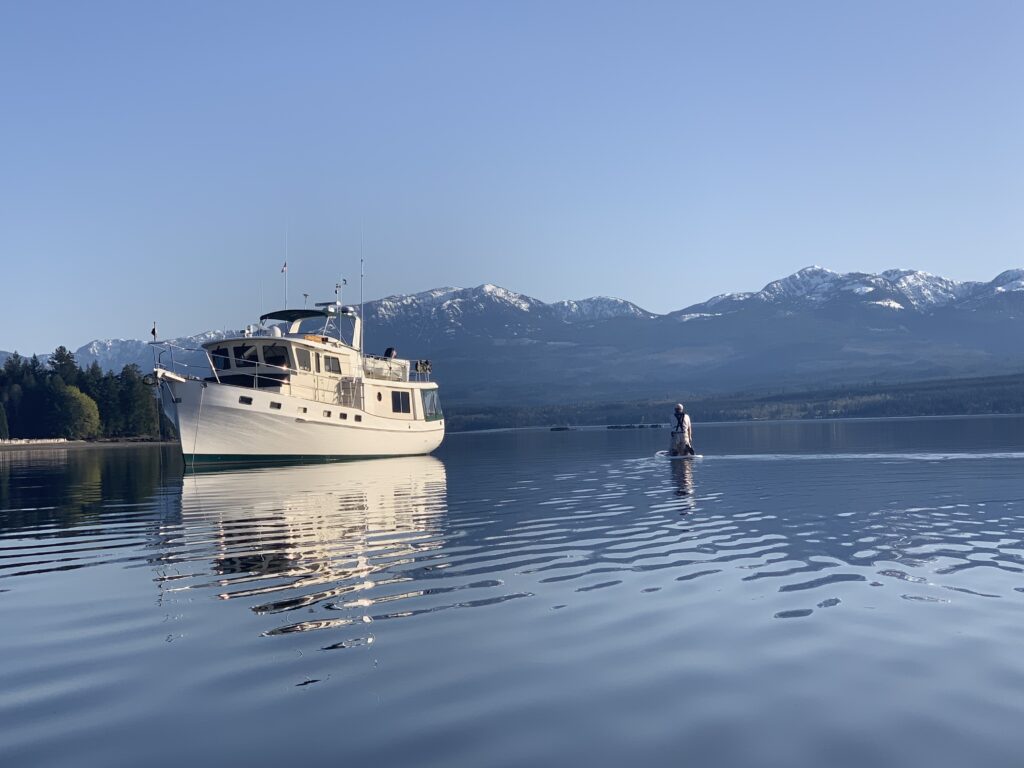 Henry's anchorage turns out to be a wonderful spot. Thanks to Tom for his great recommendation. There is a nice beach ashore so we put the kayaks down this evening. I have never seen so many Sand dollars in the shallows.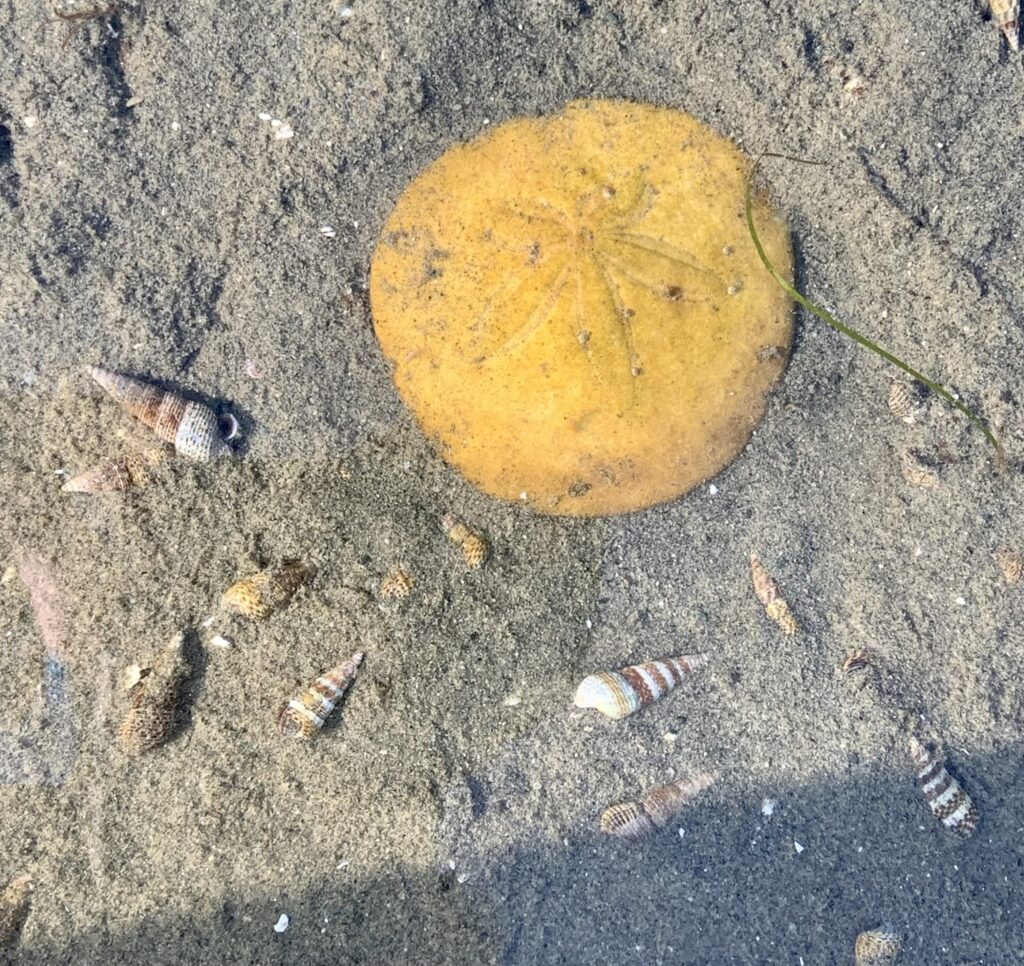 They are everywhere along the shoreline.  After a pleasant walk along the spit, we enjoy a quite evening aboard Idyll Time .
Miles:57
Total Miles:106
Day Four:
It's an early start today as we have another one of those "Gates" to transit. Slack tide today for Seymour Narrows is at 2:13 pm. These narrows mark the entrance to Johnstone Strait and we need to transit near slack tide. The currents in Seymour Narrows can reach up to 16 knots on large tides. But first we must cross the Comox Bar just outside of our anchorage. The shallow bar is marked with red buoys and shouldn't be a problem. This is our first time crossing this bar but luckily it turns out to be non eventful.
Seymour Narrows is the main highway both north and south for all commercial traffic including the big cruise ships.
  We typically take one of the back routes that wind thru some of the smaller passageways.  Those routes require transiting four or five smaller rapids.  We chose Johnstone Strait this year because of such favorable weather and currents.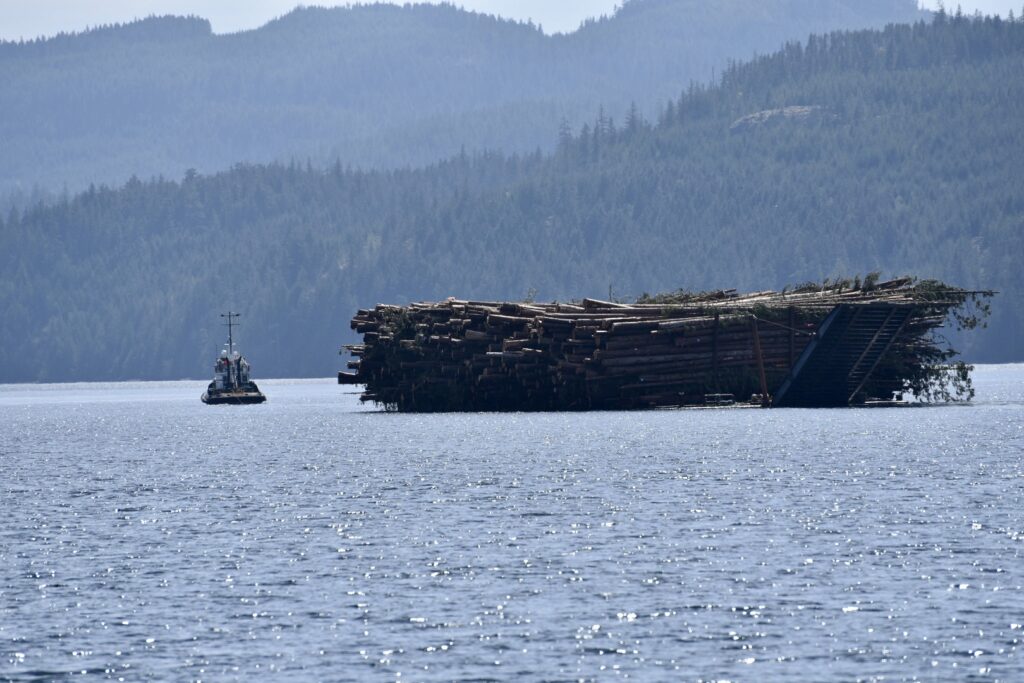 We transit the Narrows one hour before slack with a 2.8 knot current.  It is an easy transit with just a few whirlpools swirling about.  Catalyst is just ahead of us.  We see this small passenger ship in Petersburg, Alaska weekly as they switch out guests.  It is a beautiful 100 year old wood boat that offers weekly cruises of SE Alaska to 10-12 guests.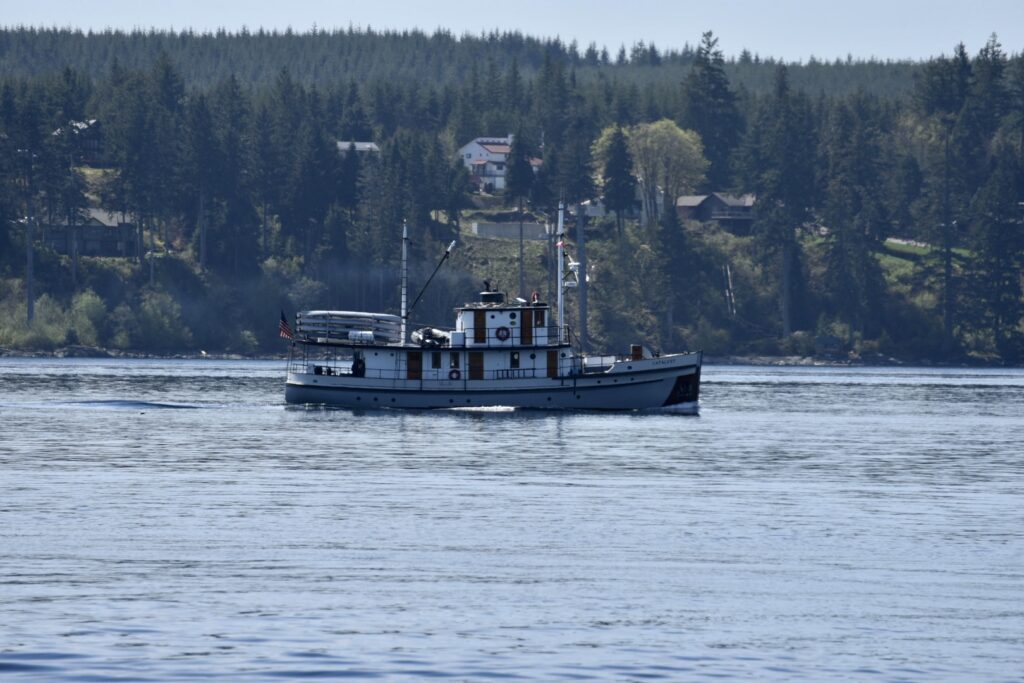 It is a magnificent day on Johnston Strait with no wind and temps in the 60's. You don't get this type of weather very often.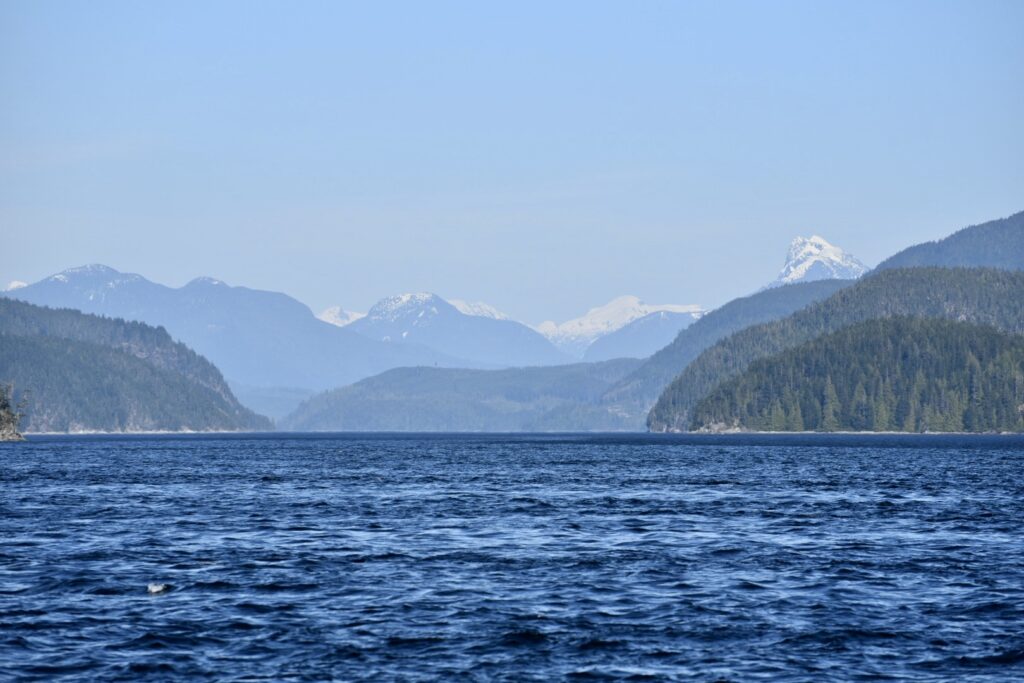 Typically, winds funnel through this 70 mile long  waterway with vengeance.   With the tall peaks of Vancouver Island on one side and the Canadian mainland mountain range on the other, you can get some dangerous marine conditions when the winds oppose the currents.   We take advantage of this beautiful weather and continue down the strait for another 50 miles to Port Neville where we anchor for the evening.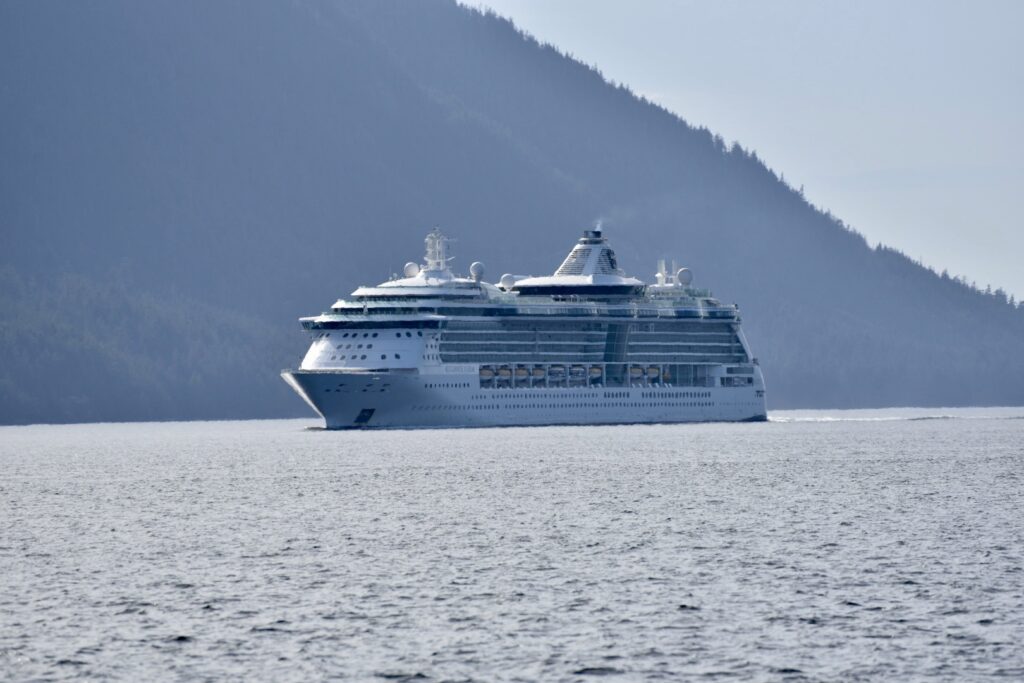 After a 12 hour day we are happy to shut off the engines and enjoy this beautiful spot with views of the snow capped peaks in the distance.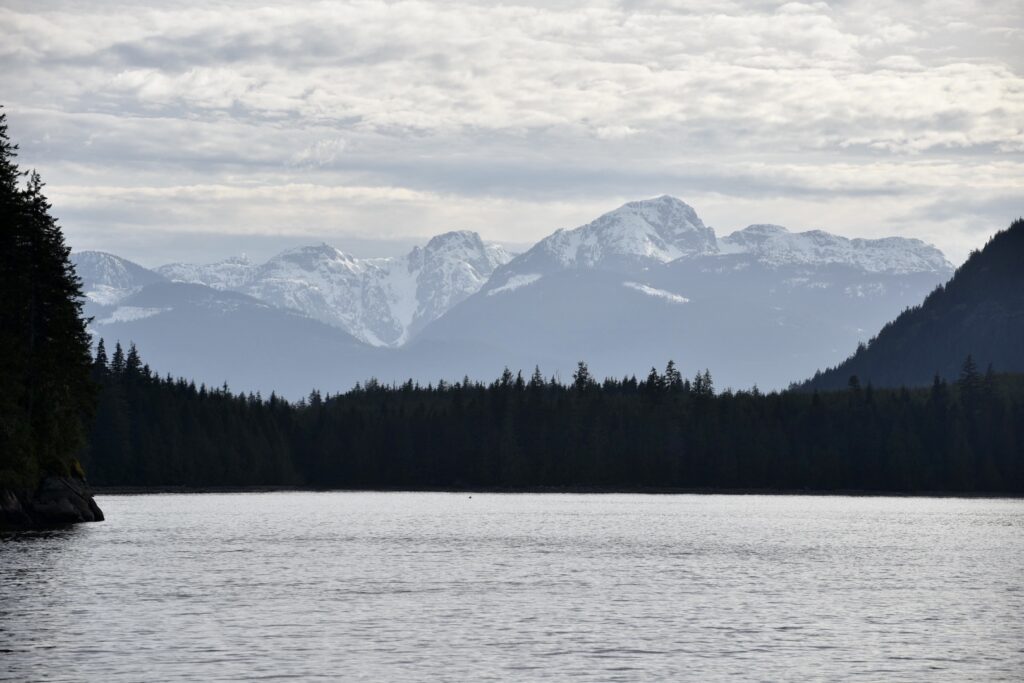 Miles:95
Total Miles:220
With Johnston Strait behind us, we can now start looking for a weather window to cross Cape Caution.  Thanks for following along!