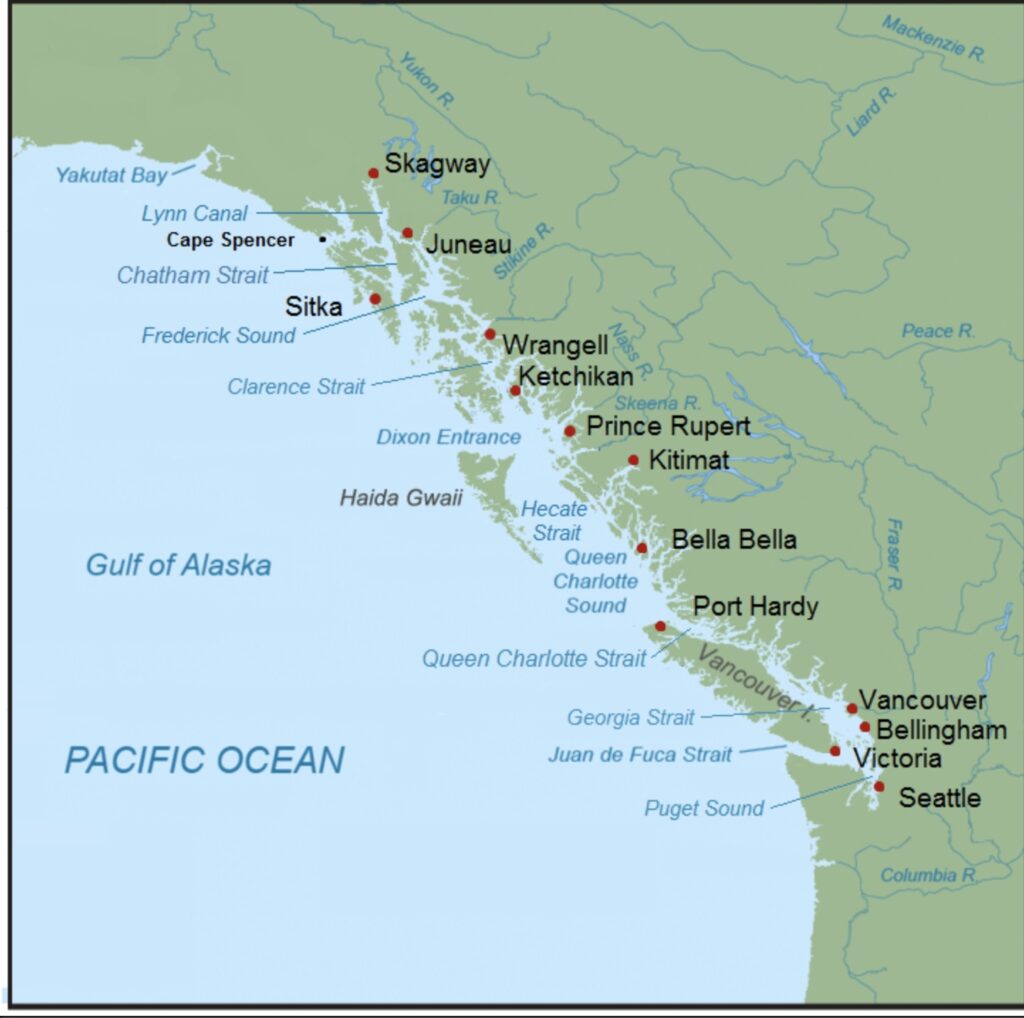 Our next big hurdle is to cross Cape Caution, a 50 mile open Pacific water passage at the tip of Vancouver Island. The weather doesn't look good for the next few days so we are taking our time to explore the Broughton Islands. The Broughton Archipelago is a destination itself with a maze of islands and fantastic anchorages along mainland British Columbia. We cruised this area in 2017 so it is nice to go back and visit some of the same places.
Day 5:
  We have a short travel day today of only 30 miles.  As we are entering Chatham Chanel, we see three boats ahead.  One is Fortitude, a Kadey Krogen 54 Motorsailer.  It's nice to see a fellow Krogen out on the water.  Fortitude is also heading up to Alaska so we should run into them again along the way.
We turn off into Cracroft Inlet and call it a day. Just outside our anchorage are three commercial fish pens. When we were here in 2017, there was only one fish pen. They raise Atlantic Salmon in these pens. If you see "Farm Caught" salmon in the grocery store, this is what you are buying. We refuse to support this type of aquaculture. They do so much destruction to the native habitat.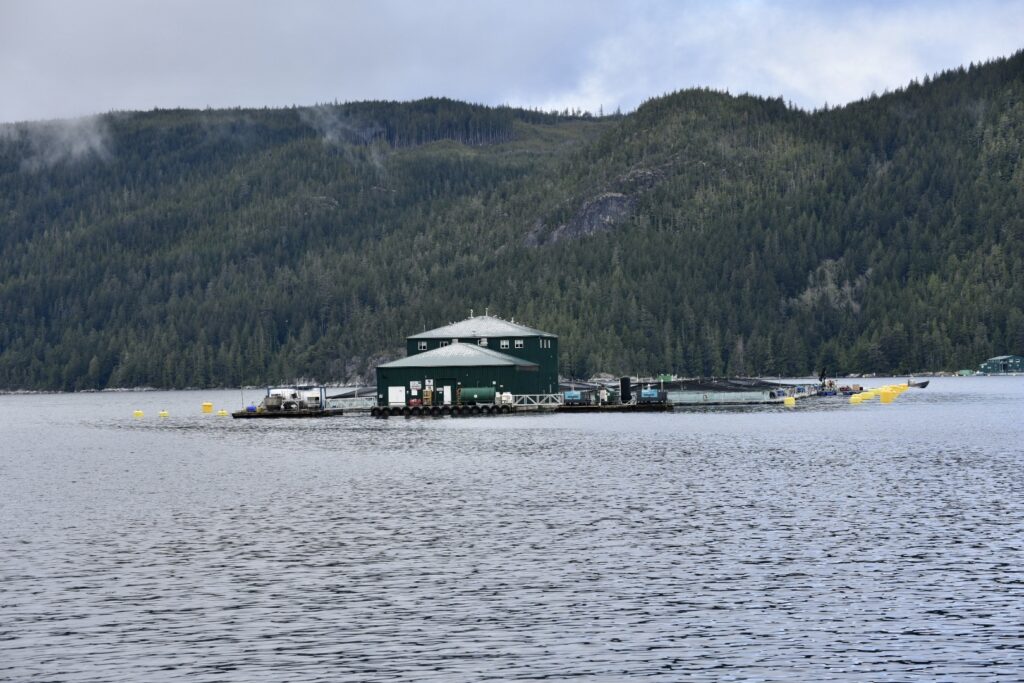 Our anchorage is littered with crab traps but still plenty of room for us to drop the hook. It would be nice to have some crabs for dinner but with the rainy weather, we have little motivation to set out our traps.
Miles: 30
Total Miles: 250
Day 6:
Just around the corner from our anchorage is the small family run marina of Lagoon Cove. This is a favorite stop amongst the boating community. During the summer, boaters gather here each evening for Lagoon Cove's famous shrimp happy hour. We met Dan and Kelly in 2017 after they had just purchased the marina. They managed to survive Covid and are just opening up for the busy summer season. We try to support these small marinas as they are such an asset to the boating community. In this remote area, Lagoon Cove is one the few places for fuel or water. There are no roads and everything comes in by boat. Port McNeil, the closest town, is about 30 miles away by water.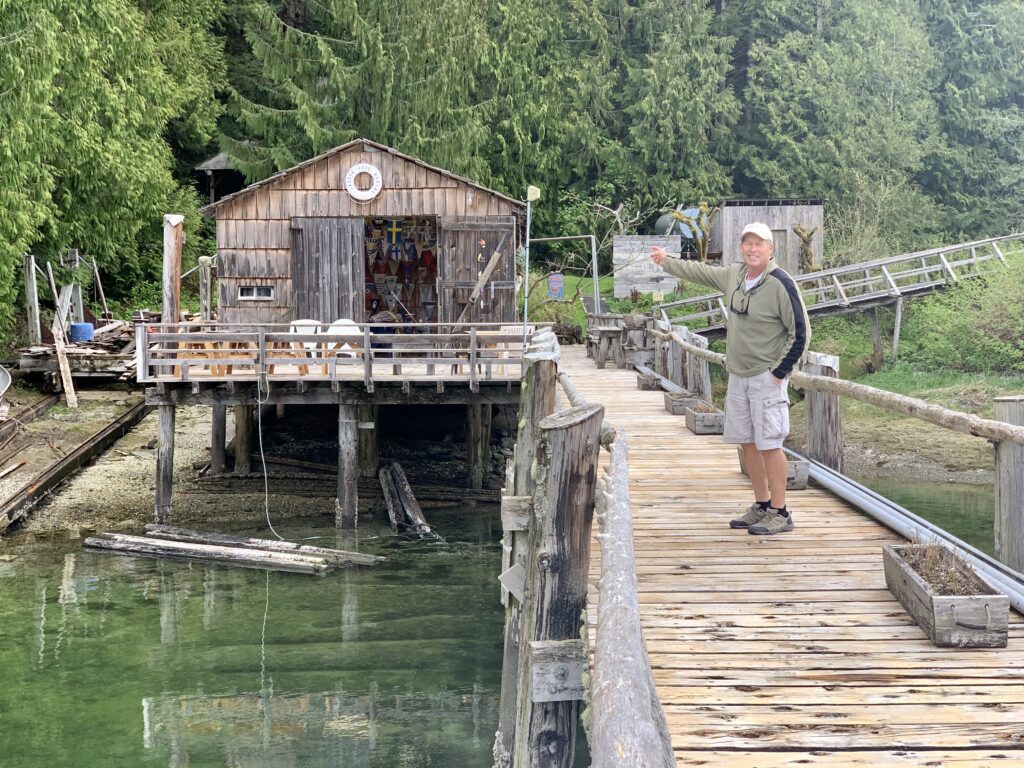 Fortitude, the Krogen 54 motorsailer is on the docks.  It's great to have the two boats together for the first time.  There were only eight Krogen Motorsailers ever made.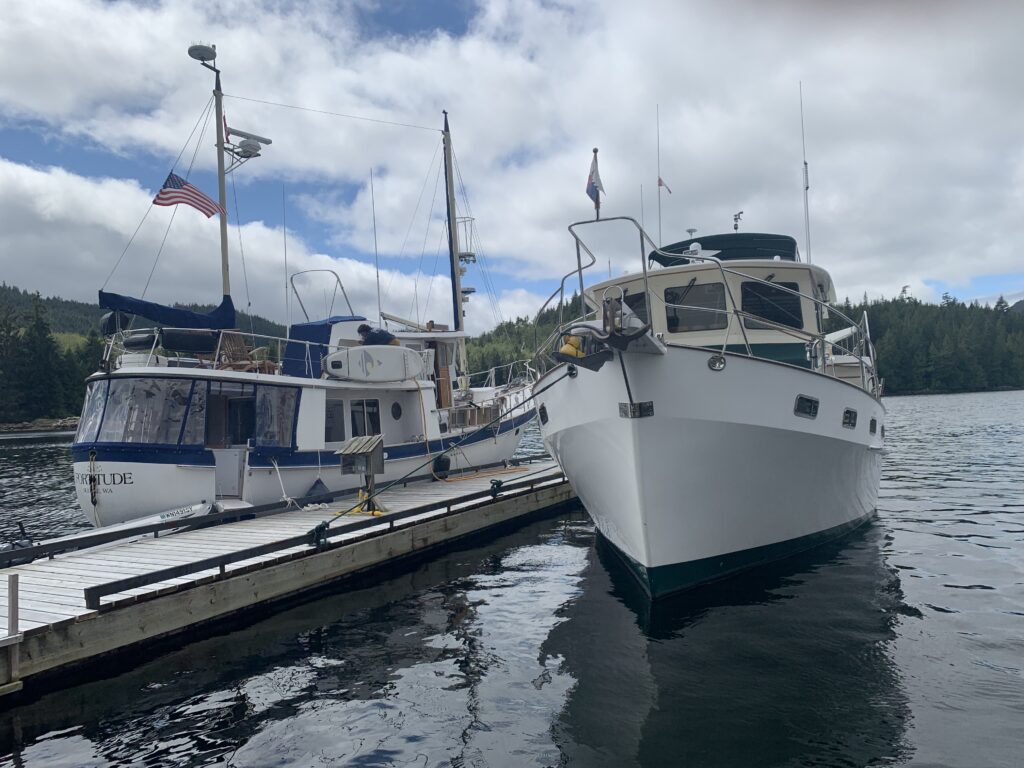 This afternoon we do a two mile hike out to the Blow Hole. The trail is primitive but well marked. We see a surprising amount of bear scat on the trail but no bears.
This afternoon we meet Sam and Diane on Jade Princess. They just returned from pulling their prawn traps and graciously give us some of their haul. This area is very good for shrimping. The BC Spot Prawns as they are called are very sweet.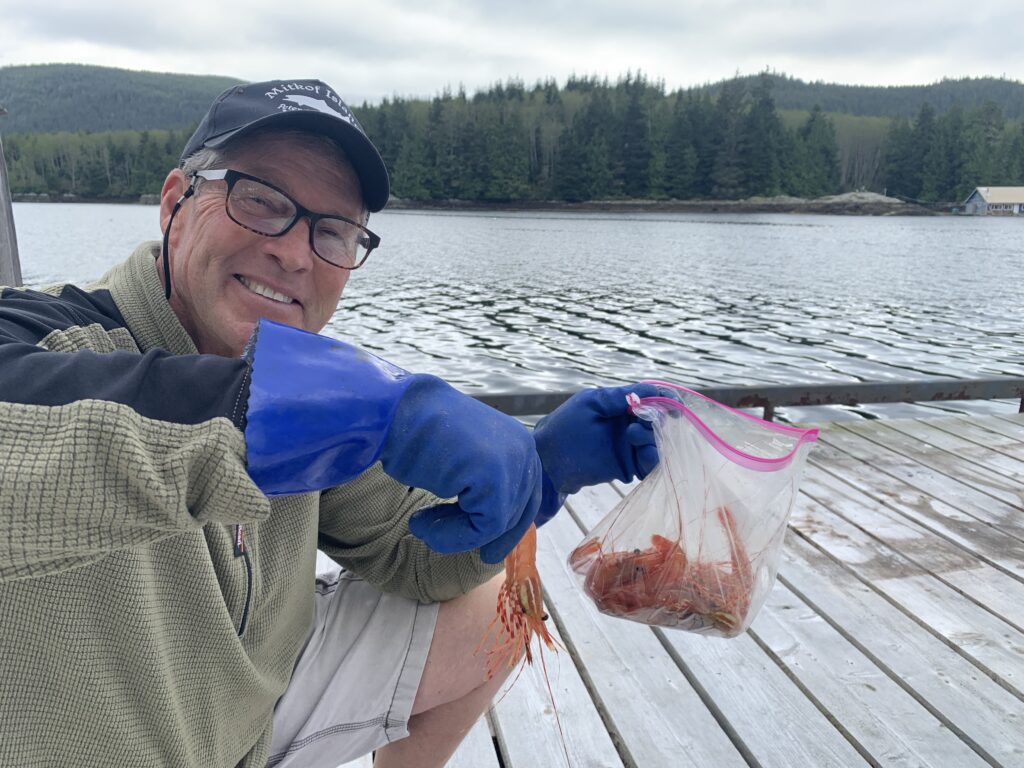 We enjoy getting to know Sam and Diane this evening and sharing some boat stories.
Miles: 2
Total Miles: 252
Day 7:
Todays cruise takes us up Knight Inlet to Tribune Channel.  We are working our way north through a maze of Islands.  The wind is pretty gusty out in Queen Charlotte Strait so we are taking the more scenic and protected route through some of the Broughton Islands.  It is a beautiful 65 degree sunny day.  Just after rounding Minstrel Island, we see our first humpback of the year. The towering snow capped mountain peaks in the distance are stunning.
We have an easy day of cruising with no other boats in sight. Our anchorage for the evening is Claydon Bay. This evening a crabber comes into the bay to haul his traps. We are surprised to see how many traps he has. On the surface there are only 4 or 5 buoys. His 15-20 traps are strung together underwater. Luckily, we were not anchored over his line.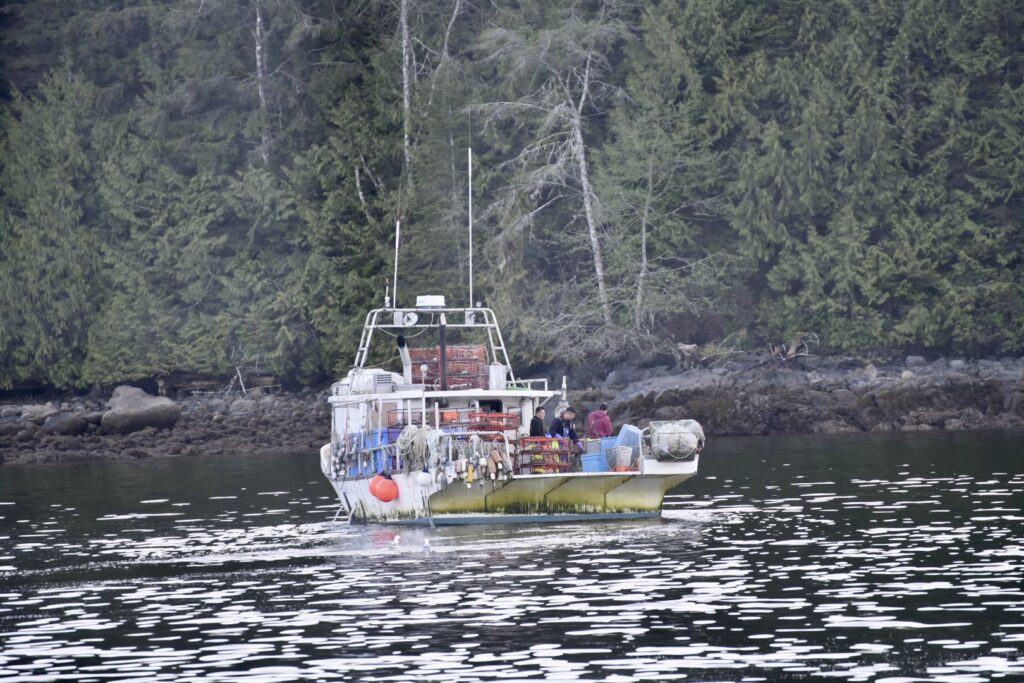 Miles: 53
Total Miles: 305
Day 8:
We are up at 5:30 AM for an early departure. We only have around 40 miles to travel but we want to get off of Queen Charlotte Strait by noon before the winds pick up. We reach the entrance of the strait to find ourselves engulfed in fog. With limited visibility, we activate our fog horn and keep a sharp lookout for lurking logs floating just under the surface.
The fog soon lifts but the sea swell continues to build as we reach the open ocean entrance. By 10 am we have a five foot swell on a eight second period. Idyll Time pitches up and down but keeps us safe. We see a group of Sea lions frolicking in the surf but it is too rough to go out and get photos. We are relieved to finally turn off into the protected inlet at Allison Harbor our anchorage for the evening. This is our staging point for crossing Cape Caution.
We saw several sea otters out in Queen Charlotte Strait and there was one in the anchorage today. The otters sure are cute but they are tough on the crabs.
We hope to cross Cape Caution in the next day or two. There is a possible weather window tomorrow. We will be up early at 5 AM for a go or no go decision.
Miles: 42
Total Miles: 347
Day 9:
The 5 AM weather reports are all favorable for crossing Cape Caution except for the West Sea Otter Buoy. This buoy reports real time and the seas are 2.3 meters with a 15 knot west wind. Our general rule is to not cross if West Sea Otter is more than 1.3 meters. Tomorrows forecast is not as good as today but there is a great weather window two days from now. Not wanting to stay here two more days, we make the decision to cross today. Do we have "get there itis?"
We have limited visibility as we weave our way between the rocky islets into Queen Charlotte Strait. The seas continue to build as we head west and we start to question our decision. We now have 10 foot rollers on an 8 second period. Should we turn around? Idyll Time handles the seas much better than we do. We decided to continue on thinking it will calm down once away from land. Fortunately, our thinking is correct and once we round Cape Caution the seas improve. We still have some six footers on a 8 second period but the trend is our friend. After four hours, we are back in the protected waters of Fitz Hugh Sound with Cape Caution now behind us.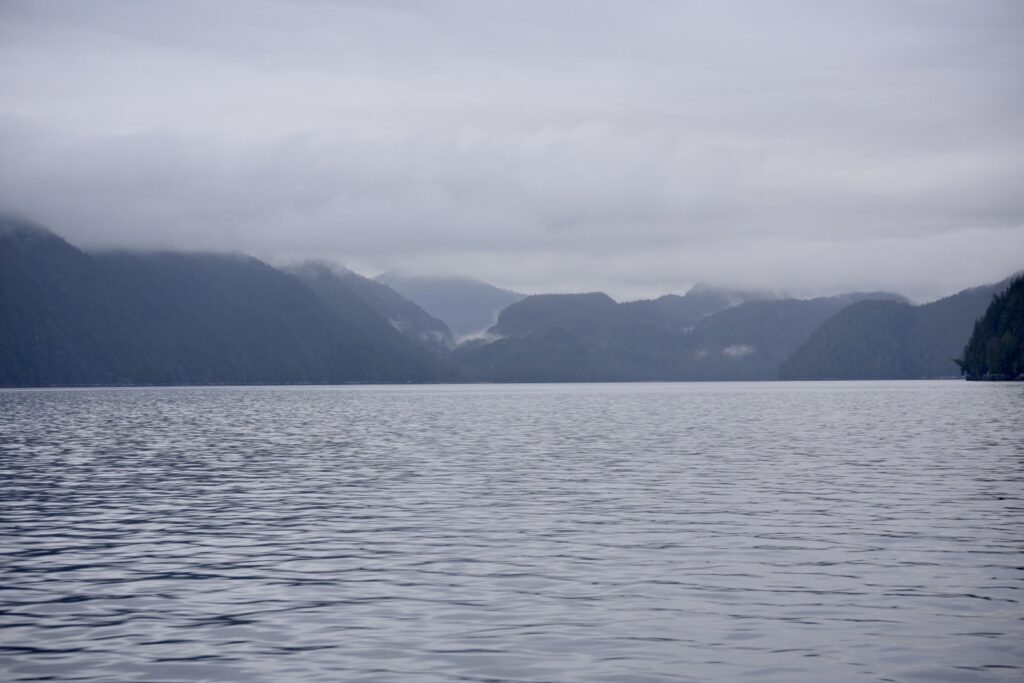 We continue up the nice protected waters of Fitz Hugh Sound for another 45 miles to our anchorage in Codville Lagoon. This remote area of northern British Columbia offers cruisers some great wilderness anchorages. Entry into Codville Lagoon is through a narrow entrance with rocks on the northern side. We have our track from 2018 so entrance is no problem for Idyll Time. We share the anchorage with Cavu, a sailboat with a family of four aboard.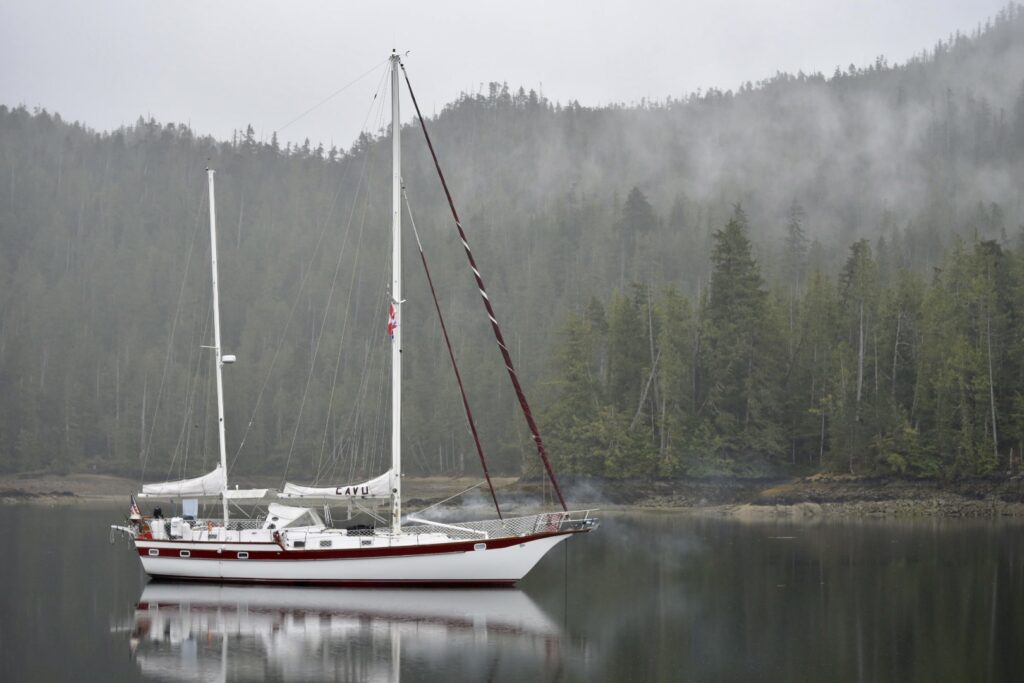 With Cape Caution behind us we will now start working our way to Dixon Entrance our next open water passage just outside of Prince Rupert.  Thanks for following along!
Miles: 85
Total Miles: 432