Day 10:

This morning we hear a Mayday over the VHF. It is a sailboat just a few miles north reporting smoke in their engine room. Fortunately a Coast Guard Cutter is only half a mile away and is there within 10 minutes. A short time later, the Coast Guard reports all 4 people and a dog have been evacuated. The Boat is now in flames!! How horrible for these poor people.

As we exit our anchorage into Fitz Hugh Sound in a light drizzle rain, we can see the Coast Guard towing the sailboat in the distance. It appears the sailboat is still ablaze. About 30 minutes later the Coast Guard reports that the boat has sunk. Things can go wrong very quickly. This is why we try to take such good care of Idyll Time. Our lives depend on her and she continues to take good care of us.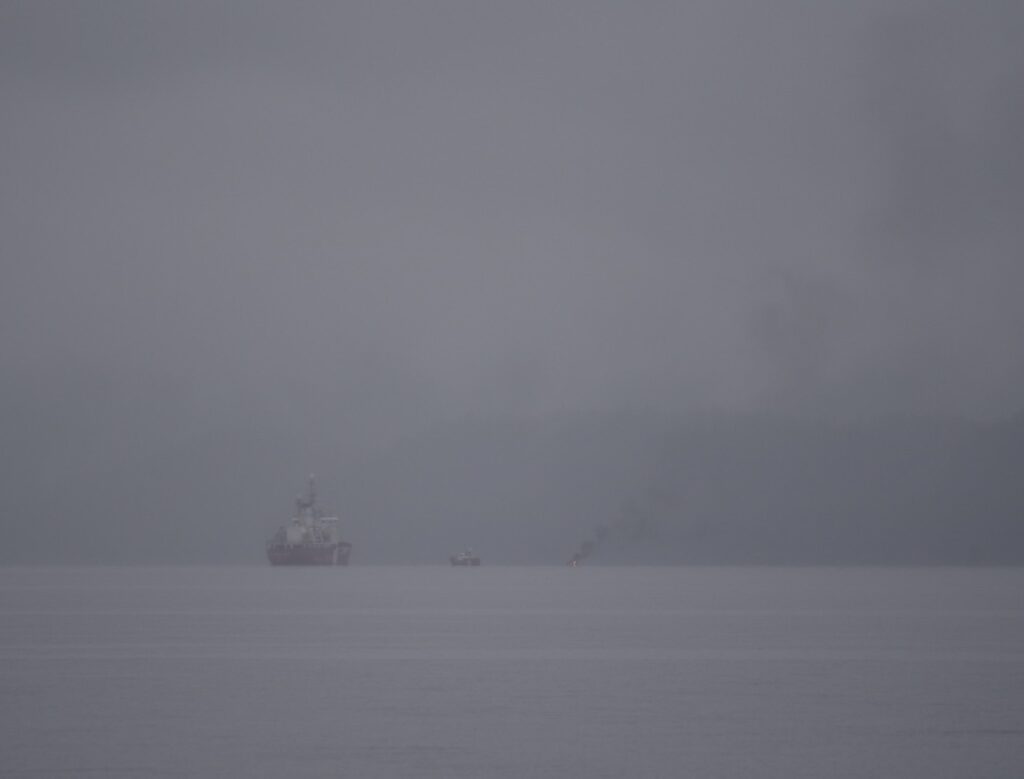 We ride the flood tide past the small native village of Bella Bella. With calm seas, we are able to head out into Milbrook Sound and up Finlayson Channel bypassing a few rocky and narrow inland passages.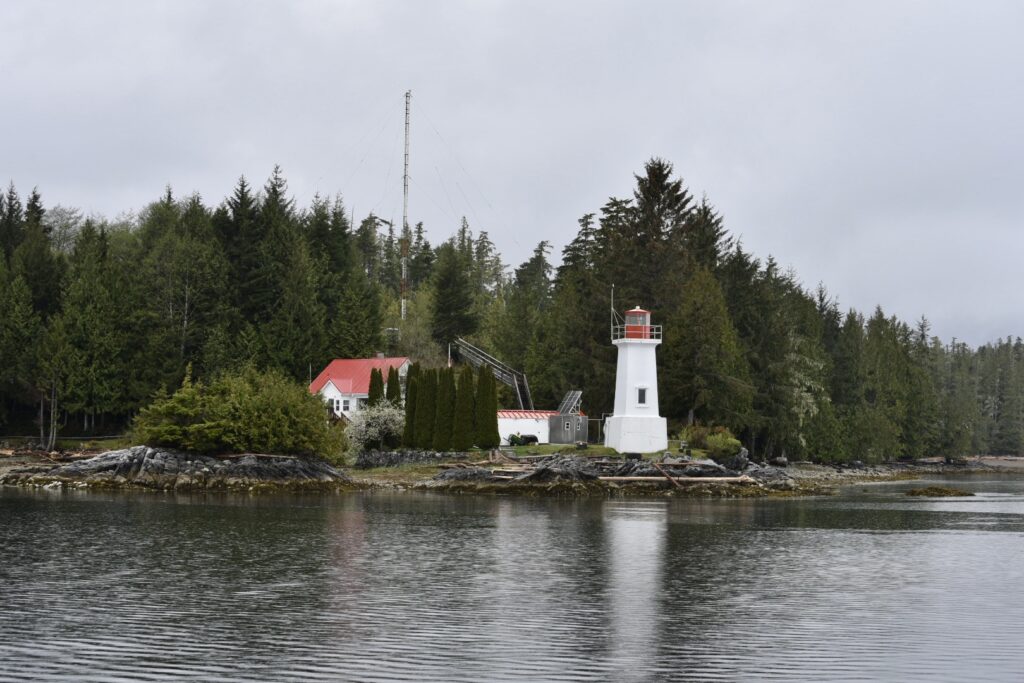 Pacific White Sided dolphins soon join us and spend about 30 minutes frolicking in our bow wake.

Just before our anchorage, a mother humpback whale and calf are leisurely heading towards us on the surface.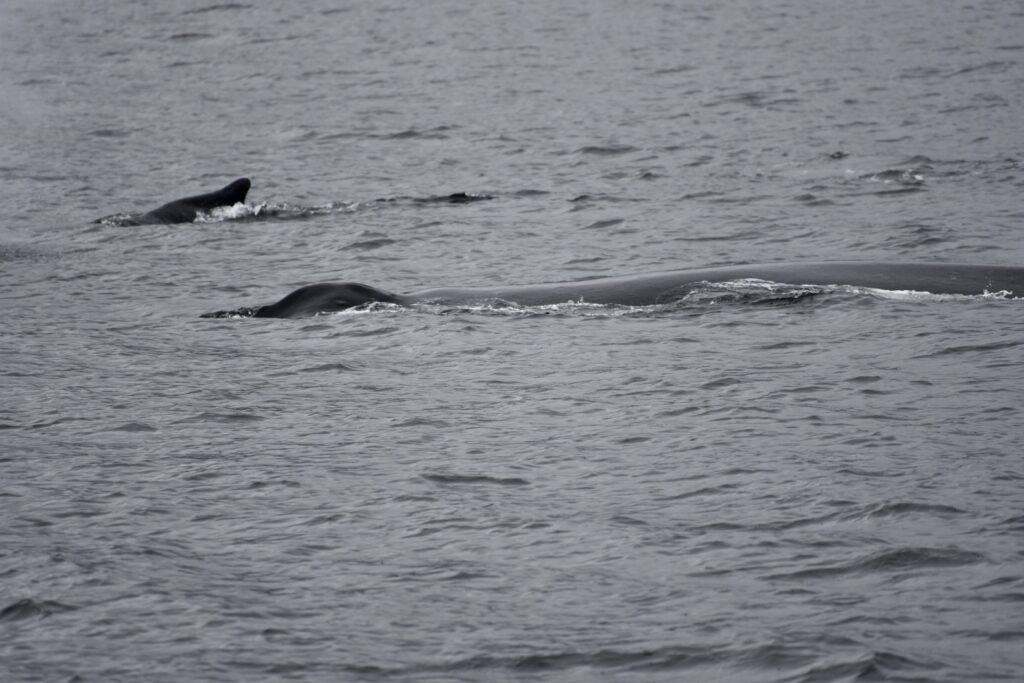 Bottleneck Inlet is our anchorage for the evening. The beautiful steel boat Monara is in the anchorage. We have been a day behind this Dutch boat from Antwerp for the last few days.


Bottleneck is a great wilderness anchorage that we could easily spend a few days exploring but we are in the travel mode anxious to get up to Alaska. It will be another early departure day tomorrow.

Miles: 66
Total Miles: 498

Day 11:

It looks like another beautiful cruising day as we exit the narrow Bottleneck Inlet. At low tide we cautiously follow our track out but never see less than 15 feet of depth. Just a few miles north is Heikish Narrows which we transit near slack with only one knot of current against us. These narrows can have current up to 5 knots. The dolphins join us briefly and we have a humpback whale fishing in the narrows. We have seen a humpback in this exact spot each of the five times we have been through here. We wonder if it is the same whale that returns each year.


Continuing north on Princess Royal Channel, we have a very peaceful cruise. Waterfalls cascading down from the steep mountain sides are numerous.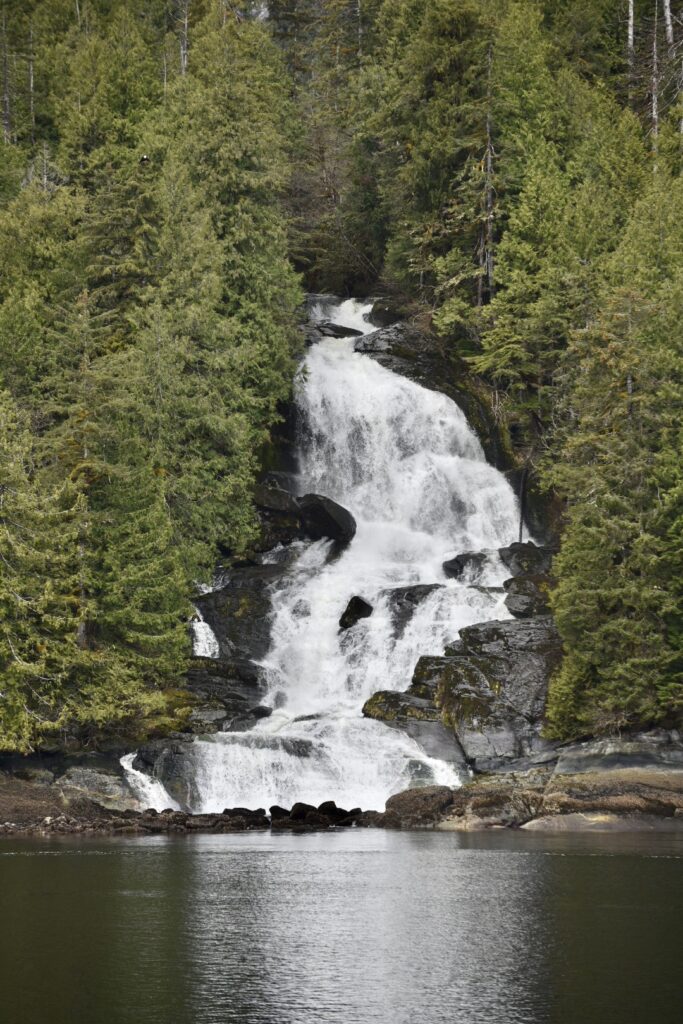 Two of the small National Geographic Cruise Boats are ahead by about 10 miles. They report several whale sightings. As we continue up the channel, we can see a whale breaching in the distance. As we near, he is still jumping.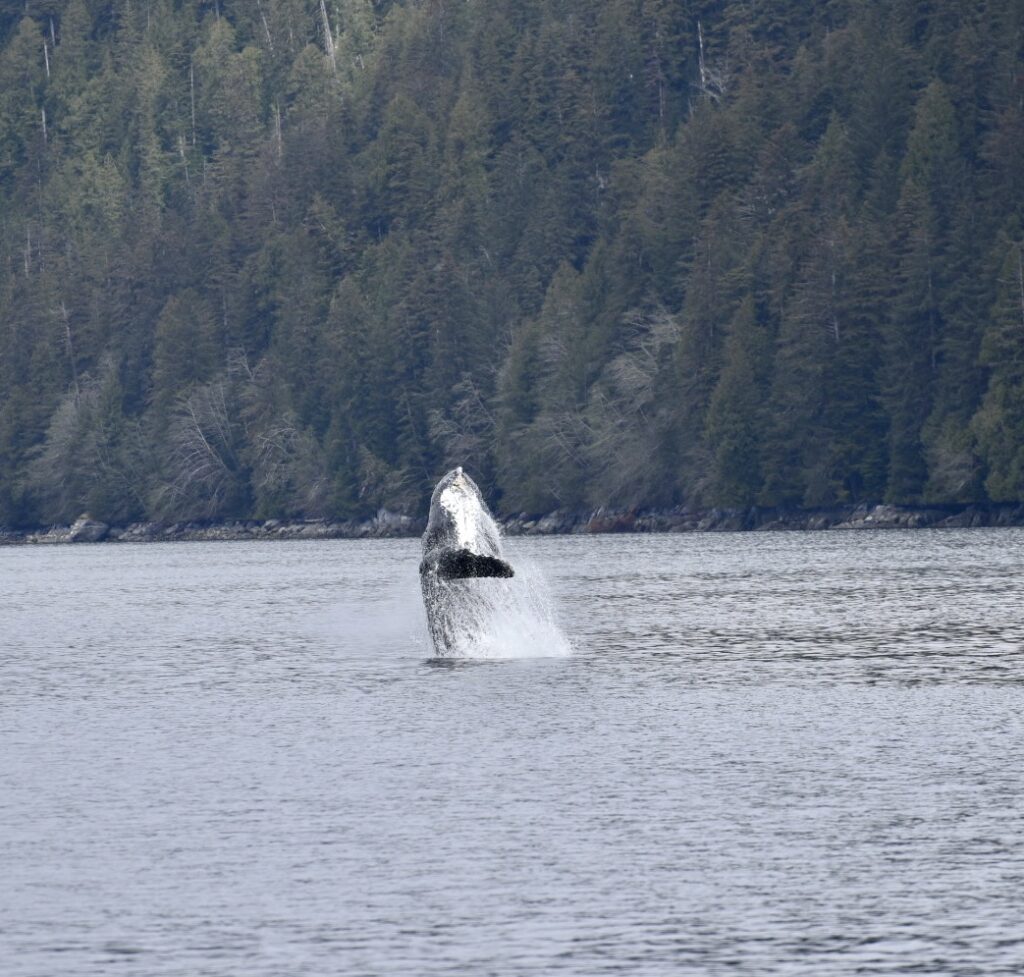 After breaching several times he continues flapping his fins on the surface.
Here is a video of his fin slapping. Watch the video in its entirety for a spectacular ending. It is always exciting to see these humpbacks. Scientist wonder why these whales fin slap. Some say it is part of their feeding. Others think they are just playing or signaling to other whales.


Reaching the Grenville Channel, the currents appear favorable so we continue another 20 miles to our anchorage for the evening at Lowe Inlet.
Lowe Inlet is a beautiful but very challenging anchorage due to the depths.  Two other boats are already at anchor making it even more difficult. We manage to find a spot in 100 feet to drop the hook.  Even at these depths, we are only 200 feet from shore. This isn't for the faint of heart. Our anchor alarm is set in case we should drag anchor. The winds are light so we should be just fine.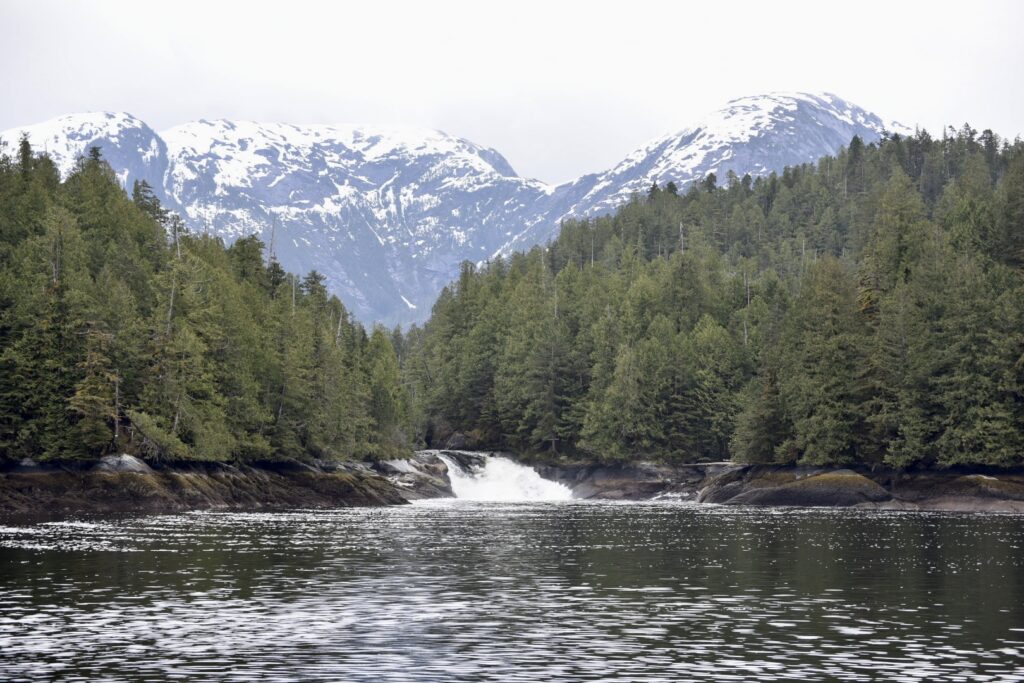 The views from our anchorage are spectacular with the waterfall and tall peaks in the distance. This is why Lowe is such a popular stop.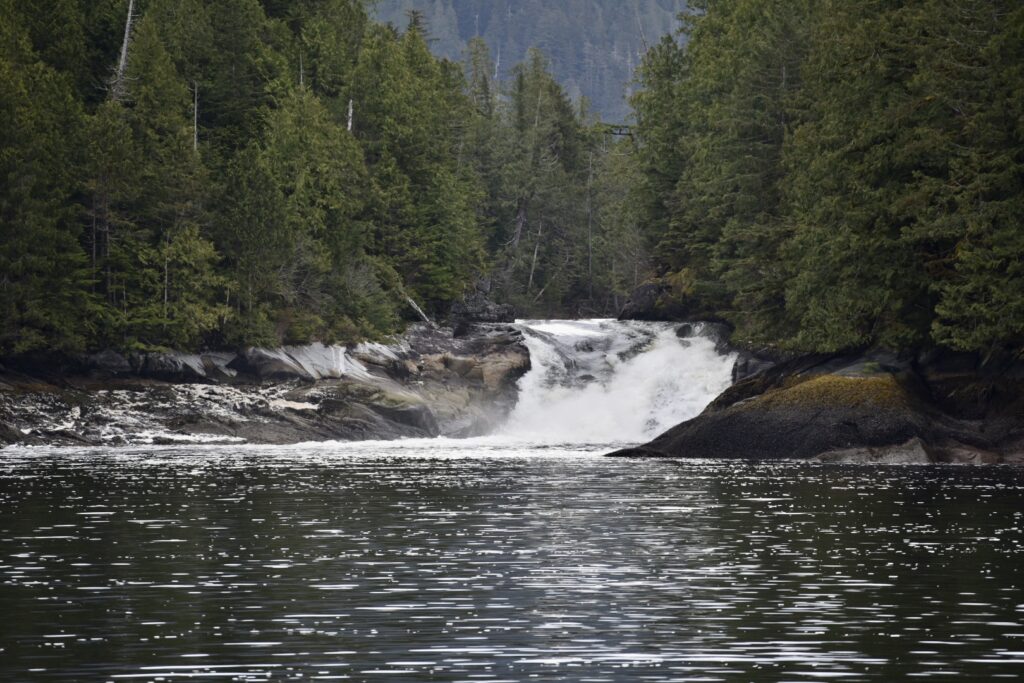 This afternoon a crabber comes into the anchorage and starts pulling traps. Like those in Clayton Bay, his traps are on a string all connected together. We start getting nervous as he continues pulling up traps very close to our boat. He ask the boat next to us to move as apparently that boat is over some traps. Thankfully our anchor was not over any of the traps but how would you ever know? Interestingly, the crabber has an octopus dangling off the back side of his boat.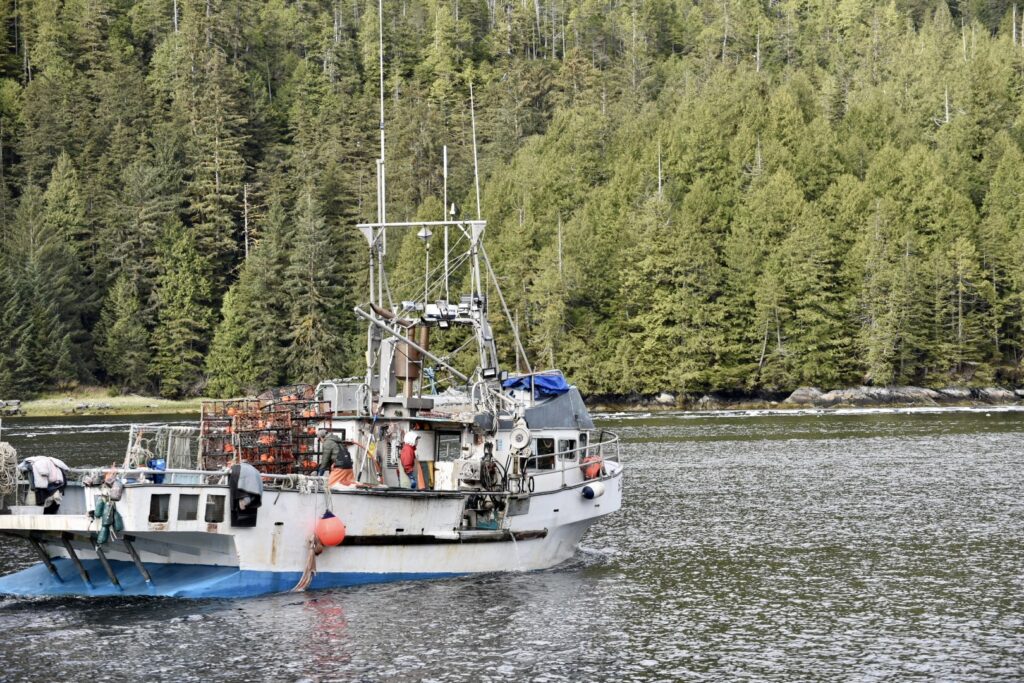 Our evening is spent watching a beautiful black bear munching on the sedge grass.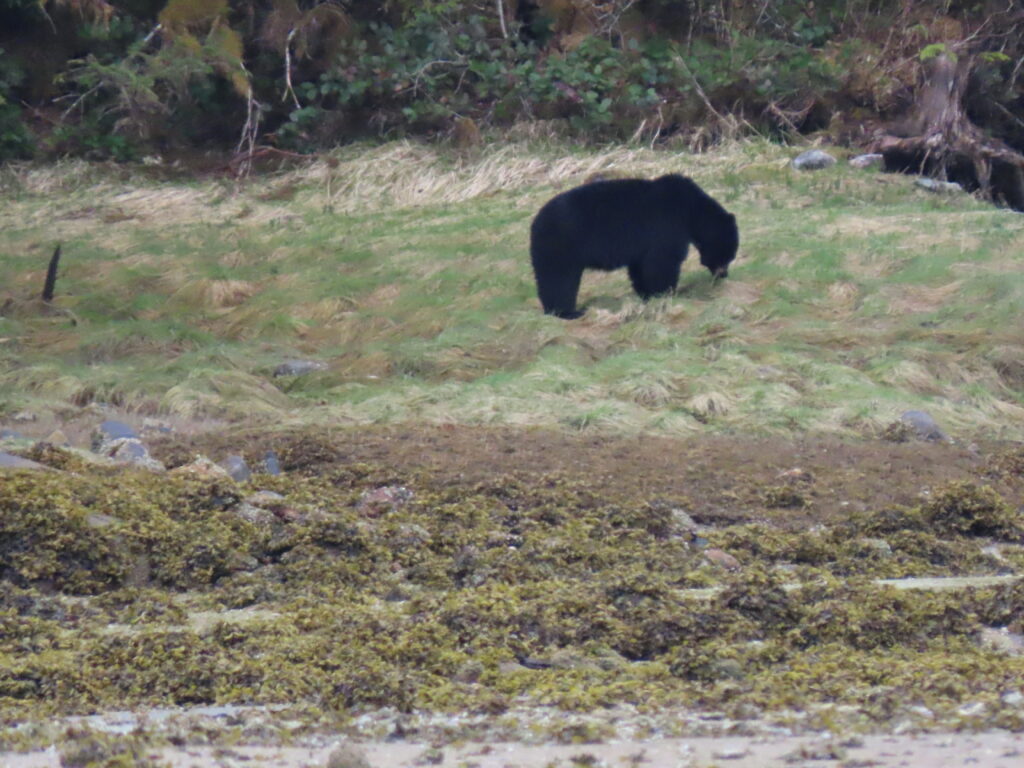 Miles: 87
Total Miles: 585
Day 12:
We are back out in the Grenville Channel today for another 25 miles. We have a three knot current against us this morning so it is a slow go at 6.5 mph. Thankfully we catch up to the current and our speed increase to 9 mph. This channel is a busy waterway used by cruise ships, tows, and most pleasure craft on their way to Alaska. The currents meet in the middle and it is somewhat challenging to figure out the times and currents most favorable for passage. It is a beautiful day with the sun starting to peak through the cloud deck. We haven't seen the sun in over a week.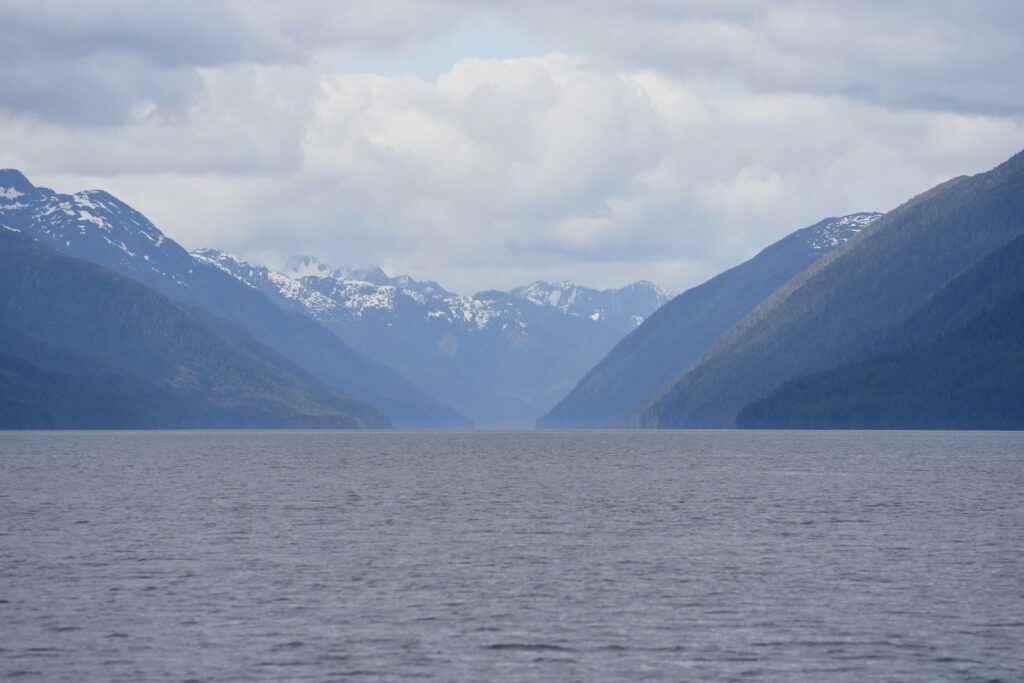 As we exit the Grenville Channel, we decide to push on another 40 miles to Dundas Island to take advantage of the marvelous weather. It is a long day with the anchor down at 7:30 PM. We share the anchorage with David B, a classic old wooden tour boat.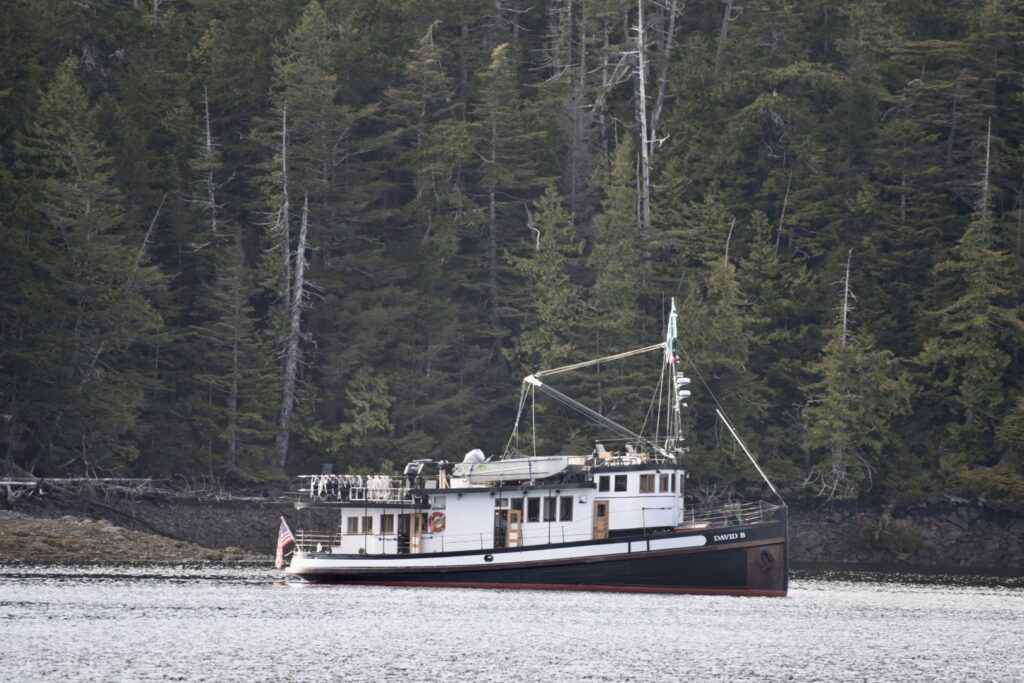 Miles: 98
Total Miles: 683
Day 13:
The weather forecast looks perfect for crossing Dixon Entrance today. This is our last open water passage.
We have another sunny 55 degree day as we haul anchor in Brundige Inlet. This is not your typical Alaska weather! As forecast, the seas are flat calm for our crossing.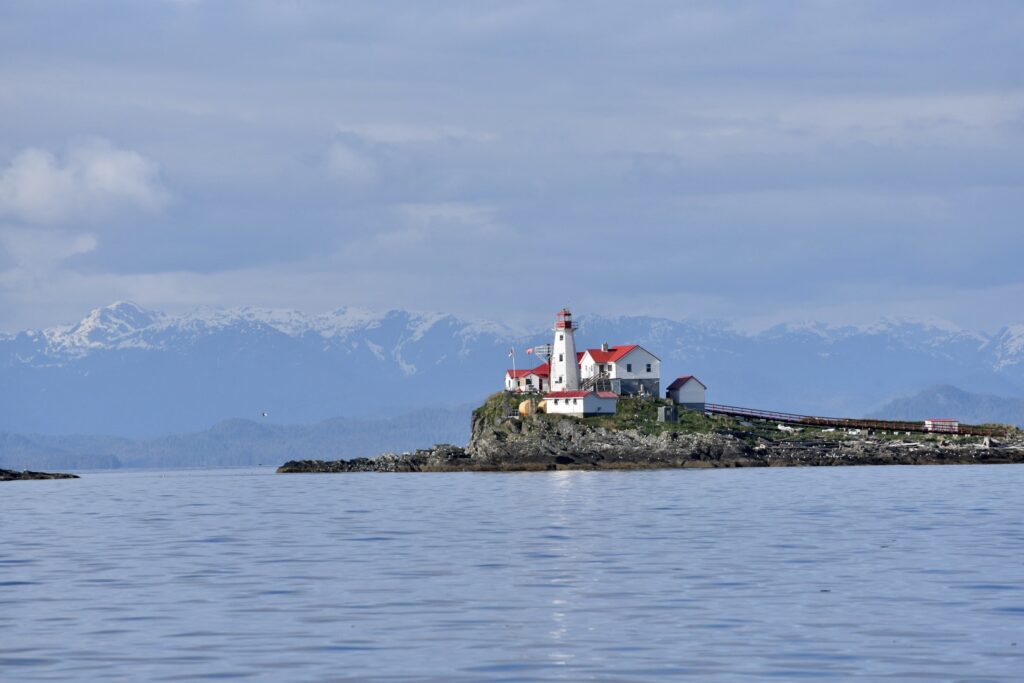 We reach the U.S. border at 8:20 AM. With no cell service, we turn on our Starlink satellite. We have been keeping the Starlink turned off while moving to obey Starlink's rules but make an exception today. Our CPB Roam application is sent over the internet. Within a few minutes we have a reply welcoming us into the U.S. No phone call or video conference by Customs was needed. Starlink has been a game changer for our boating. It is so nice to have internet and phone when needed in these remote places. Thank you Elon Musk!!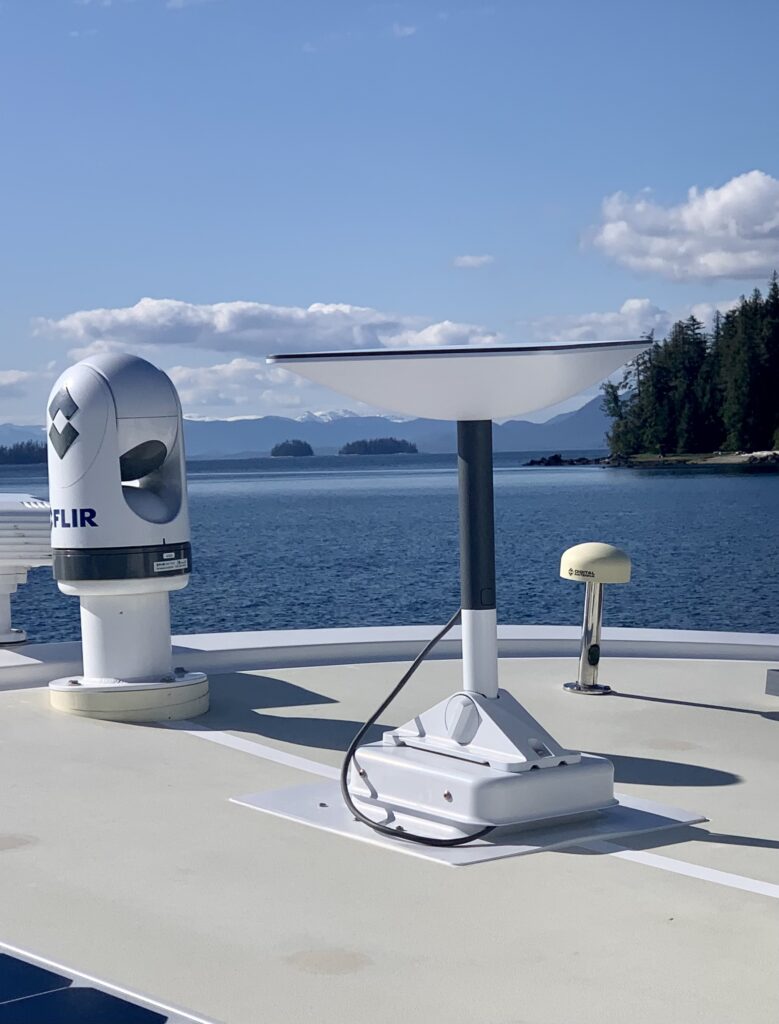 With little wind, we opt to anchor for the evening at one of our favorite anchorage sites called Bullhead. It is a beautiful anchorage looking out over Clarence Strait but you wouldn't want to be here in a blow.
Now that we are in Alaska, we will slow down our travel and start enjoying these marvelous sights and hopefully catch some halibut and crab. Tomorrow we will head into Ketchican. Thanks for following along!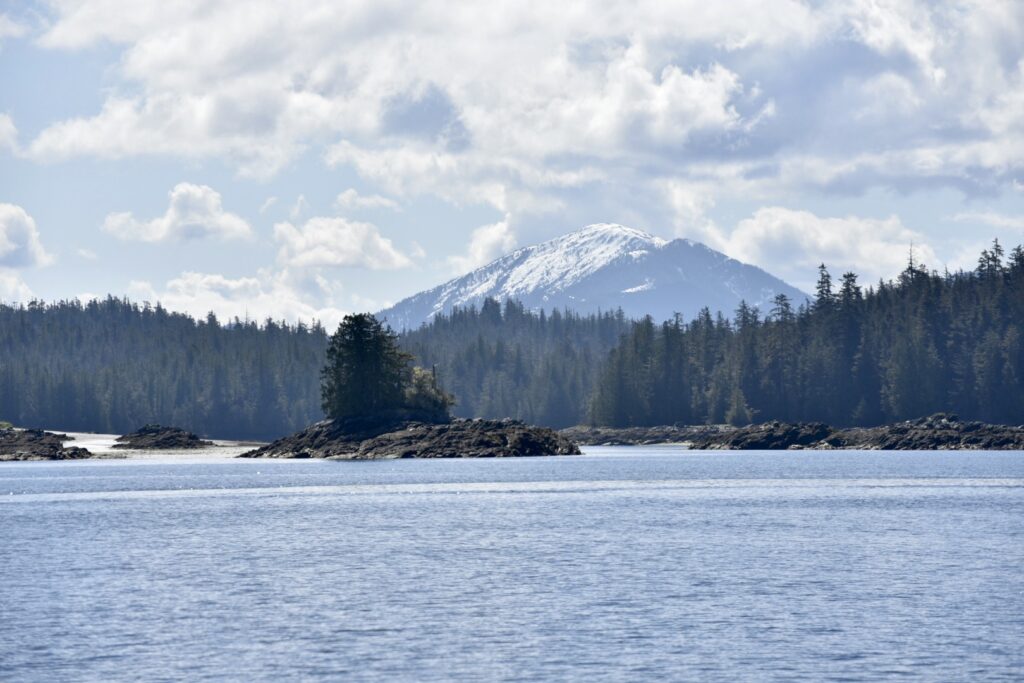 Miles: 35
Total Miles: 718